Crofton Bakeware
Aldi consistently offers a variety of products throughout the year, and their Crofton Bakeware line is no exception. Aldi has a few different bakeware sets, pans, and cookie sheets available at different times throughout the year.
The week of 7/5/2023 they will be offering a few different options; a Crofton 4-Piece Bakeware Set, multiple Crofton Mini Bakeware pans, and a few different Crofton Silicone Bakeware options. The 4-Piece set will be selling for $12.99 and the Mini Bakeware pans will be selling for just $3.99 each.
Aldi Finds are known for being affordable, allowing you to stock up on essential baking tools without breaking the bank. Whether you're a seasoned baker or just starting out, having the right bakeware is crucial, and Crofton delivers a range of options to meet your needs.
From donut pans and muffin tins to cookie sheets and pizza pans, you'll find a selection that suits your baking adventures. Keep an eye out for Crofton Bakeware during your next visit to Aldi, and get ready to create delicious treats without stretching your budget.
Crofton 4-Piece Bakeware Set
Price: $12.99 (2023, prices may vary)
Available: 7/5/2023 (Limited Time Aldi Find)
Colors: Gold or Gray
Included: 15.2″ x 21″ sheet pan, 9.6″ x 13.2″ sheet pan and two 6.8″ x 9.7″ sheet pans 
Material: Heavy gauge carbon steel provides even heat distribution
Coating: QuanTanium nonstick coating to make cleanup easy
Oven safe up to 450 °F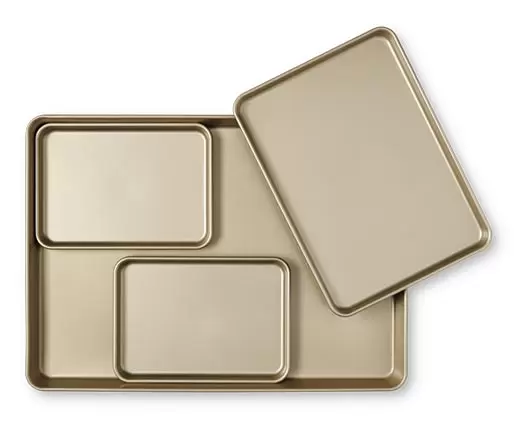 Is the 4-Piece Set A Good Deal?
This looks like a pretty good price for a set of pans this size. I personally prefer non-coated options when convenient since the nonstick coatings don't seem to last and also limited the temperature you can cook at. I do more roasting in the oven than baking so the non-stick is less important and being able to cook at high temps is more important for me. If you do more baking cookies or just prefer non-stick these could be worth trying out!
Sale
Nordic Ware 3 Piece Baker's Delight Set, 1 Pack, Aluminum
Top-rated NaturalsBakeware collection is made of pure aluminum for superior heat conductivity and produces consistent evenly browned baked goods every time.
These premium pans have a lifetime durability and will never rust.
Encapsulated galvanized steel rims prevent warping.
Sale
Wildone Baking Sheet Set of 3, Stainless Steel Cookie Sheet Baking Pan, 9/12/16 Inch, Non Toxic &…
🍎 [MULTI USE] Pack of 3 – Including 3 baking sheet 16 x 12 x 1 inch, 12.25 x 9.65 x 1 inch, and 9.37 x 7 x 1 inch. A great replacement of aluminum pans, fits most regular toaster ovens, meet most…
🍎 [DURABLE] The baking sheet with thick gauge and sturdy construction, which offer long lasting superior quality, sturdy and solid , rust free and durable for long lasting superior quality.
🍎 [HEALTHY] No more aluminum into your food, great replacement to aluminum pan. The baking sheet pan is made of high quality pure stainless steel without chemical coating or any other materials….
HONGBAKE Baking Sheet Pan Set, Cookie Sheets for Oven, Nonstick Half/Quarter/Jelly Roll Pans with…
INGENUITY DIAMOND TEXTURE – The cookie sheet pan set has a diamond texture on the base increases its non-stick properties and ensures even and quick heat airflow to the cookie, which makes the cookies…
PREMIUM EXTRA-THICK MATERIAL – With 57% thicker carbon steel, these durable oven trays are constructed from heavy-gauge carbon steel for stability, even heat distribution, and durability for years to…
ALL EXCLUSIVE SET – This baking pan set includes 3 nonstick cookie sheets (13"x9" /15"x10" /17.5"x12"). They are just the right size, small for baking cookies, pastry, and lasagna, medium size…
Crofton Mini Bakeware
Price: $3.99 each (2023, prices may vary)
Available: 7/5/2023 (Limited Time Aldi Find)
Colors: Blue, Purple, or Green (muffin tin only available in blue or green)
Cookie Sheet dimensions: 8.4 x 6.4 in. 
Pizza Pan: 8″ Diameter. 
Baking Pan dimensions: 8.4″ x 6.4″ 
Muffin Pan dimensions: 10.5″ x 7″
Oven safe up to 450 °F
Made of durable carbon steel with QuanTanium nonstick coating
Great size for toaster ovens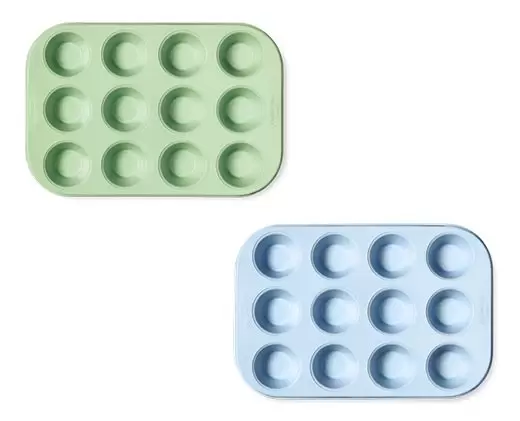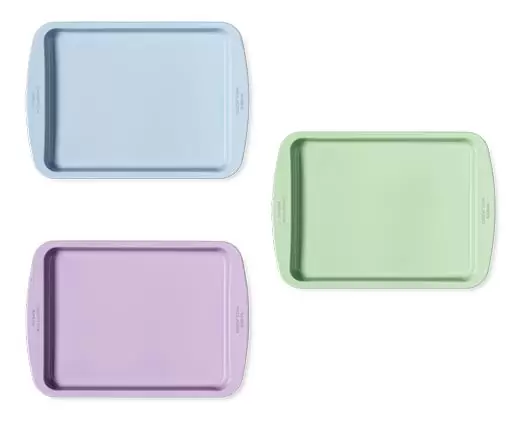 Are The Mini Pans A Good Deal?
At just $3.99 it is going to be tough to beat the price on these little pans so if you like the colors and are good with the non-stick coating I think they are worth a shot!
USA Pan Bakeware Mini Sheet Baking Pan Warp Resistant with Nonstick Quick Release Coating, Aluminzed…
Classic Mini Sheet Pan Set of 2 for baking treats or roasting vegetables; commercial grade and heavy gauge aluminized steel
Baking pans feature unique design with corrugated surface; facilitates air circulation for a quick release and evenly baked baked-goods
Nonstick Americoat coating – a patented silicone coating which is PTFE, PFOA and BPA free – provides easy release of baked-goods and easy clean up; wash with hot water, mild soap and gentle sponge
HYTK 2 Small Baking Sheets 9.45 X 7.09 Inch (Inner 7.5×6) Mini Cookie Tray Toaster Conventional Oven…
Pay attention to the size, it is very small baking pan for small toaster oven,1 or 2 people use. Size: outer size 9.45x 7.09inch small baking pans, inner size: 7.5 X 6 X 0.5inch, packed of 2pcs, take…
Nonstick coating / brushed carbon steel baking pans, easy to release, easy to clean, hand wash recommend, and dry it after immediately after washing it . Food grade coating material reach FDA…
Use High Carbon Steel material, hard, durable long lasting, heat quickly and evenly. The Highest Temperature is 446F
Crofton Bakeware Reviews
Please put the specific bakeware product you are reviewing in the title along with the year you purchased since these types of Aldi Finds tend to change year to year.
0 out of 5 stars (based on 0 reviews)
There are no reviews yet. Be the first one to write one.
Last update on 2023-09-29 / Affiliate links / Images from Amazon Product Advertising API