All The Coffee Options At Aldi
Aldi is known for having budget friendly prices on your everyday staples and coffee is no exception. Aldi carries a decent variety of coffees and I have been impressed with the quality of the varieties I have tried.
If you are new to Aldi or just want to know more about Aldi's coffee options we have you covered.
They carry your standard coffee grounds but also whole bean coffee, coffee pods (for k-cup type brewers), or pre-brewed iced coffee.
Aldi carries multiple coffee varieties and some of these rotate throughout the year or are only available as Aldi Finds for a limited time.
You will find seasonal options like pumpkin spiced lattes in the fall or spring themed options early in the year. There are also a variety of flavored coffees that will come out throughout the year for a limited run.
Aldi Coffee Grounds and Beans
They have a surprisingly wide variety of coffee grounds and beans for a grocery store known for having just the basics.
You can find the common bulk pre-ground coffee containers but also flavoured coffees, multiple roasts and blends, and even fair trade organic or single origin coffees.
I have been buying by coffee at Aldi for a while now and have been impressed with the quality that I get for the price. Typically I rotate the type of coffee I pick up throughout the year to try new options.
I tend to buy the Specially Selected, German Roast, the Barissimo Single Origin Coffee, or Simply Nature Fair Trade Organic Whole Bean. I also throw in the Cafe Bustelo Espresso occasionally.
Aldi Coffee Pods
If you use a Keurig Brewer or other single cup coffee brewer you are still in luck. You won't need to go to other stores to get your caffeine fix unless you are looking for a specific brand or a type that Aldi doesn't have.
You will find almost as many coffee pod options as grounds or beans. And for seasonal flavors you can find some variety packs like the fall or spring coffee pods that give you a bunch of different flavors to try out.
Aldi Iced Coffee
If you prefer cold brew or just don't have time to make coffee in the morning you can check out all the iced coffee and cold brew options.
Aldi's Iced Coffee seems like it may rotate a little more with the seasons but that could just be me thinking that because of all the Pumpkin Spiced Stuff that just came out as I was writing this.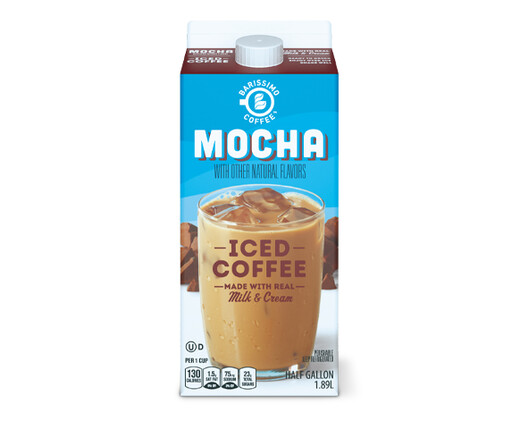 Aldi Instant Coffee
The last type of coffee that they carry is instant coffee. If you are short on time or just want to keep things simple Aldi carries a couple instant coffees.
Instant coffee is sometimes called for in certain recipes so it is nice that it is available. Plus it can be nice to have around if you don't drink coffee often.
Beaumont Instant Coffee (Regular or Decaf)
Nescafe Clasico Instant Coffee
Coffee FAQs
Coffee Related Posts