Are you tired of lugging around heavy grocery bags that are difficult to carry and often rip? Look no further than Aldi's Foldable Utility Tote, the perfect solution for your grocery shopping needs.
This will be a limited time Aldi Find starting April 19th, 2023. You pick it up for $9.99 when it lands on store shelves.
With exclusive Aldi designs, this tote not only looks stylish, but it's also incredibly functional. The interior pocket with Velcro closure allows you to keep your phone, wallet, and keys safe and secure, while the long padded handles make carrying even the heaviest loads a breeze.
And when you're finished, simply collapse the lightweight frame for easy storage. Say goodbye to flimsy grocery bags and hello to the convenience of the Aldi Foldable Utility Tote.
This will look great with all your other Aldi Gear so you can show off your Aldi Fandom!
Aldi Folding Tote Bag
Price: $9.99 (2023, prices may vary)
Available: 4/19/2023
Three ALDI exclusive designs
Interior pocket with Velcro closure
Long padded handles for easy carrying
Lightweight frame to hold shape
Collapsible for simple storage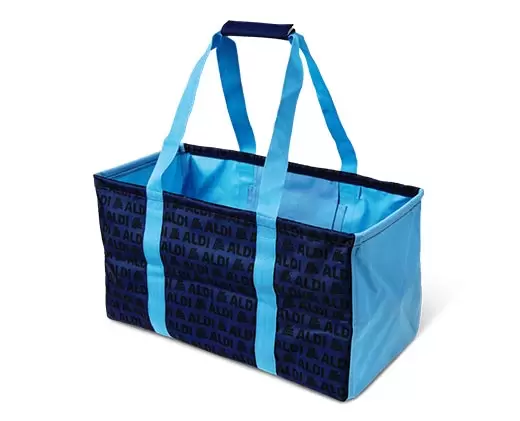 Did You Miss Out On Aldi's Folding Grocery Bag?
Here are some more options if you missed out on Aldi's utility tote.
Sale
Bestseller No. 1
Bestseller No. 2
Sale
Bestseller No. 3
Aldi Tote Grocery Bag Reviews
0 out of 5 stars (based on 0 reviews)
There are no reviews yet. Be the first one to write one.
Last update on 2023-05-28 / Affiliate links / Images from Amazon Product Advertising API