Little Salad Bar Salad Kits at Aldi
One of the Aldi things I buy almost every week is one of the salad kits from Little Salad Bar. An Aldi's chopped salad kit makes a perfect side for a meal for two or an easy lunch for one. I have brought one of the Aldi salad kits to work as an easy light lunch on it's own or added a hard boiled egg or other protein to make it a bit more filling. They also have salad bowls that include some meat or other protein along with all the other salad fixings for an easy meal.
Aldi has a great selection of lettuce, salad mixes, and other greens and vegetables along with really good salad dressings to let you make your own perfect salad. But if you want to have an easy, ready to go side dish or light meal you should definitely check out a Aldi salad kit.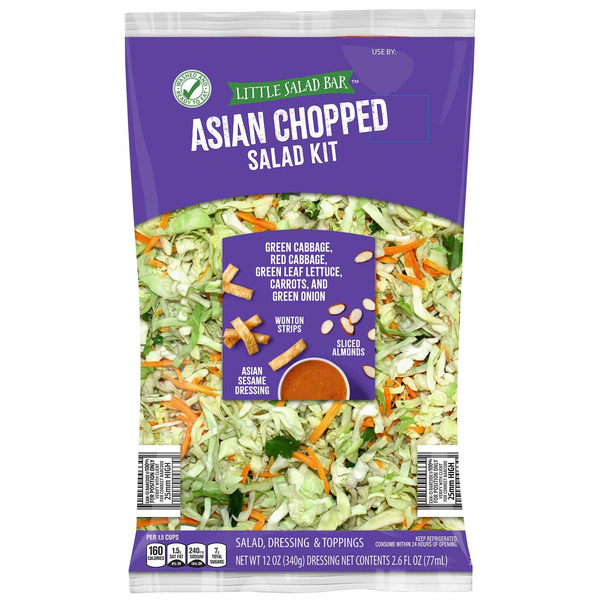 Aldi Chopped Salad Kit
The salad kits that I buy most often are the Little Salad Bar Chopped Salad Kits. They have a variety of flavors and will sometimes rotate some other variations in. The reason I like the chopped kits is they tend to last a while in the fridge because they have more cabbage, kale, and other veggies that tend to hold up better than lettuce and spinach.
Chopped Salad Kits Price: $3.65 (Feb 2022- Prices may vary)
Size of Aldi Chopped Salad Kits: between 10-14oz (depending on variety)
Typically includes salad/vegetable mix, salad dressing, and toppings (croutons, chips, cheese, ect)
Little Salad Bar Asian Chopped Salad Kit
Aldi's asian salad kit and the Southwest Salad kit are my favorite chopped salad kits that they carry regularly. This is a mix of green cabbage, red cabbage, romaine lettuce, carrots, and green onion with wonton strips and sliced almonds as a topping. The dressing is orange sesame and the 2.5 fl. oz. pack is usually more than enough for the amount of salad. This kit has 160 calories for a 1.5 cup serving.
Little Salad Bar Southwest Chopped Salad Kit
Aldi's Southwest Salad kit is a mix of greed cabbage, red cabbage, kale, romaine lettuce, carrots, and green onion. It comes with a topping of tortilla strips and either white cheddar cheese or mexican blend cheese. The dressing is either chipotle ranch or greek yogurt jalapeno dressing. I have always found the chipotle ranch version in my store and it is very good.
Little Salad Bar Sweet Kale Chopped Salad Kit
The sweet kale salad kit from Aldi is a mix of kale, green cabbage, broccoli, and other vegetables. Toppings includes dried cranberries, roasted pepitas or sunflower seeds. The dressing is either a creamy poppy seed dressing or a citrus dressing. The version in my store has included the pepitas and poppy seed dressing. It is a very good salad, but it is not my go to.
Little Salad Bar Sunflower Chopped Salad Kit
Aldi's Sunflower salad kit is another salad kit that rotates through my store and I like to buy it occasionally. It includes a mix of kale, green and red cabbage, green leaf lettuce, and carrots. Your toppings include shredder Italian cheese and a mix of sunflower seeds, crunchy edamame, and quinoa. The dressing is a sweet onion vinaigrette.
Little Salad Bar Caesar Chopped Salad Kit
I haven't seed this one in my store, although the non-chopped caesar salad is usually on the shelf. Aldi's chopped caesar salad version is a mix of iceberg lettuce and green leaf lettuce and includes caesar dressing, croutons, and italian cheese.
Little Salad Bar Bacon Avocado Ranch Chopped Salad Kit
Bacon, Avocado and Ranch; what more do you need in a salad? They don't always carry this one at my store but it could be my favorite. The salad itself is a mix of green leaf lettuce, green cabbage, carrots, and green onion but the toppings and dressing are what make it great. As the name suggests, Aldi's bacon avocado ranch salad kit comes with bacon bits which do give you a good bacon flavor but aren't quite as good as fresh cooked bacon and a taco blend cheese but the the standout is the crisp corn topping. I am not sure what exactly the process is but the end result is sweet corn that has been dried some way to give it a great crisp crunch while still retaining the taste of fresh sweet corn. I haven't had that type of corn anywhere else and I would by it on it's own if it was available. And lets not forget about the Avocado Ranch dressing because it is one of the better salad dressing I have had, again I'd buy bottles of this if Aldi offered it. Maybe they do offer it? I see a Little Salad Bar Avocado Ranch dressing listed on Instacart and I am not sure if it is the same dressing. Let me know if you have tried it!
Fresh Express Thai Cashew Chopped Salad Kit
My store doesn't carry this salad kit all the time but I pick it up when it is available. The Aldi Thai Cashew salad kit is at least as good as the Asian and southwest salad kits and may even be a little better. The salad mix is red and green cabbage, green leaf lettuce, green onions, and carrots. The topping is a mix of cashews, Thai spiced wonton strips, and toasted coconut flakes. The dressing is called "Creamy Thai Dressing" and tastes similar to a peanut sauce but it looks like it is made with sunflower seed butter. The dressing is very good and the included toppings make this salad feel like you got it from a restaurant.
Caesar Salad Kit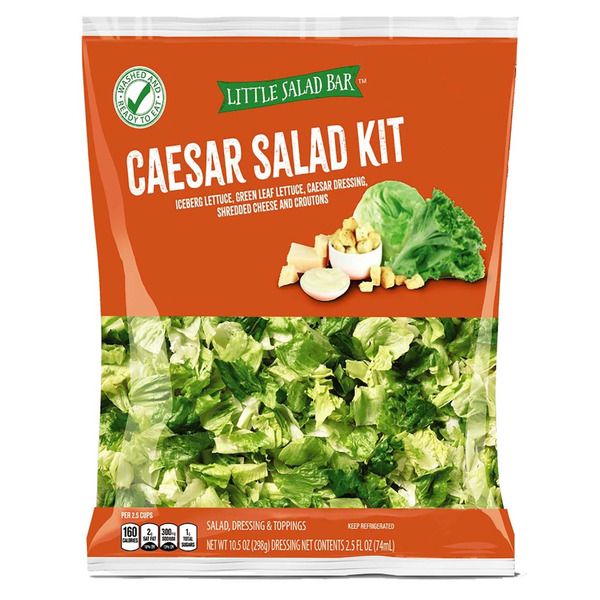 This is a different salad kit from the Caesar chopped salad kit above but it looks like it is basically the same ingredients but the lettuce is cut a bit bigger. It is a mix of iceberg and green leaf lettuce with caesar dressing, shredding cheese and croutons. If I am wanting a caesar salad I would probably buy this over the chopped kit just because it is more similar to that classic caesar you would get in a restaurant.
This is the only bagged salad kit that is not chopped that I see regularly. There are salad mixes that don't include toppings or dressing but I'm not including those here.
Aldi Salad Bowls
Beyond the salad kits Aldi also has Salad bowls. These bowls are basically an individual sized salad with dressing and toppings. The main difference between the bowls and kits is the bowls will have some meat or other protein included to try to turn it into a full meal. The bowls tend to be about half the size (weight) as the salad kits but more toppings. The bowls even include a fork to make this a quick on the go meal or easy bring to work lunch. The cost of one Little Salad Bar from Aldi is $3.19 each as I write this (Feb 2022).
Aldi Salad Bowl Price: $3.19 (Feb 2022- Prices may vary)
Size of Aldi Salad bowls: between 4.5-6.2oz (depending on variety)
Calories per bowl: 180-270 calories (depending of variety)
Typically includes salad mix, salad dressing, and toppings (meat, cheese, nuts, bread, chips, ect)
Little Salad Bar Chef Salad Bowl
Aldi's Chef Salad is iceberg lettuce with ranch dressing, ham, turkey breast, and shredded swiss cheese. One chef salad bowl (6.2 oz) will have 230 calories, 4g sat fat, 500 mg sodium, 3g total sugars, and 12 g of protein.
Little Salad Bar Santa Fe Salad Bowl
The Santa Fe salad bowl from Aldi includes romaine lettuce, cheddar cheese shreds, chicken breast, Santa Fe style tortilla strips, and a jalapeno greek yogurt dressing. For nutrition you will get 190 calories 3.5g sat fat, 490 mg sodium, 2g of sugar, and 11g protein per bowl (5.2 oz).
Little Salad Bar Chicken Caesar Salad Bowl
This salad bowl is your typical chicken caesar salad; romaine lettuce with grilled chicken breast, caesar dressing, and asiago cheese. It also has the most calories and protein of the salad bowls. For one bowl (5.75oz) you will get 270 calories, 5g sat fat, 500 mg sodium, 1g total sugars, and 16g of protein. This may be the most filling option they have.
Little Salad Cranberry Walnut Chef Salad Bowl
The Cranberry Walnut Salad switches away from the typical lettuce and includes a healthy mix of spinach, kale, beet greens, and pak choi. The toppings include dried cranberries, walnuts, feta cheese, flat bread strips, and a raspberry walnut vinaigrette. This could be the healthiest of the salad bowls because of the dark leafy green mix and inclusion of walnuts, but it also has the most sugar (13g) and is lower in protein. The overall nutrition will give you 180 calories, 3g sat fat, 410 mg sodium, 13g of total sugar (10g added sugar), and 8g protein per bowl (4.5oz). If it wasn't for the 10g of added sugar I would say this is probably the healthiest option.
There were some Aldi salad recalls that included salad kits in 2021 and the beginning of 2022 so check Aldi's Recall page for the most up to date information.
Aldi Salad Kit Reviews
1.0 out of 5 stars (based on 1 review)
Yucky
The Little Salad Bar @ Aldi's used to be very good a few years ago. It has gotten worse and worse. Usely turns very watery soon, even at store, way before expiration dates. You have to really check. OMG!! It is so full of red cabbage. Can find very little lettuce or carrots. I stand and pick most of cabbage out of it and end up with 1/6 of size left. Have to buy shredded lettuce to add. It used to be good and cost 89 cents. Now it is yucky and with both, I have to pay $4.00 to make 2 salads. Also, on low-income.