Aldi Waffle Makers
This Aldi Find is a favorite kitchen appliance of many Aldi fans: the Ambiano Belgian Waffle Maker. Recently Aldi has three different models of Belgian Waffle Makers (rotating, double rotating, and non-rotating) available at different times.
The most recent model is the Ambiano Belgian Waffle Maker. It makes two waffles at once and rotates for even cooking. Like the previous waffle irons from Aldi it has a non-stick coating for easy release.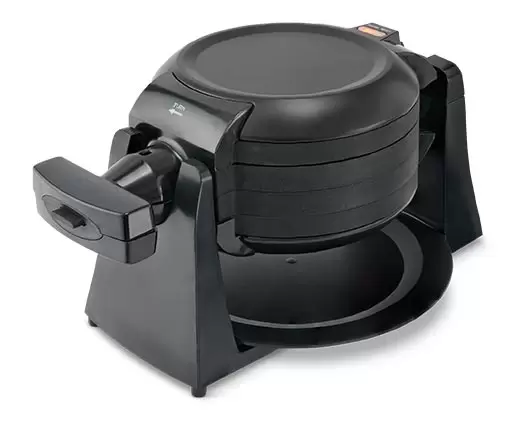 The rotating waffle maker may have an advantage in even cooking since it can rotate and spread the batter. But the non-rotating version will be take up less space in the cupboard which is a big plus for me.
Ambiano Double Waffle Maker
Price: $29.99 (September 2023, prices may vary)
Available: 8/23/2023 (Previously available 9/28/2022)
Double Capacity: Makes two waffles at once
Rotates 180 degrees for evenly cooked waffles
Non-stick coating for easy food removal
Removable dishwasher safe drip tray for easy cleanup.
Power: 1400W
Colors: Black (2022 model: Navy or Warm Gray)
Is Aldi Double Waffle Maker a Good Deal?
At $35 this looks like a decent price for a rotating double waffle maker. The best deal I was able to find on a similar model from a brand I recognize is the Black and Decker Rotating Waffle Maker.
There are also higher end options from Cuisinart (Click to check price on Amazon) or Hamilton Beach (Click to check price on Amazon). Both of these have a lot for great reviews but come at a higher price point.
Bestseller No. 1
Bestseller No. 2
Sale
Bestseller No. 3
Ambiano Belgian Waffle Maker (Non-Rotating)
Price: $14.99 (July 2023, prices may vary)
Available: 7/5/2023
Colors: Black, Silver or Light Blue
Produces one inch thick Belgian waffles
Adjustable temperature control dial
Cast aluminum plates with non-stick coating
Power light and ready light lets you know when waffle is ready
Space saving upright storage
Is The Non-Rotating Version A Good Deal?
I researched the Ambiano Rotating Waffle Maker when it came out in February and found that it was a pretty good deal compared to the competition. I was planning on picking one up to test out but I didn't catch them in-stock at my local store.
Now we have the more compact but non-rotating Ambiano Belgian Waffle Maker. The ability to store it upright so it takes up minimal space in the cabinets is a big selling point for me personally plus it is a lower price.
The best deal I found was on the Oster Belgian Waffle Maker but it was still a few bucks more than Aldi's Belgian Waffle Maker. I could also be tempted to go with the Hamilton Beach 2-slice Belgian Waffle Maker. It makes two square waffles at once which could be handy. It looks like Aldi has a good deal with the Ambiano Belgian Waffle Maker.
Sale
Sale
Chefman Anti-Overflow Belgian Waffle Maker w/Shade Selector, Temperature Control, Mess Free Moat,…
MESS FREE, STRESS FREE: Designed with a wrap-around channel to catch any excess batter this unique feature prevents any batter from overflowing or leaking.
7 SHADE SETTINGS: Choose from 7 different shade settings to cook your waffles exactly how you like it. The higher the setting, the darker and crispier it will be. Spill-Proof Locking Latch  
ENDLESS RECIPE OPTIONS: With the Chefman Anti-Overflow Waffle Maker, there are unlimited options of recipes to create a delicious breakfast, lunch or even dinner! Create waffles like the classic,…
Ambiano Rotating Belgian Waffle Maker Details
Price: $24.99 (Aldi Finds: Feb 2022- Price may vary)
Griddle Plates are coated with a copper-titanium ceramic to reduce sticking
Cooking surface rotates for even shape and cooking
Lights to show when the power is on and when the waffle iron is ready.
Cool touch handle folds for easy storage
Available in Blue or Cream
View at Aldi.us
Aldi Rotating Belgian Waffle Maker
This waffle maker is not a new item at Aldi, it looks like it has been available at least once a year for the past few years. It also looks like each year it has been going up in price by about $5 which is not surprising with the increase in prices we are seeing across the board right now.
Looks like last year it was selling for $19.99 and it looks like it was selling for just $14.99 not to long ago. The good thing about this being a repeat Aldi find is that it has generally seen good reviews in the past and likely hasn't had major issues that would cause Aldi to stop selling it.
From what I could find reddit users seem to be pretty happy with the waffle maker even after a year or more of use.
Is The Rotating Version a Good Deal?
Based on the warranty contact info it looks like this waffle maker is made by Sensio Brands (now called Made By Gather) which makes kitchen goods under their own brands and for store brands like Aldi. One of their brands is Bella which is sold on Amazon and at retailers like Kohls and Walmart (at least online).
The model that looks similar to the Ambiano is this one from Kohls.com since it has the same basic look and the same non-stick coating. That one is selling for about $35 while some on Amazon that are slightly different models are selling in that same price range currently. The version on Amazon has a browning control dial and a different type of non-stick coating.
Aldi's rotating waffle maker looks like a pretty good deal even with the price increasing. Similar rotating waffle makers are going for $40+ on Amazon.
I was planning on trying out Aldi's Rotating belgian waffle maker but I wasn't able to get one at my local store. I may try to grab If I can't get one or it doesn't seem to work well I will probably try one of the models from Amazon that have removable plates to make cleanup easier.
Here are the best looking competitors I found on Amazon so you can compare features and prices with the Ambiano.
Reviews of the Ambiano Belgian Waffle Makers
Let everyone else know your experience with Aldi's Belgian waffle maker! Be sure to mention if you are reviewing the rotating or non-rotating version!
5.0 out of 5 stars (based on 2 reviews)
Love this wafflemaker
I was given the double rotating waffle make for Christmas and it is a tremendous success! Not only can I make 2 waffles at once but it only takes 3 minutes to cook them! I do NOT use cooking spray and they absolutely don't stick! Admittedly, I have only had it 6 months but I hope it lasts a long, long time!
Review of the Ambiano double rotating Belgian waffle maker
Used it for the first time today. Very happy with the results. Had to leave a little longer to get browned and crisper. Will make a great Christmas gift.
Last update on 2023-12-01 / Affiliate links / Images from Amazon Product Advertising API