Aldi Patio Dining Table
If you already have patio chairs or you are looking to piece together a patio set just how you want it the Belavi Patio Dining Table could be the centerpiece. This outdoor dining table is just under six foot long with a tabletop made from acacia wood. The Belavi Wood Patio Table will sell for $249.99 when it hits stores July 13th, 2022 as an Aldi Find.
If you do a lot of outdoor dining in the summer this table is perfect. It should seat 6-8 people and has a center cutout for an umbrella. Aldi just happens to be selling a nine foot wood umbrella at the same time as this table. If you need some chairs to go with the table Aldi has had quite a few options this year. I think the Belavi Sling Folding Chair would probably fit the best with this table but you aren't limited to only Aldi options! For a table like this you could go with patio chairs or a wood bench.
Aldi Outdoor Dining Table Details
Price: $249.99 (2022: prices may vary)
Availability: 7/13/2022
Dimensions: 70.9 inches x 35.4 inches x 29.5 inches
Tabletop is made from acacia wood
Center fits most standard umbrellas
One-year warranty included
Aldi Product Code: 812814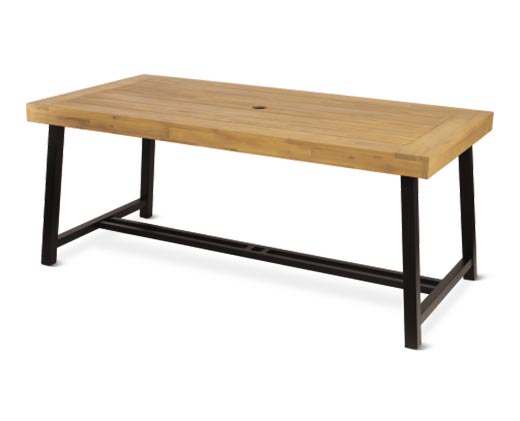 Is The Belavi Wood Patio Table a Good Deal?
This outdoor dining table from Aldi will start out selling for $249.99 which seems like a decent price for a wood top table but let's look at the other options. The table that looks most similar to the Belavi Table is this Christopher Knight Home Carlisle Outdoor Dining Table. The dimensions are very similar, is uses the same, acacia wood for the top, and it has the same overall style. It is selling for $404.99 at the time of writing this.
If you are willing to go with a different style of wood outdoor dining table I was able to find this VidaXL Solid Wood Outdoor Dining table for $254.99. Again this table uses acacia wood but is all wood instead of just the top. This table is also slightly longer than Aldi's outdoor dining table and they offer a shorter version for less as well.
Overall is looks like the Belavi Patio Dining Table is a good deal at $249.99 but there are other options out there in that price range. $250 seems to be the bottom of the price range for a wood outdoor dining table of this size.
Belavi Patio Dining Table Reviews
5 out of 5 stars (based on 1 review)
I love this table!!
I bought one and love it!
I need to know how to buy another one.
Can anyone help me?