Aldi's Suspension Trainer
Check your local Aldi Finds Aisle the week of 4/6/22 for the Crane Door Suspension Trainer. This style of trainer was popularized by the TRX suspension trainer and you will pay dearly for that name brand. The Crane Suspension Trainer or TRX type trainers give you a lot of different options for the types of exercises you can do. They basically let you use your bodyweight in a bunch of unique positions to get a full body workout. It attaches to just about any door and is one of the more potable workout options.
Crane Suspended Door Trainer
Price: $14.99 (2022 prices may vary)
Complete body training for both indoors and outdoors
Individually adjustable straps
Train for power, coordination and balance using your own body weight
Quickly and easily attaches to any standard door
Includes training instructions
Includes carrying bag
275 lb. weight limit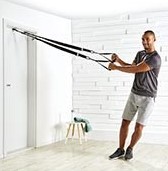 Is the Crane Suspension Trainer a Good Deal?
Aldi's Door Trainer gives you tons of workout options for just under $15 but is that a good deal? Well this Aldi Find seems like a steal of a deal. The name brand TRX starts at $129 although they do tend to go on sale. I doubt any sale price for a TRX is going to get down to $15 though. The cheapest I found is the TRX Go which looks like it includes similar features as the Crane Door Trainer. To be fair to the name brand I do expect that certain parts of the TRX are likely going to be a little better designed. The handles look a bit more comfortable on the TRX and include a loop below the handle which is useful for certain exercises. It also has a special way to adjust and minimize slipping.
When the TRX became popular a bunch of competitors sprang up quickly and there are multiple options on Amazon. If I was going to buy one off Amazon I would probably go with the DOHOO Bodyweight Resistance Kit that is selling for $54 right now (but has a 10% off coupon on top of that). This kit includes the basics that come with the Crane Suspension Trainer or the TRX GO but also includes a wall mount anchor so you can attach it to a stud in your wall or ceiling and a elastic resistance band. It also says that it is able to support up to 600 pounds of bodyweight which is over double the Aldi version (275lb).
If you are just looking for a door/travel version and missed out on the Aldi Find you can pick up the POSTERLY version for around $40. It looks pretty similar to the Crane Door Trainer as far as what is included and the features. If you can get the Aldi version I would probably try that first myself.
Aldi's Crane Suspension Trainer looks like an absolute steal of a deal if you can find it in store. It is less than half the price of comparable "off-brands" on Amazon and almost a tenth of the price of TRX! If you are considering this type of trainer I would pick this one up if you can find it!
Wall/Ceiling Mount For Crane Door Trainer
If you do get your hands on Aldi's suspension trainer you can get a wall or ceiling mount that can attach to wood or cement if you don't want to use it one a door. This wall anchor should work with the Crane Trainer without to much work besides mounting it to the wall or ceiling.
Reviews of Crane Door Suspension Trainer
2.6 out of 5 stars (based on 7 reviews)