Aldi Lightweight Cast Iron Fry Pan
Aldi is coming out with the Crofton lightweight cast iron fry pans as an Aldi Find again during the week of 1/25/2023. Cast iron skillets are generally very heavy duty and I am not sure exactly what Aldi has done in making these lightweight cast iron.
They look a bit more like carbon steel pans to me which is often marketed as a lighter alternative to cast iron. Carbon steel is lighter and has similar properties to cast iron; high heat, safe to use on all cooktops, needs seasoning to perform its best.
There are also some other pans on the market that are also called lightweight cast iron and the Crofton may be modeled after these. The reason It doesn't look like cast iron to me is it has a stainless steel handle that is riveted on which is not common in cast iron pans. The side walls of the pan also look thin and are rounded in a way that is unusual in cast iron.
We will have to wait and see in person to get a better idea of the material. It is going to be pretty difficult to tell the difference for sure just by looking as both are more than 95 percent iron.
Either way the pans look like a good deal. I may be a bit cautious with them if they are a thin cast iron as cast iron is more brittle than steel. That is one of the reasons standard cast iron pans are so thick and heavy.
That could cause some issues with longevity when one of the benefits of cast iron being it is generally good for a lifetime. You can also check out some other Aldi Cast Iron Pans including a lightweight enameled cast iron Dutch oven. Or if you are looking at some other pots or pans at Aldi check out all the Crofton Cookware!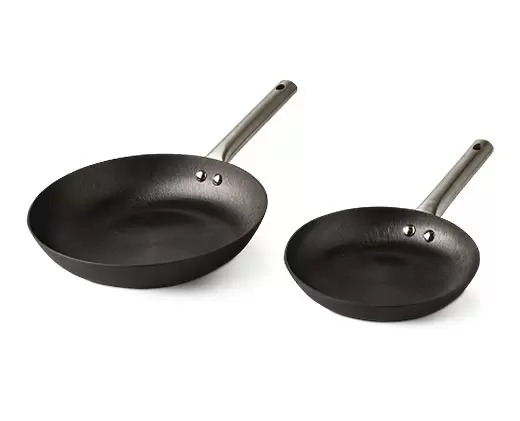 Crofton Lightweight Cast Iron Fry Pan Details
Price: $18.99 (2023 prices may vary)
Available as a 8″ and 10″ Fry Pan Set or a 12″ Frying Pan
Pre-seasoned cast iron finish
Oven safe (up to 500 °F)
Approximately 35% lighter than traditional cast iron skillet
Stainless Steel handle is riveted for strength
High heat retention similar to traditional cast iron
Two-year warranty included
Compatible with most cooking surfaces (electric, glass ceramic, gas, halogen, induction and grills)
Hand Wash only (I assume)
Is the Crofton Lightweight Cast Iron Skillet a good deal?
Getting either the set of 8 and 10 inch pans or the single 12 inch pan looks to be a pretty good buy. Cast iron (or carbon steel) pans are not super cheap in general and can get very expensive depending on the brand. This is a kitchen item that I think it is worth spending a little extra on for a quality item since you should be using it for a long long time.
I am currently working on switching over from the non-stick pots and pans I have to carbon steel, cast iron, and enameled. I am sick of replacing non-stick pans after just 2-3 years of use. Starting out I think it is best to get something a bit cheaper so you know how to use it and make sure you like using them so this Crofton Cast Iron set could be a good way to get started.
I have been using Lodge products for a few years because they are on the cheaper side of things while still being decent quality. I have both cast iron and carbon steel pans from Lodge and I am happy with them at the price. In the future I will probably try a higher-end brand on my next purchase to compare since I know I want carbon steel or cast iron.
Crofton Lightweight Cast Iron Fry Pan vs The Competition
Looking at the main competition for these on Amazon I will compare it to the lower priced cast iron and carbon steel pans as they both have similar uses. The first competitor is the Lodge 12 inch Cast Iron skillet which is selling for on of the cheaper options right now (may be on sale). I have the 10 inch version of this and really like it but have never used the high end cast iron pans. This is likely going to be much heavier than the Crofton Lightweight Cast Iron.
The next competitor looks very similar to the Aldi cast iron pans, it is made by IMUSA. It has a similar design with a lightweight cast iron pan and a riveted stainless steel handle. The IMUSA 11-inch pan is in a similar price range but it does list non-stick in the title. Some reviewers say it has a bad nonstick coating while the description says it is pre-seasoned cast iron.
Finally lets take a look at carbon steel pans. Again Lodge is one of the cheaper options while still being well reviewed and pre-seasoned. The Lodge 12 inch Carbon Steel Pan is selling for a decent amount more right now and you will probably want to spend the extra $5-15 for a silicon cover for the handle.
I've had this pan for a few months now and overall it has been good. The seasoning is decent and I haven't had issues with food sticking, it is not at the level of non-stick pans but very usable. The main think I don't like is the short side walls on the pan.
I end up tossing out some ingredients when doing stir fry because I am used to a bit higher and steeper walls. I would get a deeper pan if I was buying again but it is not enough to make me want to change.
Sale
Bestseller No. 1
Matfer Bourgeat Black Carbon Steel Fry Pan (11 7/8)
AMERICA'S TEST KITCHEN TOP-RATED CARBON STEEL FRY PAN: The pan that "has it all." Brings top-notch heat distribution and temperature control, preserving the vitamins and nutrients in your foods,…
NATURAL NON-STICK MATERIAL: Made of of black carbon steel, a natural mineral material promoting healthy cooking making this pan free of any harsh chemicals or coatings, PTFE and PFOA free , and once…
DURABLE CONSTRUCTION: The steel handle is welded to pan's body for extra strength and security, is free of rivets, ensuring sanitary use and its angled design makes it ideal for easily sauteing,…
Sale
Bestseller No. 2
Lodge CRS12 Carbon Steel Skillet, Pre-Seasoned, 12-inch
14 GAUGE CARBON STEEL heats quickly and retains heat for even cooking; best for searing and browning
Use on gas, electric, induction stovetops, outdoor grills or open fire, Made with nontoxic, PFOA & PTFE free material
Seasoned with oil for a natural, easy-release finish that improves with use. Its lightweight design and long, comfortable handle makes it easy to maneuver from the stove to the table
Bestseller No. 3
The Crofton Lightweight Cast Iron Fry Pans Look Like a Decent Deal
Overall these pans are a bit cheaper than similar pans on Amazon and $10-20 cheaper than the traditional cast iron or carbon steel pans. They would be worth trying out if you are in the market for t his type of pan since Aldi's return policy is generally pretty fair and they have a 2-year warranty. Don't expect it to be non-stick and look up how to use, clean and season cast iron if you haven't used it in the past.
Reviews of Crofton Light Weight Cast Iron Frying Pans
3.8 out of 5 stars (based on 6 reviews)
Last update on 2023-11-30 / Affiliate links / Images from Amazon Product Advertising API