Aldi Soft Pretzels
These Deutsche Küche Bavarian Soft Pretzels are one of my favorite Aldi snacks and they usually come into the freezer section a few times a year as an Aldi Find or during German Week.
They will be back in stores for German Week in 2023 (9/20/2023) for $4.79 per package (Check Instacart For Current Price/Availability). Each pack comes with six soft pretzels or sticks. I like having these in the freezer for an quick and easy snack during a football game.
I usually eat these plain with the salt added but they would be great dipped in a cheese or mustard sauce. I haven't seen any cheese sauces at Aldi that have pulled me to buy them but they always seem to have a good selection of premium cheeses that I have eaten along side it.
If you are picking these up during German Week you could grab a jar of Deutsche Küche mustard to go along with it since that is what they show on the box. I have never been a huge mustard fan so I haven't tried it on these but I do always pick up a jar of the Deutsche Küche mustard when it is in stock.
These Aldi pretzels are better than most of the ones I've had from the "pretzel shops" or at restaurants. I'm sure there are better ones out there at a good authentic restaurant or shop, but for less than a dollar each these pretzels are tough to beat.
Aldi imports these pretzels from Germany under the Deutsche Kuche Brand like most of their german made imports.
Just remember to look at how much sodium there is in one serving! It is pretty high in sodium but that may include the entire salt packet in the box which has been more than I would use.
Aldi Pretzels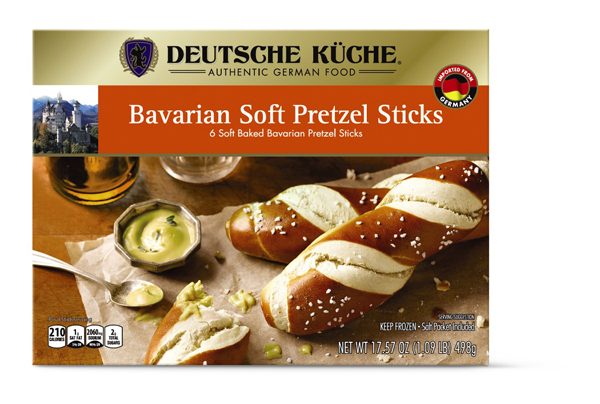 Deutsche Kuche Soft Pretzel Calories and Nutrition
Calories: 210 Cal
Saturated Fat: 1g
Sodium: 2060mg
Sugar: 2g
Check the back of the box for full nutrition information for your specific product.
Reviews of Deutsche Küche Bavarian Soft Pretzels
4.2 out of 5 stars (based on 11 reviews)