Aldi Herring Fillets in Three Unique Sauces
One of the more unusual options during Aldi's German Week is the Deutsche Küche Herring Fillets in Sauce. The available May 3rd, 2023 for just $1.69 per can.
They are available in three different sauces: tomato sauce, pineapple curry sauce, and mango pepper sauce. At just $1.69 per can it may be worth trying all three if you are a canned fish fan or just curious!
While I wouldn't be too surprised to see herring or pickled herring in Germany I wouldn't expect pineapple curry or mango pepper sauces.
These are a very popular product during German week at least for some people. It got more votes than I expected when asking reddit for the most popular German Week products.
I have also seen that some people stock up shelves full of these canned herring fillets to hold them over between German Weeks.
Deutsche Küche Herring Fillets Sauces
Herring in Mango Pepper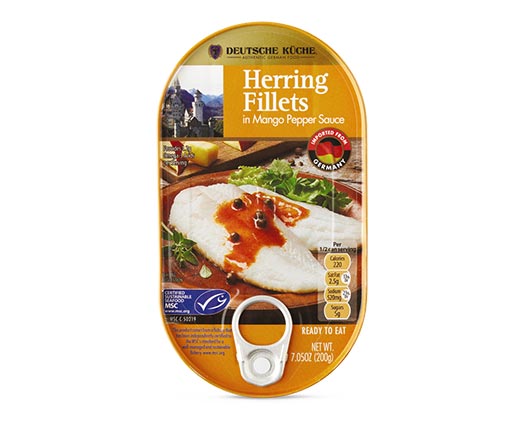 Herring in Tomato Sauce
Herring Pineapple Curry
Images Courtesy of ALDI
Aldi Canned Herring Details
Price: $1.69 (2023 prices may vary Check Instacart For Current Price/Availability)
Available: 5/3/2023
Size: 7.05 ounces (200 grams)
MSC certified (Marine Stewardship Council) Sustainable
Wild caught
Flavor Options:
Herring Fillets in Tomato Sauce
Herring Fillets in Mango Pepper Sauce
Herring Fillets in Pineapple Curry Sauce
Aldi Product Code: 808133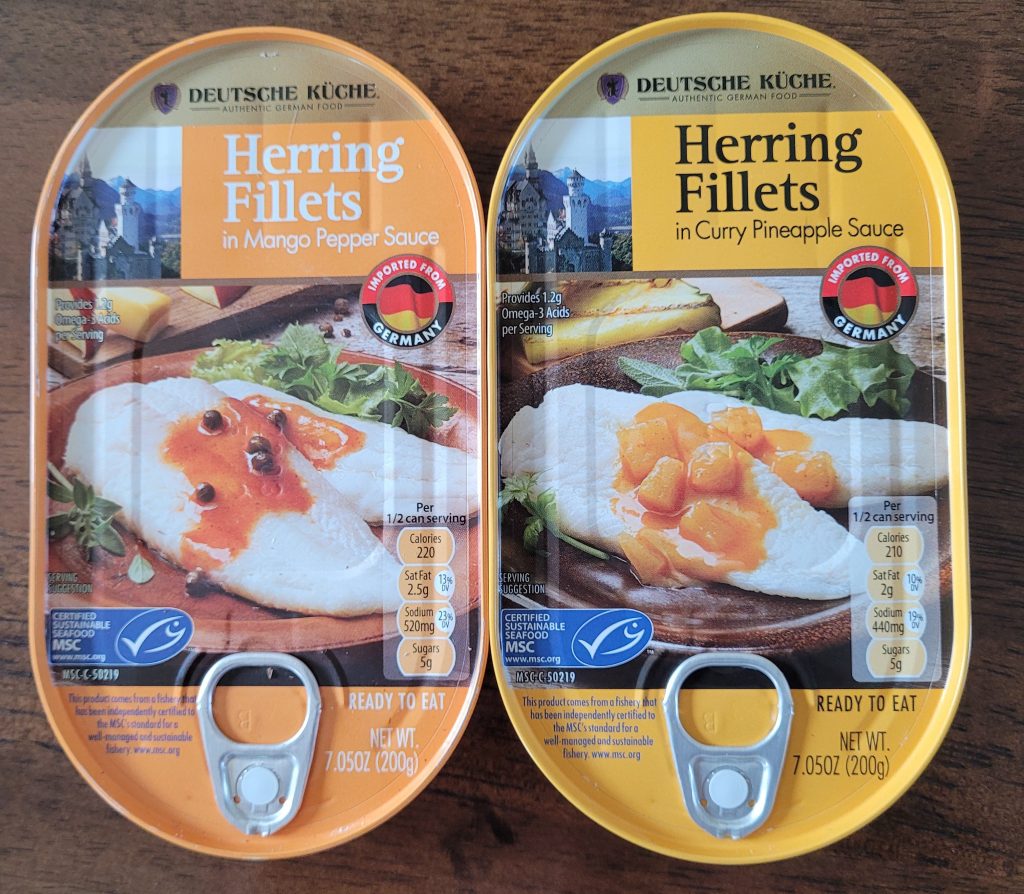 Deutsche Küche Herring Fillets Reviews
4.7 out of 5 stars (based on 3 reviews)
Great taste, great bargain!
I picked up a can of the Mango Pepper herring last fall, and to my regret, I put them in my cupboard for another day. Six months later, and I'm having them for breakfast, and they're so tasty, I wish I'd bought more! The fish is fresh tasting and meaty, and the sauce isn't too sweet, but quite mango-y. I ate one filet on triscuits, and I think I'll make a half sandwich of the rest, maybe with a bit of avocado. Yum!
Excellent Product for a great price
The "Deutsche Küche Herring Fillets" taste so great. My family and my friends in the US are so glad to buy these products. Unfortunately, we could no longer buy them in any ALDIs in Southern California.
Herring In Curry Pineapple Sauce
I love it! The fish is big. The sauce is a little sweet with tiny pineapple pieces in it. Not spicy at all. Would be awesome over rice.