Deutsche Kuche Mustard: 3 Varieties For German Week
An Aldi Fan Favorite will be available as an Aldi Find during this spring's Aldi German Week starting 5/4/22. Each Variety is only $1.95 for a 12oz+ jar! This tasty mustard is generally only available twice a year in US Aldis so be sure to stock up if it is one of your favorites. We don't go through a ton of mustard in my house but I usually pick up a jar of the Deutsche Küche Whole Grain when it is available and we really like it. I am tempted to try the beer mustard this time to try something a bit different.
Aldi German Whole Grain Mustard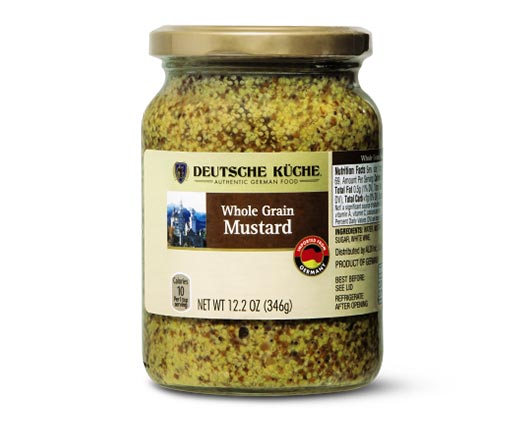 This whole grain mustard is one of my favorites and it is much cheaper than other "fancy" whole grain mustards I have tried. If you compare it to some of the popular options on Amazon it is a great deal. Most options are $7-10 per jar and most are smaller jars. This popular one from Maille is almost $10 for a 7oz jar!
If you are used to regular American mustard or even stone ground mustard this will be a bit different since it is whole grain. It has whole mustard seeds that are unground so it will have a different texture than standard or stone ground mustards. Aldi Imports this mustard from Germany like many of the Deutsche Küche branded items.
You could grab a pack of Deutsche Kuche Bavarian Soft Pretzels to spread it on! They are available during German week as well.
Aldi Sweet Bavarian Mustard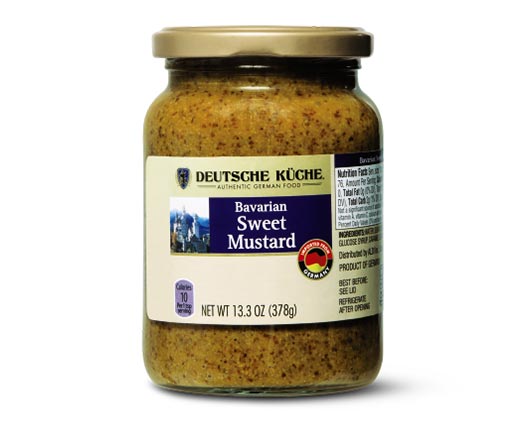 Another German imported mustard the Deutsche Küche Bavarian Sweet mustard looks to have a stone ground consistency. This means it will be a bit smoother texture than whole grain but still have some whole seeds and partially ground seeds.
Aldi Austrian Beer Mustard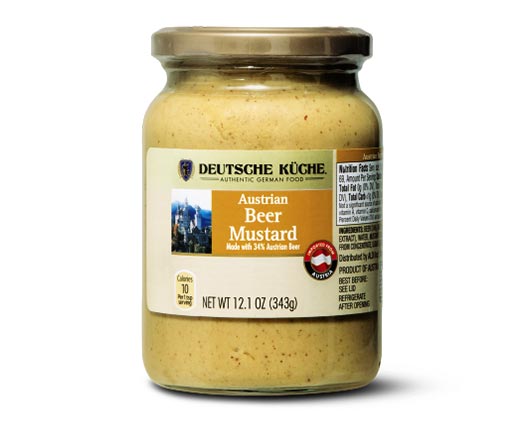 This Deutsche Küche Austrian Beer Mustard is actually imported from Austria. This looks to be a smoother mustard but still has a bit of "grit" like most traditional mustards. This mustard is made with 34% Austrian Beer according the the packaging.
Reviews of Deutsche Küche Mustards [Whole Grain, Sweet, and Beer]
Please include the type of mustard you are reviewing in the title of your review!
5 out of 5 stars (based on 2 reviews)
Love sweet Bavarian
I'm not a mustard fan, generally. I tried the Sweet Bavarian mustard and I was instantly hooked. Sandwiches, eggs salad, potato salad, on burgers and dogs..with cheese and crackers. I was so upset when the season was over I couldn't find it anymore..at any Aldis. I have been looking for maybe 2 years and I found out I can buy it online!! I'm so happy 😊
Aldi Whole Grain Mustard
I don't use a ton of mustard but I buy a jar of this each time it is available. It is great on sausages and brats, so much better than the bright yellow stuff.