Aldi Nuremberg Bratwurst
German Week at Aldi wouldn't be complete without some traditional German sausage and the Deutsche Küche Nuremberg Bratwurst is just that.
Available starting September 20th, 2023 for a limited time during German Week. A package of these brats will cost just $2.99.
They are available in both a regular bratwurst and reduced fat Nuremberg bratwurst. Both versions are uncured sausages.
The German name for this is Nürnberger Rostbratwürste. To be called that name these sausages have to be produced in Nuremberg.
These sausages are also smaller than the bratwurst you are probably used to in America. A package of what looks to be eight links is just seven ounces. Compare that to Aldi's Original Bratwurst that comes in a nineteen ounce package for a pack of five links.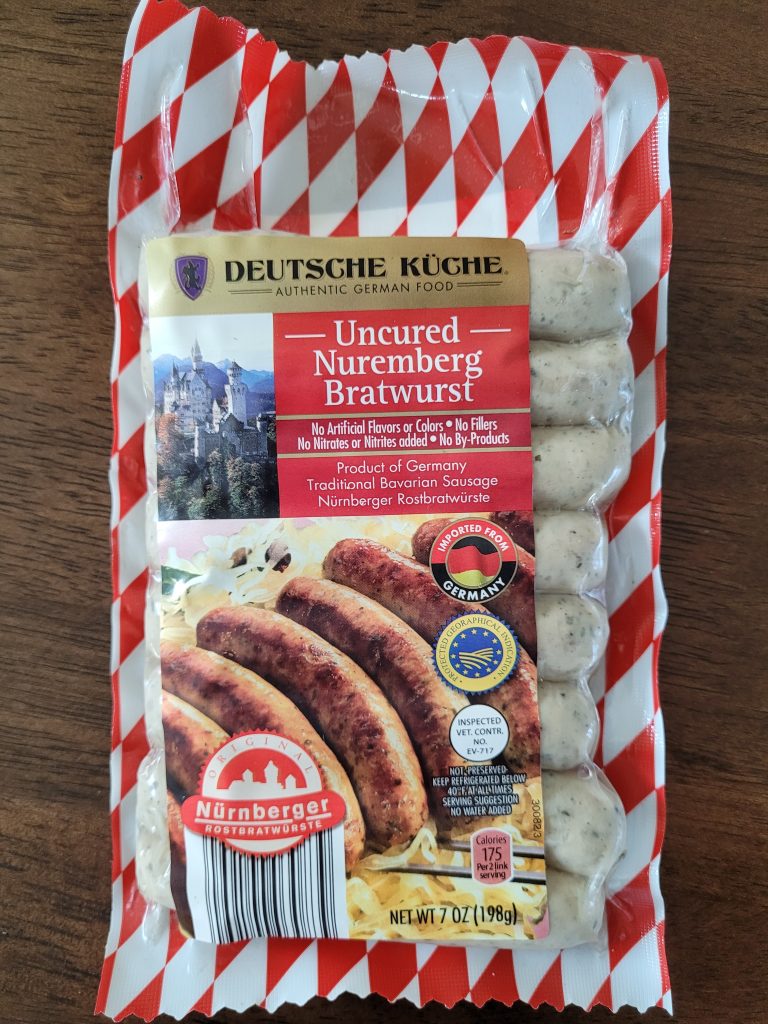 These will be a perfect fit for your Aldi Oktoberfest Feast!
Deutsche Küche Nuremberg Bratwurst or Nuremberg Reduced Fat Brat
Price: $2.99 (2023, prices may vary)
Available: 9/20/2023
Size: 7 ounces (looks like an 8 pack in the picture)
Available in traditional Nuremberg Bratwurst or Reduced Fat Nuremberg Bratwurst
Imported from Germany
Traditional Bavarian Sausage Nürnberger Rostbratwürste
Aldi Product Code: 48568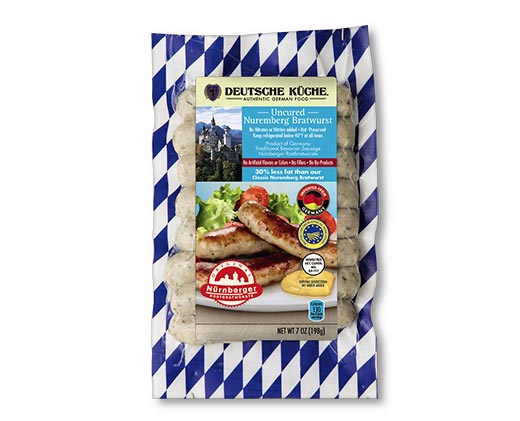 AKA Nuremberg Sausage or Nürnberger Bratwurst
Aldi's Nuremberg Bratwurst is based on a traditional sausage from the historic city of Nürnberg (Nuremberg), Germany. It can also be called a Nurnberger Bratwurst.
According to Insidethetravellab.com, Nuremberg bratwurst contain mace, pepper and marjoram. This type of sausage has apparently been around since 1300. It is typically made with a pork filling and sheep casing.
FAQs
How to cook Nuremberg Bratwust?
These little sausages are typically roasted over an open flame or grilled. You can also cook them in a pan until browned.
How To Serve Nuremberg Bratwurst?
Nürnberger Bratwurst are typically served "three in a bun" or without the bun with a side of German mustard and sauerkraut. The small size of these brats would make a good alternative to your standard breakfast sausage.
Deutsche Küche Nuremberg Bratwurst Reviews
5 out of 5 stars (based on 2 reviews)
Love them
I order these from a store in The Bronx, NY but they ďont stay in stock for long. Why?
The real deal, from Germany!
These are the authentic Nurnberger sausages you would get in Germany. Excellent flavor! I wait for these every October and buy as many packs as I can because they get sold out very quickly. Perfect for breakfast. Absolutely love them!