Aldi Peanut Puffs Snack
Deutsche Küche Peanut Puffs are back for German Week at Aldi. These crunchy little puffs will be available for $1.99 the week of September 21st, 2022.
These peanuts snacks are imported from Germany and are only available for a limited time as an Aldi Find. Aldi's Peanut Puffs are made with crunchy corn puffs with freshly ground peanuts.
Where To Get Them When Aldi Doesn't Them
Peanut Puffs are a popular snack and some similar products are called Bambas. Aldi's cousin Trader Joe's has a popular product called Bambas that looks very similar.
Trader Joe's Bambas sell for $1.29 for a 3.5 oz bag (according to their website at the time of writing this) so they are a bit more expensive than Aldi Peanut Puffs per oz. The peanut puffs at Aldi sell for $2.29 for a 7.05 oz package, or about twice the size of Trader Joe's Bambas.
You can also find similar products at Target, Amazon, and other retailers.
Bestseller No. 1
Bestseller No. 2
Bestseller No. 3
Sale
Peanut Puffs/Bambas
Bambas originated in Israel in the 60s and it still one of the more popular snack foods there. So it is not exactly a German Food and I don't know how popular it is in Germany.
Aldi's version, the Deutsche Küche Peanut Puffs does claim to be imported from Germany so I would guess it is made in Germany. But I can't be sure of that since I don't have a pack in front of me right now.
To me these look like a cheese puff or Cheetos Puffs but replace the cheese with peanut butter. I haven't tried these yet because that type of puff snack has never been my favorite. But peanut butter is one of my favorites so I am tempted.
If you have tried these be sure to scroll to the bottom to leave a review so we know if these are worth buying!
These could go well with the upcoming Peanut Butter Porter if you can save a bag that long.
Deutsche Küche Peanut Puff Snacks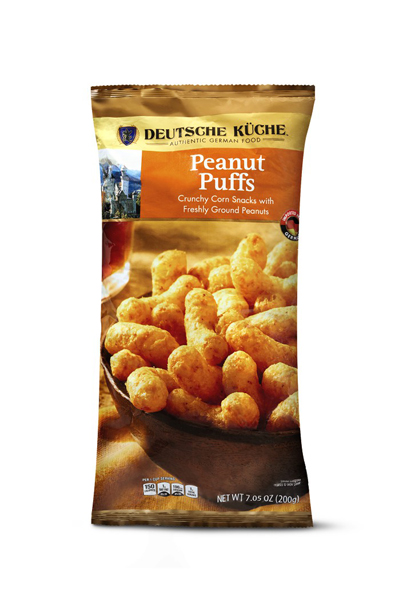 Deutsche Küche Peanut Puffs Reviews
Let us know how they are! And if you have tried Bambas how do they compare?
5 out of 5 stars (based on 11 reviews)
Last update on 2023-09-29 / Affiliate links / Images from Amazon Product Advertising API