Aldi 20V Cordless String Trimmer
Aldi continues with yard and garden products for their Aldi Finds going into summer. The week of April 19th, 2023 you can pick up either this Ferrex Cordless Trimmer or the Ferrex Cordless Blower to keep your yard looking good.
This cordless string trimmer (aka weed wacker) will be available for just $49.99. It will work either as a trimmer or as an edger to keep your sidewalk and driveway edges clean.
This looks to be a different model or updated version compared to last year but the price has remained the same. I am not sure what specific changes were made but in the pictures below it seems like there were some changes. But those could just be cosmetic changes.
It uses the included 20V rechargeable battery to power the trimmer which may a little on the small side for some yards. Unfortunately Aldi doesn't list the size of the battery for this year's model. Last year's model had a 1.5 Ah battery and I would expect it is the same or possibly bumped up a bit to a 2.0 Ah.
If you need a little more cutting power check out Aldi's Ferrex Chainsaw! Yeah you read that right Aldi is selling a chainsaw.
Ferrex Cordless Trimmer and Edger
Price: $49.99 (2023 prices may vary)
Available 4/19/2023
Rated voltage: 20V
Auto feed string system for easy use and fast trimming
Adjustable auxiliary handle
Rubber over mold handle for comfort and control
Includes battery with life indicator and charger
Flower guard helps protect flowers, trees, and ornamental lawn fixtures
In-line edging function keeps driveways and sidewalks looking clean
Three-year warranty included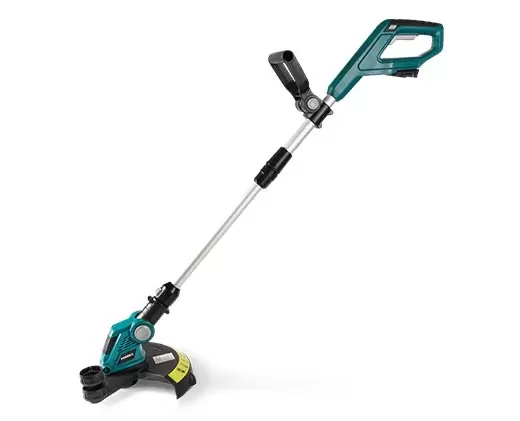 2022 Model Details
Price: $49.99 (2022 prices may vary)
Available 6/1/2022
Compact design with telescopic shaft to save space
Adjustable auxiliary handle and rubber grip
1.5 Ah Lithium-Ion battery with battery life indicator (20V) and battery charger included
12″ cutting diameter
Auto feed string system for easy use and fast trimming
In-line edging function keeps driveways and walks looking neat
Flower guard helps protect flowers and ornamental lawn fixtures
Three-year warranty included
Aldi Product Code: 814733
Is the Ferrex Cordless Trimmer a Good Deal?
The Ferrex Trimmer/Edger will be selling for $49.99 which seems like a pretty good price for a cordless trimmer. The first thing to consider is this trimmer runs on a 20V battery which is on the smaller side. This string trimmer is probably best for a very small yard or for someone that needs a lighter trimmer and doesn't mind stopping to recharge.
The other thing to consider is the lifetime of the battery. Since Ferrex is one of Aldi's "Store Brands" (as far as I know) you probably won't be able to go down to the local hardware store and find a replacement battery when the included one eventually dies.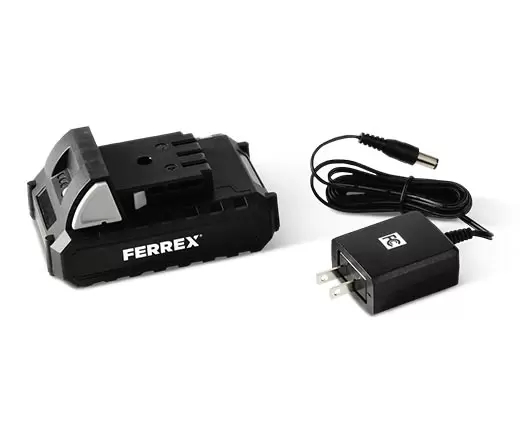 All batteries like this will go bad at some point but with other brands you can generally find replacements pretty easily so the entire tool isn't worthless. This does have a three year warranty and there should be some company that offers replacement parts and support so you should be able to get one, just with more effort. With other brands you can also get more tools that use the same batteries.
The Competition
If you have decided the 20V Trimmer is right for you let's look at the price of the competition. I looked online for 20V Trimmer/Edgers that include a battery and charger and I found that most were $70-$100+ for a brand I recognized.
I also found this Power Smart String Trimmer on sale for a bit less. You can also find good deals on this Worx Trimmer if you keep your eyes open for good sales.
Probably the best deal I found was the Black and Decker Trimmer + Blower Bundle which includes 2 batteries and a charger. This is the option I would go with if I needed a small Trimmer/Edger and a Leaf Blower.
It is more than buying both from Aldi but they have great reviedws and I know I can find replacement batteries and other parts pretty easy. If you only need the trimmer the Power Smart Trimmer could be an option for just more if you don't want to go with the Ferrex Cordless Trimmer.
So the Ferrex Cordless Trimmer/Edger Looks like a good, but not great deal. If you want to save the money or just like buying at Aldi instead of online I'm sure you will get your money's worth. But if you want something that more widely available I would give another of these brands a shot.
Sale
Bestseller No. 1
BLACK+DECKER 20V MAX* String Trimmer / Edger, 12-Inch (LSTE523)
Converts from trimmer to wheeled edger; Line diameter 0.065 inch
Power drive transmission for increased torque
2 speed control for more power or extended runtime. Maximum initial battery voltage (measured without a workload) is 20 volts. Nominal voltage is 18
Bestseller No. 2
Bestseller No. 3
Worx String Trimmer/Edger/Lawn Mower 3-in-1 Grass Trimmer GT Revolution 20V 12″ (2 Batteries &…
[3-TOOLS-IN-1] Easily transforms from a precision string trimmer, into a powerful in-line edger, into a nimble mini lawn mower.Charging time : 5 hours
[AUTOMATIC FRESH LINE] Proprietary Command Feed tech of this grass trimmer lets you add more line as needed, just by pushing a button, so you don't have to stop and can get the job done quicker
[FIND YOUR POSITION] This weed trimmer has 7 handle adjustments and 6 rotating head settings which makes it a comfortable and flexible edegr lawn tool you can use all afternoon and in many hard to…
If You Need Something a Bit Bigger
If you have a larger yard I recommend going with a 40V trimmer like this Ryobi I use. The 40V battery is generally going to last longer and the motor may have a bit more power. I also have a 40V Ryobi Leaf Blower that uses the same battery and charger. With that I can keep one battery charged up and swap as needed. There are other brands out there with similar batteries and specs but Ryobi is the one I have experience with.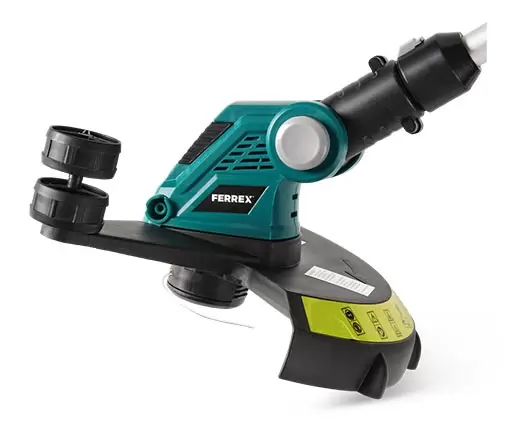 Ferrex 20V Cordless Trimmer and Edger Reviews
3.3 out of 5 stars (based on 15 reviews)
Last update on 2023-11-30 / Affiliate links / Images from Amazon Product Advertising API