Aldi Composter
Get ready for spring with the Gardenline Tumbling Composter. This compost tumbler is an ALDI Finds item available the week of 4/12/23 for $49.99. This type of composter makes it quick and easy to turn your yard waste and kitchen scraps into good usable compost for your yard and garden.
If you aren't familiar with composting this type of tumbling composter makes it easy to get started. Typically you need to "turn" compost every so often to mix and aerate it. A tumbler makes it easy to mix and also gives the benefit of being enclosed so it won't attract as many pests like mice and racoons.
A similar model was available last year and it looks like they are basically the same thing except for the 2023 model is green instead of blue. Not sure if there are any other differences. Last year's model had decent reviews (at the bottom of this page) but there seemed to me some issue with assembly. They also recently had the Walk-In Greenhouse available for purchase if you need something a bit bigger.
Gardenline Compost Tumbler Details
Price: $49.99 ( 2023- prices may vary)
Dimensions: 18.52″ x 24.15″ x 29.39″
Holds 15.9 gallons
UV-protected, heavy-duty all-season construction that's quick and easy to assemble
No hand mixing needed for ready-to-use compost
Convenient sliding door to add and remove material
Tumbling chamber holds 15.9 gallons
Two-year warranty included
Aldi Product Code: 47167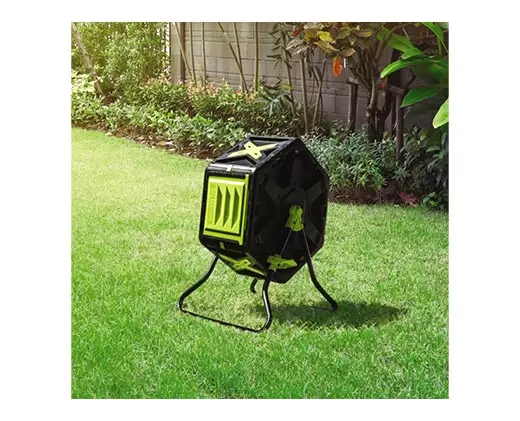 Is the Aldi Composter A Good Deal?
I found that Aldi's composter is on the smaller side for this type of compost tumbler and the closest size I could find is 18.5 gallons compared to the Gardenline's 15.9 gallon. This size is great it you are just looking to compost your vegetable scraps and don't have a big need for compost.
If you are wanting to compost your leaves or grass clippings from your yard you will find that this fills up pretty quick. Once you fill it (with a mix of "browns and greens") you need to let it work for at least a few weeks for it to break everything down into usable compost before you can start filling again.
Being on the smaller side is also a benefit for turning it and moving it around the yard. With larger compost bins it can be difficult to spin the tumbler once it is full and can also be tough to move it to a new spot if needed.
Gardenline Composter (15.9 gal) VS Miracle Grow Small Composter (18.5 gal)
If you want a small composter the Gardenline looks like it is a good price at $49.99 as that seems to be cheaper than most compost tumblers on Amazon but it is also a bit smaller. For this type of composter you will likely have to pay $70-75 on Amazon but you will get a composter that is 2.5 gallons bigger.
The name brand Miracle Grow Small Composter is selling at a higher price than the gardenline right now for just 2.5 gallons more volume which probably won't make a huge difference but you also get a name brand product with a lot of good reviews.
If I was looking for this size of composter I would pick up the Gardenline to save a little money. If I couldn't find it in stores or wanted something slightly larger or just to go with a name brand I would get the Miracle Grow version. Miracle grow also makes larger, two chamber versions which is really useful so you can fill one while the other finishes.
A bit more bang for your buck: F2C Compost Bin
For about a bit less than the Miracle Grow you can get the 43 gallon F2C Compost Bin. This is a dual chamber model meaning when one chamber is full and "cooking" you can keep filling the second. With a single chamber you will have to stop adding to it for a few weeks while the compost finishes. It is also significantly bigger at 43 gallons.
I had one very similar to this though I don't think it was this brand. It worked well enough but again is somewhat limited if you want to compost a bunch leaves or grass clippings at once. For the price I would get this over Gardenline or other the smaller ones because it gives you more capacity and flexibility if you need it. I would only buy one of the smaller ones if you really need a very small one for your space or are worried about spinning a larger one.
A larger and cheaper option: GEOBIN
If you are looking to compost mostly yard waste I would go with a GEOBIN and save a little money. This is an open compost bin which could attract pests if composting a lot of food scraps. You can bury the food scraps in the pile to limit that.
I just ordered one of these to compost my grass clippings and fall leaves. It has a 216-246 gallon capacity, so it can hold more material but it will need to be mixed/turned manually. I don't plan to use it for food scraps to limit it attracting mice or racoons.
Current prices of the items I mentioned
Reviews of the Gardenline Tumbling Composter
4.3 out of 5 stars (based on 3 reviews)
Door difficult to slide open!
Grrrr…. Have a guy put this together. It was a little painful on the hands snapping pieces together with the provided snaps. Another annoying thing is the door. You have to get your fingernails under it in order to slide it open. What the hell!
The container itself went together quite easily, but my boolet got wet and stuck together so I haven't been able to figure out how to build the stand.
I am looking online for directions pertaining to assembly and connection of the stand.
Since it rolls easily, I COULD just roll it on the ground IF all else fails, but it would probably work best WITH the stand.
It is a little small, but for the price it is a good investment for compost beginners or for gardeners who have only a small area for its storage (like an apartment patio, etc for container gardening).
Great Composter
I love this composter for food scraps. However, it did come missing a small piece needed for assembly. I emailed customer service and they sent me a replacement pretty quickly.