Aldi's $50 Walk-In Greenhouse
You may be surprised to find a Greenhouse at Aldi as you walk down the Aldi Finds aisle but the Gardenline Greenhouse will be there starting on March 29th, 2023. While you are there you can even pick up a nice looking potting bench to make things easy.
This little greenhouse will set you back just $50 and it is tall enough (6.4 feet) that most people will be able to walk inside. The greenhouse itself is a powder-coated steel frame covered with reinforced polyethylene (PE) to let the light in.
A little green house like this can help extend your growing season by letting light in for your plants and trapping some of the heat. Perfect for starting seeds before transfering to the garden or growing in cooler months.
If you missed out on this one Aldi also has two smaller Gardenline Greenhouses for just $24.99 (each) that have been available as an Aldi Find as well.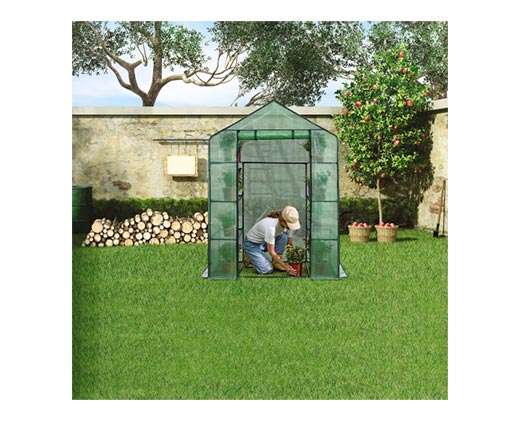 Gardenline Walk-In Greenhouse Details
Price: $49.99 (2023- prices may vary)
Available: 3/29/2023
Previously available: 5/11/2022 and 7/13/2022
Greenhouses help protect your plants against harsh weather and pests
Cover traps heat and humidity in the greenhouse to let you start your garden early
Extends your growing season- start early and grow longer
Includes 6 removable shelves to adjust for plant heights
22-lb. weight limit per shelf
Reinforced PE cover with powder-coated steel frame
Dimensions 4.7 feet x 2.4 feet x 6.4 feet
Assemble without any tools
Includes three-year warranty
Is The Aldi Greenhouse a Good Deal?
When I saw the price of just $50 for little greenhouse that you can walk in I assumed it was a great deal. But looking online I was able to find quite a few similar greenhouses for below $60 with good reviews. Some of these may be sale prices so check below for the current prices. At $50 the Gardenline Greenhouse is still priced the best as long as we are only looking at greenhouses with good reviews.
The big advantage I see with buying from Aldi (besides saving $5-10) is they include a three year warranty. Aldi is generally known for having pretty good warranty coverage and return policy and with this that makes a difference. These types of greenhouses tend to get damaged by strong winds and harsh weather so having a warranty for 3 years makes this an interesting option. At $50 if this lasts over 3 years I would feel I got my money's worth.
Bestseller No. 1
Greenhouse for Outdoors with Screen Windows, Ohuhu Walk in Plant Greenhouses Heavy Duty with Durable…
Warm yet Ventilated: With the zippered roll-up door and 2 screen side windows, you can regulate external airflow to keep the plants warm and provide better air circulation for the plants, and works as…
Large space: Constructed with 12 wired shelves – 6 on each side, and measures 56.3" (L) x 55.5"(W) x 76.8"(H), which makes space for all your blooming flowers, sprouting plants and fresh…
Rock-solid Stability: Structured with heavy-duty rust-resistant tubes for extended durability, supported with an 18 lb. weight capacity, so it is strong enough to hold seed trays, pots and plant…
Bestseller No. 2
HomGarden Mini Walk-in Greenhouse 3 Tiers 6 Shelves PE Fabric Cover w/Roll-up Zipper Door for Flower…
STURDY CONSTRUCTION – Built with powder coated steel frame, heavy-duty bearing net on each layer can hold more plants, and holds up to about 22LBS (10 kg) of evenly distributed weight. The bottom…
IDEAL GREENHOUSE ENVIRONMENT- Our mini greenhouse enables you to grow a wide variety of plants, fruits, flowers and vegetables effectively and easily, protects plants and seedlings from elements of…
SPACIOUS SPACE – Provides 6 wired shelves to hold your small plants, gardening tools, or pots, a smooth zippered roll-up door for easy access and screened ventilation for optimum air circulation
Sale
Bestseller No. 3
Home-Complete HC-4202 Walk-In Greenhouse- Indoor Outdoor with 8 Sturdy Shelves-Grow Plants,…
8 DURABLE SHELVES- The 8 sturdy shelves provide plenty of room for trays, pots, or planters of anything you want to grow. It's a convenient option for any gardener!
INDOOR OUTDOOR- This versatile greenhouse is ideal for both indoor and outdoor use; keep it on your backyard patio, deck, or in the basement or garage! The clear PVC cover helps protect seedlings…
EASY ASSEMBLY- With no tools required, the greenhouse is easy to assemble! Simply follow the included instructions and connect the rods. Rope and anchors are included for stability, and each shelf…
Online orders tend to have good return policies right after the initial purchase but can sometimes be difficult to get a replacement or refund if it breaks down the line. If I missed out on the Aldi Greenhouse or didn't trust the quality I would probably try out this Ohuhu Greenhouse that is going for just under $60 right now since it has a lot of good reviews.
It is mostly past the time for starting seedlings here so I will probably wait and see if I can snag one on clearance in a couple weeks since I wouldn't use it much until this fall or next spring.
Gardenline Walk-In Greenhouse Reviews
0 out of 5 stars (based on 0 reviews)
There are no reviews yet. Be the first one to write one.
Last update on 2023-05-28 / Affiliate links / Images from Amazon Product Advertising API