Aldi's $50 Walk-In Greenhouse
You may be surprised to find a Greenhouse at Aldi as you walk down the Aldi Finds aisle but the Gardenline Greenhouse will be there starting on 5/11/2022. It will be available again on 7/13/2022. While you are there you can even pick up a nice looking potting bench to make things easy. This little greenhouse will set you back just $50 and it is tall enough (6.4 feet) that most people will be able to walk inside. The greenhouse itself is a powder-coated steel frame covered with reinforced polyethylene (PE) to let the light in. A little green house like this can help extend your growing season by letting light in for your plants and trapping some of the heat. Perfect for starting seeds before transfering to the garden or growing in cooler months.
If you missed out on this one Aldi will have two smaller Gardenline Greenhouses for just $24.99 (each) available the week of 6/8/22.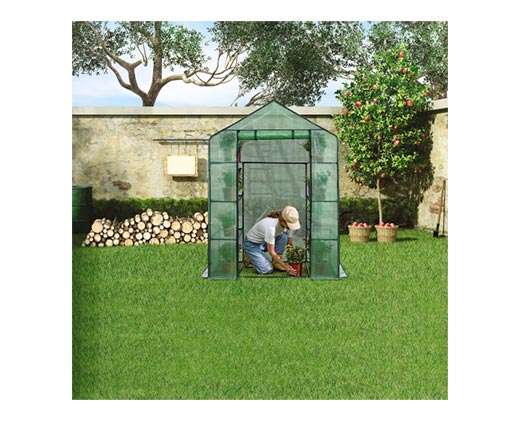 Gardenline Walk-In Greenhouse Details
Price: $49.99 (2022- prices may vary)
Available: 5/11/2022 and 7/13/2022
Greenhouses help protect your plants against harsh weather and pests
Cover traps heat and humidity in the greenhouse to let you start your garden early
Extends your growing season- start early and grow longer
Includes 6 removable shelves to adjust for plant heights
22-lb. weight limit per shelf
Reinforced PE cover with powder-coated steel frame
Dimensions 4.7 feet x 2.4 feet x 6.4 feet
Assemble without any tools
Includes three-year warranty
Aldi Product Code: 811177 (for 5/11/22) or 812574 (for 7/13/2022)
Is The Aldi Greenhouse a Good Deal?
When I saw the price of just $50 for little greenhouse that you can walk in I assumed it was a great deal. But looking online I was able to find quite a few similar greenhouses for below $60 with good reviews. Some of these may be sale prices so check below for the current prices. At $50 the Gardenline Greenhouse is still priced the best as long as we are only looking at greenhouses with good reviews.
The big advantage I see with buying from Aldi (besides saving 5-10) is they include a three year warranty. Aldi is generally known for having pretty good warranty coverage and return policy and with this that makes a difference. These types of greenhouses tend to get damaged by strong winds and harsh weather so having a warranty for 3 years makes this an interesting option. At $50 if this lasts over 3 years I would feel I got my money's worth.
Online orders tend to have good return policies right after the initial purchase but can sometimes be difficult to get a replacement or refund if it breaks down the line. If I missed out on the Aldi Greenhouse or didn't trust the quality I would probably try out this Ohuhu Greenhouse that is going for just under $60 right now since it has a lot of good reviews.
It is mostly past the time for starting seedlings here so I will probably wait and see if I can snag one on clearance in a couple weeks since I wouldn't use it much until this fall or next spring.
Gardenline Walk-In Greenhouse Reviews
0 out of 5 stars (based on 0 reviews)
There are no reviews yet. Be the first one to write one.