Aldi Ultrasonic Diffuser
Aldi will have the Huntington Home Ultrasonic Diffuser available as an Aldi Find for $12.99 the week of July 19th, 2023. It comes in multiple styles and colors and has a 100 mL capacity. You will have two mist modes to choose from plus a white LED light.
Ultrasonic diffusers are typically used as essential oil diffusers for aromatherapy, or just making the room smell nice. The Huntington Home Ultrasonic Diffuser has two diffusion modes and an auto shutoff function if the water runs low.
Aldi Carries a variety of Diffusers so you will be sure to find one that matches your décor if you keep an eye out.
Huntington Home Ultrasonic Diffuser (July 2023)
Multiple Colors and Styles
Two mist modes
Auto shut off
100-mL capacity
White LED light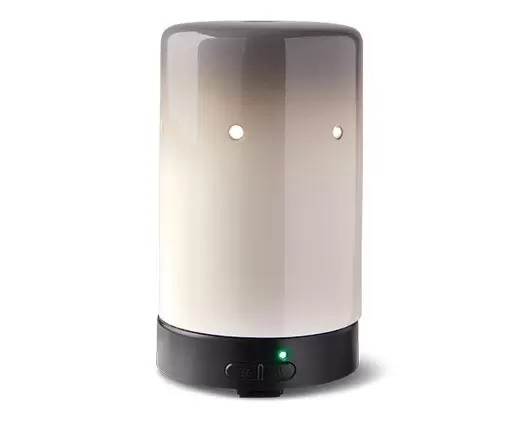 Huntington Home Rattan Diffuser
Price: $19.99 (2023, prices may vary)
Available: 1/3/2023
Colors: Wood or White
Aldi Product Code: 708051
Huntington Home Cool Mist Ultrasonic Aroma Diffuser (December 2022)
Price: $19.99 (2022, prices may vary)
Available: 12/7/2022
Colors: Gold Swirl, White, or Gray
Eight LED light colors
Two mist modes
Auto shut-off function
Capacity: 100-mL
ALDI Product Code: 701013
Huntington Home Ultrasonic Diffuser (July 2022) Details
This Huntington Home Ultrasonic Diffuser will be available at Aldi beginning the week of July 30, 2022. This Aldi Find Aisle favorite will be selling for $14.99 and has a 100 milliliter capacity.
It will be available in four colors; White, Black, Brown, and Charcoal. Either the charcoal color is not pictured or is not what I would expect. There are obvious white, brown, and black versions but the fourth looks like a two tone tan. I would expect charcoal to be a dark grey or some sort of grey.
Price: $14.99 (2022, prices may vary)
Available: 7/30/2022
Colors: Black, White, Brown or Charcoal
Two mist/diffusion modes
Auto Shut off function
100 mL Capacity
White LED Light
Aldi Product Code: 700973
Is It A Good Deal?
Looking online there are obviously plenty of options for ultrasonic diffusers but most seem like they are a bit more expensive than Aldi's diffuser. For the diffusers that have decent reviews the price range can be close to Aldi's to two or three times as much. If you want one that has a similar look to the Huntington Home Diffuser this SIOSAVT essential oil diffuser has a similar style and color options.
A good budget option that could compete with the Aldi diffuser is the AmazonBasics 100mL Essential Oil Diffuser. When looking at essential oil diffusers most have similar features and a 100 milliliter capacity. You can find some that have a bigger capacity or a built in night light. I would make sure whichever model you go with has an auto shutoff feature so it doesn't keep running once it is empty.
Sale
Bestseller No. 1
ASAKUKI 500ml Premium, Essential Oil Diffuser with Remote Control, 5 in 1 Ultrasonic Aromatherapy…
5-IN-1 AROMATHERAPY DEVICE: This ultrasonic essential oil diffuser is an amazing multi-functional aromatherapy device unlike any other you've ever used. It features a large and easy to clean 500ml…
ULTRA-QUIET FAN: With the upgraded ultra-quiet fan, the diffuser is quieter than ever. The noise level is lower than 23 dB, which is quieter than gentle sound of breathing. You can enjoy the relaxing…
CONVENIENT REMOTE CONTROL: Our diffuser comes with an easy to use remote control that can control it from up to 16.5-feet and change the lighting and misting modes as well as set the humidifier's…
Sale
Bestseller No. 2
Essential Oil Diffuser 120ml Ultrasonic Aromatherapy Diffuser with Handmade Glass BPA Free Waterless…
[Unique Design] Glass cover, ink painting design, a perfect addition to any contemporary home, office, gym, spa or studio. Compact and portable, the aroma essential oil diffuser's cover can be…
[Multi-Function Oil Diffuser] Aromatherapy essential oil diffuser, cool mist ultrasonic diffuser. This EQUSUPRO electric diffuser can also be turned on as night light. With 7 soothing led lights, you…
[Whisper Quiet Ultrasonic Technology] Aromatherapy Essential Oil Diffuser adopted advanced ultrasonic technology. It is extremely quiet without annoying noise that won't disturb you when you sleep or…
Bestseller No. 3
SALKING Essential Oil Diffuser, Metal Ultrasonic Diffusers for Essential Oils, Aromatherapy Diffuser…
Stylish Metal And Wood Grain Design – Our aromatherapy oil diffusers with a diamond white iron design blends in well with your furniture. Add a few drops of essential oil to your aroma diffuser when…
8 Color LED Lights – Press the light button of oils diffuser to select the color as needed, and also you can turn to the automatic light changing mode to relax, or turn off all lights for total…
Timer & Automatic Shut-Off – This oil diffuser humidifier has 4 time-setting modes: 0.5H/1H/2H/3H. When the water reservoir is empty, the aromatherapy essential oils diffuser will automatically turn…
Huntington Home Ultrasonic Diffuser Reviews
Let us know which model and year you purchased since Aldi carries multiple different diffusers each year!
1.6 out of 5 stars (based on 5 reviews)
Other Options
Sale
Bestseller No. 1
ASAKUKI 500ml Premium, Essential Oil Diffuser with Remote Control, 5 in 1 Ultrasonic Aromatherapy…
5-IN-1 AROMATHERAPY DEVICE: This ultrasonic essential oil diffuser is an amazing multi-functional aromatherapy device unlike any other you've ever used. It features a large and easy to clean 500ml…
ULTRA-QUIET FAN: With the upgraded ultra-quiet fan, the diffuser is quieter than ever. The noise level is lower than 23 dB, which is quieter than gentle sound of breathing. You can enjoy the relaxing…
CONVENIENT REMOTE CONTROL: Our diffuser comes with an easy to use remote control that can control it from up to 16.5-feet and change the lighting and misting modes as well as set the humidifier's…
Sale
Bestseller No. 2
Essential Oil Diffuser 120ml Ultrasonic Aromatherapy Diffuser with Handmade Glass BPA Free Waterless…
[Unique Design] Glass cover, ink painting design, a perfect addition to any contemporary home, office, gym, spa or studio. Compact and portable, the aroma essential oil diffuser's cover can be…
[Multi-Function Oil Diffuser] Aromatherapy essential oil diffuser, cool mist ultrasonic diffuser. This EQUSUPRO electric diffuser can also be turned on as night light. With 7 soothing led lights, you…
[Whisper Quiet Ultrasonic Technology] Aromatherapy Essential Oil Diffuser adopted advanced ultrasonic technology. It is extremely quiet without annoying noise that won't disturb you when you sleep or…
Bestseller No. 3
SALKING Essential Oil Diffuser, Metal Ultrasonic Diffusers for Essential Oils, Aromatherapy Diffuser…
Stylish Metal And Wood Grain Design – Our aromatherapy oil diffusers with a diamond white iron design blends in well with your furniture. Add a few drops of essential oil to your aroma diffuser when…
8 Color LED Lights – Press the light button of oils diffuser to select the color as needed, and also you can turn to the automatic light changing mode to relax, or turn off all lights for total…
Timer & Automatic Shut-Off – This oil diffuser humidifier has 4 time-setting modes: 0.5H/1H/2H/3H. When the water reservoir is empty, the aromatherapy essential oils diffuser will automatically turn…
Last update on 2023-11-30 / Affiliate links / Images from Amazon Product Advertising API