Nature's Nurture Sparkling French Lemonade
This fancy Aldi sparkling lemonade has a great flavor and sets itself apart from other store bought lemonades by being light, crisp, and well-balanced. It is not overly sweet and syrupy or overly tart and artificial tasting.
Just a great lemonade flavor with impressive carbonation. You will feel like you are popping champagne when you open the swing top on its premium glass bottle. To open the swing top bottle just push on the bottom of the metal wire (where they all meet) from the back towards the front.
This is less of true lemonade and more of a flavored soda water so the flavor is light but really nice and lemony without being overly sweet.
You can get this sparkling French lemonade in either standard lemon flavored (including Sicilian lemon juice) or in Sparkling Pink Lemonade. While I prefer the standard lemonade flavor both are good and worth trying.
You can also catch more flavors when the French Soda's come around as an Aldi Find (see the bottom of the page for details).
Add some berries (fresh or frozen) to kick it up a notch or spike it with a shot of vodka for a easy summer cocktail. Since this sparkling lemonade is basically a lemon flavored club soda it could be used in a wine spritzer with a citrusy white wine like Winking Owl Pinot Grigio or Sauvignon Blanc.
Sparkling Lemonade Ingredients and Nutrition Facts
This sparkling lemonade from Aldi is only 2% juice but it does contain Sicilian lemon juice which gives it a great flavor. You can see the ingredient list and Nutrition Facts label below.
Just remember this is basically a soda so it still has a lot of added sugar (33g). The sparkling pink lemonade should be pretty similar but I don't have a bottle off that sitting around right now.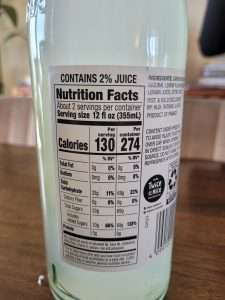 Availability at Aldi
Nature's Nectar Sparkling Lemonade is available at Aldi beginning in the spring to early summer and is usually stocked throughout the summer. This is a perfect drink for hot summer days so be sure to pick some up when it is available.
Be sure to check your store late summer or early fall because they often discount them at the end of the season. ALDI's Sparkling Lemonade will be coming back to stores 4/22/2022.
What is the price of Aldi Sparkling Lemonade?
When I purchased it last in the summer of 2021 both the regular and pink lemonade were selling for $2.95 per (25.4 fl oz) bottle. This is about two 12oz servings but this is something I usually drink in smaller servings, probably just 6-8oz is generally a good amount for me.
Who makes Nature's Nectar Sparkling lemonade?
Aldi's Sparkling French Lemonade is sold under the brand Nature's Nectar. This is one of Aldi's store brands which are typically made by another company under a private label for Aldi. After a little search of the Geyer Freres embossing on the glass bottle led me to the Lorina brand. This lemonade company was started in 1895 by Victor Geyer and renamed to Lorina after WW2.
I am assuming that Lorina makes the sparkling lemonade for Aldi since the bottles come from them. It is also a product of France, and they specialize in artisan sparkling lemonade. The labeling and bottles look very similar to Aldi's Sparkling Lemonade as well. The lemonade may not be the exact same but if it is Aldi's lemonade is a great deal compared to what it is selling for on Amazon. Amazon is selling a 3-pack of Lorina Lemonade for over $35 right now!
Sale
Bestseller No. 1
Bestseller No. 2
Bestseller No. 3
Nature's Nectar Sparkling French Soda
Occasionally you will find this Sparkling French Soda as an ALDI Find. It is the same Aldi store brand (Nature's Nectar) as the lemonade and looks like it comes in the same swing top bottles.
It will be available again on August 23rd, 2023 for $3.19 per bottle. You get to choose from 3 flavors: Blood Orange Graprefruit, Pink Raspberry or Pomegranate Blueberry.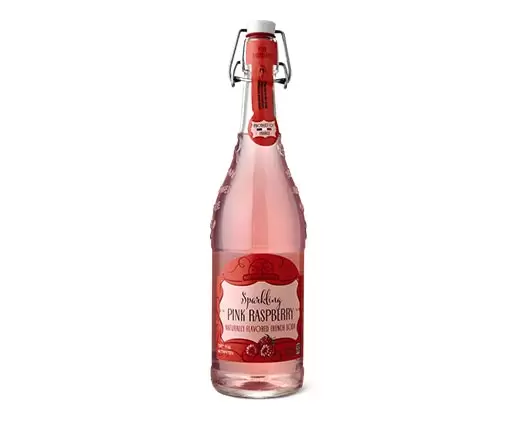 Bonus: Glass Swing Top Bottle (25.4 fl oz – 750 ml)
Aldi's Sparkling Lemonade comes in a very nice glass swing top bottle. It is embossed with a logo and the text: Geyer Freres Maison Fondee En 1895. I always save these bottles and clean them up. Just soak the label in warm soapy water, scrape it, scrub it, and then sanitize the interior. I use them when I make homemade kombucha or homebrew beer, wine, or mead.
Reviews of Aldi's Sparkling French Lemonade and Soda
Let us know which flavor of French Lemonade or Soda you are Reviewing!
5.0 out of 5 stars (based on 6 reviews)
Last update on 2023-12-06 / Affiliate links / Images from Amazon Product Advertising API