Accent Cabinet From Aldi
This week's Aldi Find's section will feature the SOHL Furniture Accent Cabinet for $89.99. It will be available the January 18th, 2023 in most US stores. SOHL is the in-house brand for most of Aldi's furniture meaning you typically will only be able to purchase it from Aldi.
This accent cabinet will only be available in the Ivory color pictured and it has a classic design that could work in multiple rooms. It could be used for a coffee station in the kitchen, a bookshelf in the office, or hold dishes in the dinning room.
The overall dimensions for the cabinet are 31 inches by 31.5 inches by 13.7 inches and it features an adjustable shelf on the interior.
SOHL Furniture Accent Cabinet Details
Price: $89.99 (2023, prices may vary)
Available: 1/18/2023
Color: Ivory
versatile design fits any room
Dimensions 31 inches x 31.5 inches x 13.7 inches
Shelf Dimensions: 11 inches (D) x 29 inches (W)
Adjustable Shelf
Solid frame
Front cabinet doors feature glass window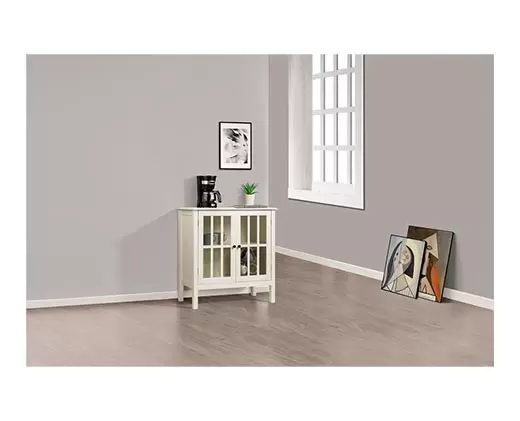 Is It A Good Deal?
I think $90 for a piece of furniture like this is a good price if the quality is decent. I wouldn't expect anything amazing but as long as it is solid when put together it seems like a decent price.
Bestseller No. 1
Sale
Bestseller No. 2
Nathan James Enloe Modern Storage, Free Standing Accent Cabinet with Doors in a Rustic Fir Wood…
Enloe storage cabinet has a unique two-tone design with its painted white outer case and rustic fir solid wood doors weaved in a herringbone style and finished at the base with a gold metal foundation
With removable and adjustable shelves behind each door, the Enloe accent cabinet allows you the freedom of what space you need to organize your things, making it a stylish, free-standing storage…
Bestseller No. 3
SOHL Accent Cabinet Reviews
3 out of 5 stars (based on 3 reviews)
Hit or miss
We bought several pieces of SOHL furniture from Aldi and the typical European round connector nuts which have the (+ & -) signs on them, break when a Philips screwdriver is used to tighten them. This is a poor casting. Luckily I discovered similar nuts at Lowe's. As far as Aldi was concerned, they said they had no spare nuts and that I was pretty much on my own.
Wonderful cabinet
I bought this at our local Aldi store in Maryland.It's pretty easy to install.And it looks great.I bought this on sale for $29.99!!
Can't beat the price and the quality is good too.If you move a lot with your furniture,then this one is not for you;(
Sohl accent cabinet
Do not buy from aldis. This is a peice of junk. It is all pressboard. Does not go together goos. Very weak. I bought 2. I will be rebuilding it with my own tools glue screws. Do not use their screws or connectors. Very week unit.
Last update on 2023-05-28 / Affiliate links / Images from Amazon Product Advertising API