Aldi's Instant Pot Alternative for $49.99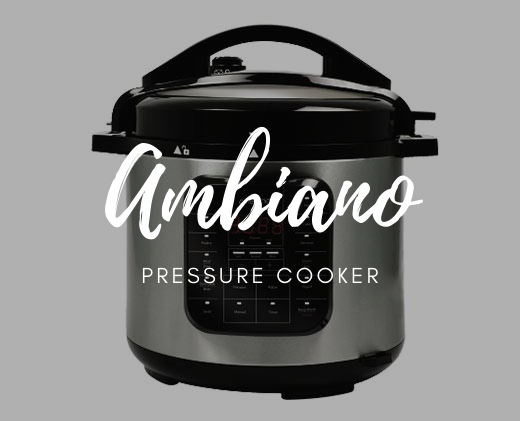 Looking for the Ambiano Pressure Cooker Air Fryer Combo? Click Here!
*This post may contain affiliate links, if you click them and make a purchase this site may receive payment. This does not add any cost to you and helps support the site.
Ambiano Electric Pressure Cooker vs Other Off Brand Pressure Cookers
Aldi's Instant Pot alternative is less than half the price of the brand name Instant Pot but what able other off brands? Another option from Amazon is the GoWISE USA Electric Pressure Cooker for about $60 which has a lot of good reviews and similar features from what I can tell. So the Ambiano Pressure Cooker is still about $10 less than other off brand options.
Aldi has offered Ambiano electric pressure cookers in past Aldi Finds but they tend to change models at least slightly year to year. This one was released in January of 2022 and probably won't stick around for long. Check out other Aldi Finds to see what you should be picking up!
Aldi Ambiano Electric Pressure Cooker
Copper or Stainless Steel finish
6-quart capacity
15 preset programs and 3 pressure levels
Functions: Soup, Multigrain, Poultry, Meat/Stew, Slow Cook/Bean, Saute, Rice, Cake, Oatmeal, Steam/Egg, Yogurt, and Keep Warm
Timer for delayed start
Comes with steamer rack
Includes 3 safety settings
3 Year Warranty
Reviews of Ambiano Pressure Cooker
4.7 out of 5 stars (based on 3 reviews)
Very satisfied
This has worked great and I use it all the time. I got it on clearance and decided it was time to try pressure cooking. I use it more than my crockpot now! It was a life saver during a power outage as it didnt tax our generator while cooking!
First pressure cooker–love it!
I got this at a great price a few years ago on one of my first trips to our new Aldi. Not real big on 'convenience' appliances, but this one was a welcome addition to my kitchen. If I could get another one for the same price I paid for this one, I'd do it in a heartbeat!
ONE PROBLEM–looking for a REPLACEMENT POT…and so far, I'm coming up empty…I NEED IT DESPERATELY, but don't see where I can get one, unless I try to match it up with antother brand of the same size (and hope it works).
HELP, please!
Excellent option
The ambiano pressure cooker is an excellent choice to cook fast and super easy while you do the rest of the things at home. It preserves the good nutrients and taste of the food and when it comes to any kind of meat it makes it real soft