Aldi's BBQ Sauce: Carolina BBQ, Memphis BBQ, Texas BBQ or Kansas City BBQ
Are you a BBQ lover? If so, you don't want to miss out on Burman's Regional Style BBQ Sauce, an Aldi Find available on August 23, 2023. Four different varieties were previously available as seasonal items during the spring of 2023. This bottle of goodness is perfect for adding flavor and richness to your favorite meats.
Burman's Regional Style BBQ Sauce comes three styles as an Aldi Find for August 2023 to go with the four styles we got in the spring. Each style has its unique blend of spices, sweetness, and tanginess, making it a perfect choice for anyone who wants a little variety in their BBQ this summer.
I can't speak to how authentic these sauces are or if they would hold up in Alabama, Georgia, Texas, Kansas City, Carolina, or Memphis but they have found some fans.
With four unique styles to choose from, you're sure to find one that suits your taste buds. So, next time you're at Aldi don't forget to pick up a bottle and take your BBQ game to the next level!
Try these sauces with Burman's Premium Hot Sauce if you need to add a little more heat to your BBQ.
Alabama White BBQ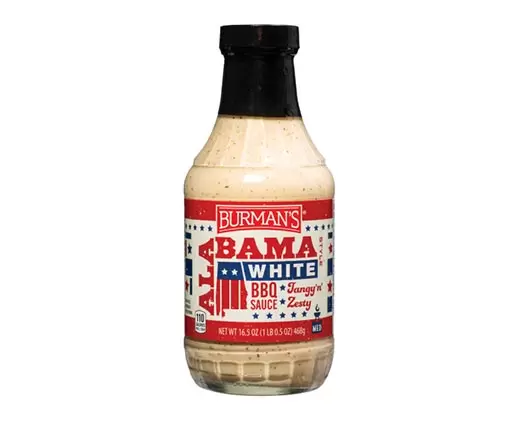 Georgia Sweet Heat
Tennessee Smokey & Sweet BBQ
Burman's Carolina BBQ Sauce
If you're a fan of Carolina-style BBQ, you'll want to try out Burman's Carolina BBQ sauce. It's a vinegar-based sauce with a tangy and slightly sweet flavor that pairs well with pulled pork, chicken, and beef.
Burman's Kansas City BBQ Sauce
Finally, the Kansas City-style BBQ sauce is a perfect balance of sweet, tangy, and smoky flavors. It pairs well with almost any type of meat, making it a versatile choice for any BBQ lover.
Burman's Texas Barbeque Sauce
If you like your BBQ sauce with a bit of heat, then the Texas-style sauce is for you. It has a bold and spicy flavor that's perfect for beef ribs, brisket, and chicken.
Burman's Memphis Style Barbeque Sauce
For those who prefer a sweeter BBQ sauce, the Memphis-style sauce is an excellent choice. It has a blend of molasses and brown sugar, giving it a rich and sweet taste that complements pork ribs, beef brisket, and chicken.
Burman's Regional BBQ Sauce Reviews
Let us know which flavor(s) you tried!
0.0 out of 5 stars (based on 0 reviews)
There are no reviews yet. Be the first one to write one.