Aldi will have the SOHL Kid's Bookcase available in the Aldi Find's aisle the week of July 26th, 2023 for a limited time. The Aldi kid book shelf will be selling for just $49.99 when it hits store shelves.
Aldi does not give a ton of info about the bookcase online besides the dimensions (see below) and that it can be used as a bookshelf, toy storage, display cabinet, or anything else you kid could use a book shelf for.
From the picture online it is white with some natural wood colors. It looks like the front shelf is on a sliding rail so you can hide away some clutter or organize your book shelf. I think it would go great with the SOHL Kid's Table and Chair Set.
Aldi has also been carrying a variety of back to school and children's items like the Pembrook Student Planner and Lily and Dan Backpacks.
SOHL Kid's Bookcase Details
Price: $49.99 (2023, prices may vary)
Available: 7/26/2023 (limited time Aldi Find)
Perfect shelf for children's room
Multipurpose design: can be used as bookshelves, toy storage, display cabinets, and more
Creative and contemporary style
Dimensions: 29.92″ L x 11.81″ W x 29.52″
Is It A Good Deal?
Of course you can get a bookshelf for less than $50 depending on the size and style. I think this is a decent deal as long as the build quality is decent. It has a unique style so if you like the look and size I think the price is good. If you just want any type of bookshelf you can get something much cheaper.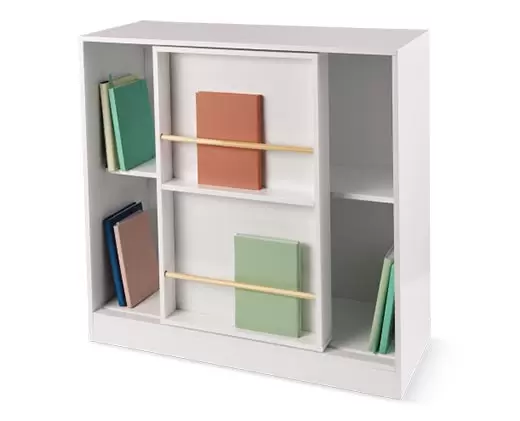 Sohl Furniture Kids Bookcase Reviews
0 out of 5 stars (based on 0 reviews)
There are no reviews yet. Be the first one to write one.
Last update on 2023-09-29 / Affiliate links / Images from Amazon Product Advertising API