Summer Waves Quick Set and Active Frame Pools Available at Aldi
This summer you will be able to pick up the Summer Waves Quick Set or Summer Waves Active Frame Pools at Aldi for a limited time as an Aldi Find. They will both be available starting June 29th 2022 until they sell out. You can pick the quick set pool which just needs to be inflated and filled with water to start enjoying it. Or if you want something a little bigger and sturdier you can get the active frame pool with a heavy duty metal frame.
Summer Waves Quick Set Pool
Price: $69.99 (in 2022, price may vary)
Available: 6/29/2022
Dimensions: 10 feet x 30 inch height
Quick Set Pool
Ready for water in 10 minutes!
Easy setup; just inflate top ring and pool rises as it fills with water!
Includes cartridge filter pump with filter for powerful pool-cleaning action 
Capacity: 1,052 gallons
Aldi Product Code: 812632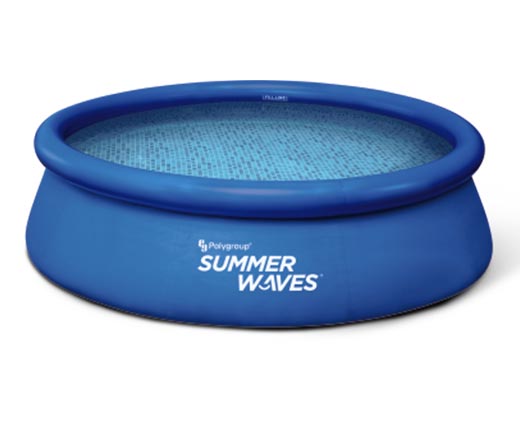 Summer Waves Active Frame Pool
Price: $169.99 (in 2022, price may vary)
Available: 6/29/2022
Dimensions: 12 feet wide x 30 inch height
Heavy-duty metal frame is strong and sturdy
Durable 3-ply Toughmesh™ material is made to last season after season
Capacity: 1,836 gallons
Includes 2-in-1 filter pump and filter cartridge
Aldi Product Code: 814616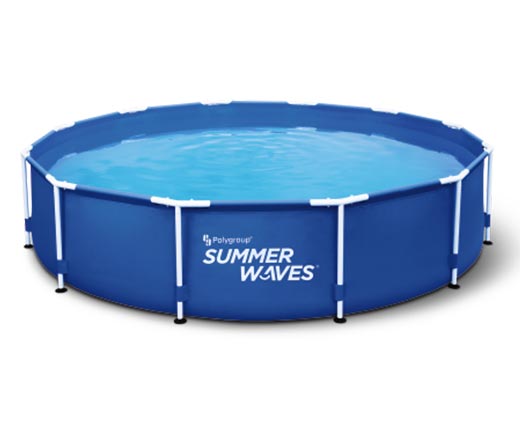 Is Aldi's Above Ground Pool a good deal?
This is one of the few times that we can compare prices at other stores with the same brand since Summer Waves is not exclusive to Aldi. The first thing you will want to decide is whether you want the Summer Waves Active Frame or the Summer Waves Quickset.
There are two main differences between the two: size and usability. The size difference may not seem like much but the extra two feet in diameter of the Active Frame Pool adds almost 800 gallons of volume meaning more space for swimming. But also taking more time and water to fill. The next difference is usability, the quickset pool does not have a frame which can make getting in and out a little more difficult. But having no frame means an easy setup; just inflate and fill.
Now looking at the price at Aldi compared to other options. Aldi does not list the specific model numbers of these pools but I was able to find Summer Waves pools with the same dimensions and similar features.
Price Comparisons
Looking at the quickset pool first we see that Aldi is selling it for $69.99 at the time of this writing. I was able to find what looks to be the same pool on Amazon for $99.99. For that brand and size of pool Amazon had a better price than the brick and mortar stores that carried it. Aldi seems to have a good deal here if it is the same model or at least comparable.
Now for the Active Frame Pool Selling for $169.99 at Aldi. This one was tougher to find an exact match. I was able to find the same size pool in different colors selling for $240-$280 on Amazon. They do have some unique colors that could be worth the extra money for some people. Again I can't be sure that this model is equivalent to the one selling at Aldi but it is the same brand and dimensions. Again Aldi looks to have a good deal! Some of the products on Amazon in that price range are a bit deeper or include additional accessories. The Teak Design includes a ladder to get over the side wall and that ladder sells for almost $100 itself. That Teak package is probably the best deal online and similarly priced to Aldi's if you want the pool and ladder.
Summer Wave Pool Accessories
If you pick up either of these pools at Aldi you may want to consider a couple of accessories to make the experience a little better. The first that you might want to look at is a ladder to get over the side wall without damaging it or letting water out. Summer Waves makes the SureStep ladder which should work for either of these pools. The other item that may make life easier is a pool cover. This could help you save a lot of time cleaning leaves and other debris from your Summer Waves pool. You can buy one made by Summer Waves that is adjustable and should work for either the quickset or the frame versions. I am sure there are other brands out there that could work as well.
Reviews of Summer Wave Pools From Aldi
Please indicate which model of pool you purchased and what year it was purchased in the title of your review!
0 out of 5 stars (based on 0 reviews)
There are no reviews yet. Be the first one to write one.