Hey folks! If you're an Aldi shopper like me, you know that German Week is a time to stock up on some unique, delicious finds. This year, I stumbled upon Deutsche Küche German Bread, and let me tell you, it's a game-changer.
At just $2.49 a package, it's a steal, but catch this: it's only available for a limited time during German Week. So, let's dive into the varieties I've tried and why you should grab some before it's gone.
Deutsche Küche German Bread is a must-try during Aldi's German Week. Whether you're a fan of nutty, hearty, or something in between, there's a loaf for you. They hold up well in the freezer and at $2.49, why not try them all?
Happy eating! 🍞
Deutsche Küche Sunflower Seed Bread: A Nutty Delight
First up is the Sunflower Seed Bread. This loaf is packed with sunflower seeds, giving it heartiness and a nutty flavor that's hard to beat.
It's hearty but not too dense, making it perfect for sandwiches or even just a slice of toast with some avocado. The seeds also add a nice subtle crunch, which is a pleasant surprise in every bite.
Deutsche Küche Whole Rye Bread: Hearty and Filling
Next, let's talk about the Whole Rye Bread. If you're into a bread that's got some substance, this one's for you. It's hearty and filling, with a deep, earthy flavor that pairs well with strong cheeses or smoked meats. I haven't used it for Reuben sandwiches yet but I expect it would hold up well.
Deutsche Küche Pumpernickel: The Unknown
Now, I haven't tried the Pumpernickel Bread yet, but if it's anything like the other two, I'm sure it's worth a taste. Pumpernickel usually has a slightly sweet, dark flavor, so I'm curious to see how Deutsche Küche's version stacks up. If you've tried it, leave a review below and let me know what you think!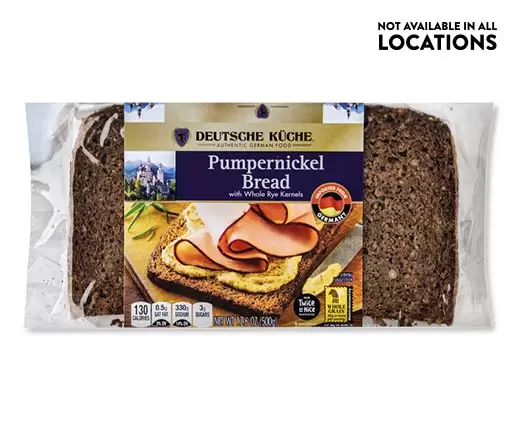 Why You Should Grab Some
Limited Time Availability: It's only around as a limited time Aldi Find, so get it while you can.
Affordable: At $2.49, it's a high-quality bread without the high-end price tag.
Variety: With three different types to choose from, there's something for everyone.
Deutsche Kuche German Bread Reviews
Let us know what variety of bread you are reviewing!
5 out of 5 stars (based on 1 review)
Rye and Sunflower Bread
Aldi's Whole Rye Bread and Sunflower Seed Bread are something I make sure to buy when it is available. They last a while with the package closed but also hold up well in the freezer!