Aldi's German Week Is Coming Back!
It looks like Aldi's German Week will be back the week of 9/20/2023. For those of you who don't know German Week at Aldi usually comes around twice a year and brings in a bunch of German themed (and often German Made) foods.
These German Products are very popular with many of Aldi's shoppers and tend to sell out quick! Aldi is a German grocery store brand and the German foods from Aldi tend to be high quality and fairly authentic.
Most German week items will be labeled with the Deutsche Küche brand which Aldi US uses for most of their German food products. You will sometimes see some other Aldi brands like Specially Selected that have German themed items as well.
You will find many of the German Week items in the freezer section or Aldi Finds Aisle. There are also snacks, cookies, canned soups, pickles, sauerkraut, and cereal.
So make some room in the freezer AND pantry now so you have room to try all of Aldi's German foods while they are in stock!
Some of my favorite German foods from Aldi are the Bavarian Soft Pretzels, the Strudels, Indulgent Cakes and Muesli. If you want to try some more popular German Week items check out the top 6 according to Reddit.
Aldi Things To Buy During German Week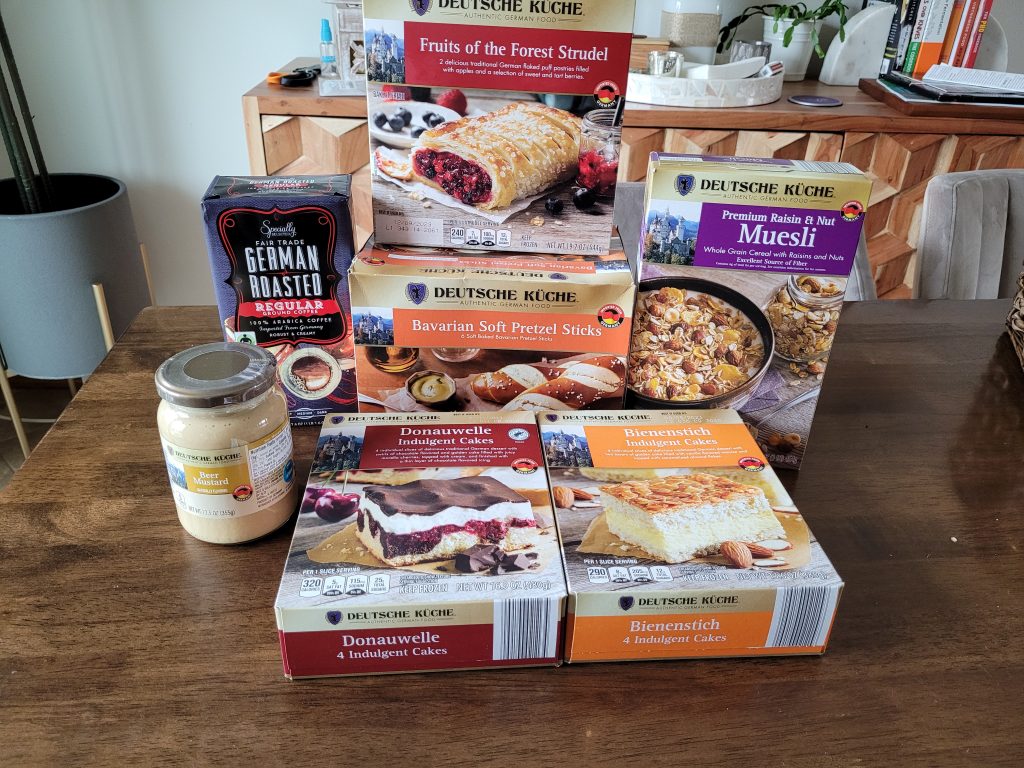 I really like a lot of the German Week foods at Aldi so I am sure to make some room in the freezer in advance! If you haven't tried many of the German items at Aldi I would recommend planning a trip during German week and pick out a few that seem interesting.
I think you can't go wrong if you stick to Deutsche Kuche brand items and just pick something that sounds good to you. If you need some more ideas check out the reviews at the bottom of the page (or at the bottom individual product pages) or check out some of the favorites from Reddit.
My must haves are the frozen cakes/desserts, the soft pretzels, and the strudels. The fall German Week has a lot of foods I haven't tried from Aldi in the past. I think I will try out the Spaetzle, German Pickles, Frangipane Tarts, and probably a few more new ones. I'll let you know what I think of them once they are available!
Aldi German Week Fall 2023: Oktoberfest
Aldi's Fall German week lines up with this year's Oktoberfest with German Products coming into stores on 9/20/2023. That date lines up with Oktoberfest which runs from 9/16-10/3.
Here are the products that are listed online, sometimes Aldi will sneak a few more German items in once German Week is here but this should cover most of it!
Aldi German Week Spring 2023
Aldi's German Week Starts May 3rd, 2023 so clear out some room in your freezer and get ready! Here are the German Items that will be available that week.
Latest German Week Product Reviews
Click one of the links above to go to the product page for the item you would like to review!
FAQs
Miss Out On Your Favorite German Items?
You may be able to pick them up on Amazon! But you will probably pay extra, and sometimes a lot extra!
Aldi German Week Fall 2022: Oktoberfest!
Aldi's Fall German Week starts the week of 9/21/2022! Here are the items that should be coming in the Fall Aldi German Week.
Aldi German Week Spring 2022 [5/4/2022]
The items with the price in parentheses ($) are not listed as Aldi Finds but still show as available on 5/4/22. These items may not be Aldi Finds and will still be released on the same date or they may have been delayed.
It looked like my store did have spritz cookies but not Jaffa Cakes so if your store is missing some items they may be delayed, watch over the next few weeks for those to pop up.
Aldi also rotates through the beers that are available and sometimes have some good German-style beers that would go great with some of the savory dishes. I didn't see any at my store this time so I picked up some Winking Owl Wine to go with the deserts.