Aldi's German Week Is Coming Back!
It looks like Aldi's German Week will be back the week of 5/4/2022, likely as an Aldi Find. For those of you who don't know German Week at Aldi usually comes around twice a year and brings in a bunch of German themed (and often German Made) foods. These German Products are very popular with many of Aldi's shoppers and tend to sell out quick! Aldi is a German grocery store and the German foods from Aldi tend to be high quality and fairly authentic. Most German week items will be labeled with the Deutsche Küche brand which Aldi US uses for most of their German food products
You will find many of the German Week items in the freezer section or Aldi Finds Aisle. There are also snacks, cookies, canned soups, pickles, sauerkraut, and cereal. So make some room in the freezer and pantry now so you have room to try all of Aldi's German foods while they are in stock!
Some of my favorite German foods from Aldi are the Bavarian Soft Pretzels, the Strudels, Indulgent Cakes and Muesli.
How Often Does Aldi Have German Week?
Typically Aldi has a German Week twice a year. Usually one in the spring and one in the fall. Aldi's spring German Week is usually within a month of easter (could be before or after). The Fall German Week at Aldi usually coincides with Octoberfest (which actually starts mid-September). So keep an eye out in the fall from September through october.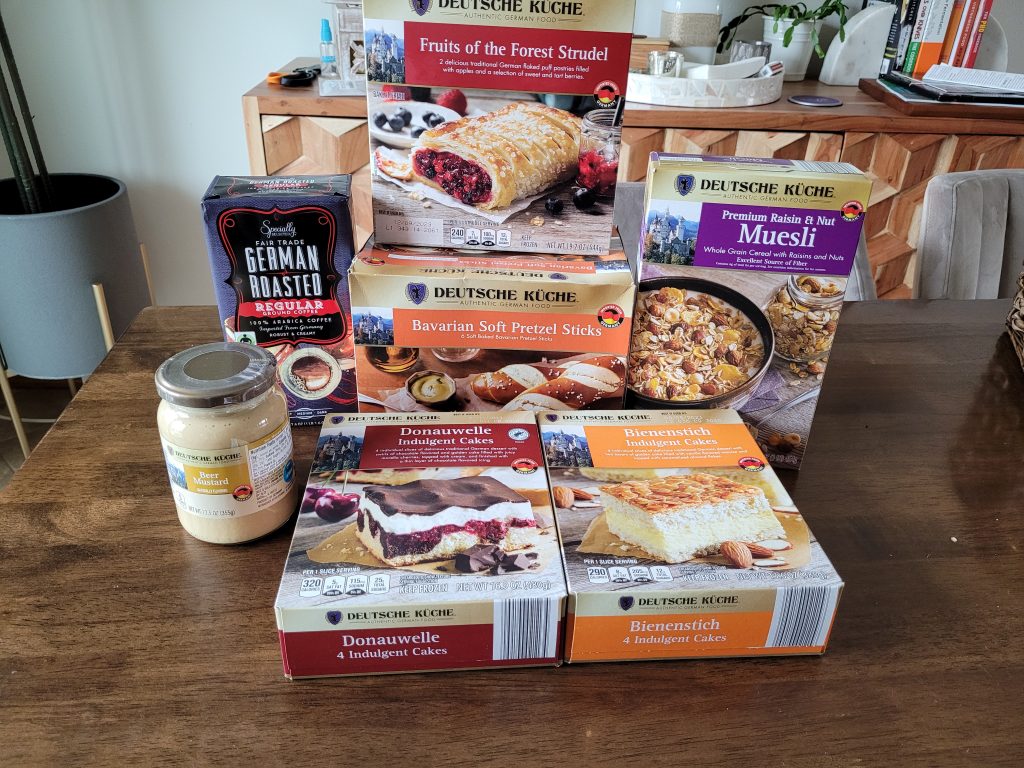 Aldi German Week Spring 2022 [5/4/2022]
Deutsche Küche Cabbage Blend or Warm Potato Salad $2.69
Deutsche Küche Egg Spaetzle (Spätzle) $2.99
Deutsche Küche German Style Red Cabbage Sauerkraut with Apples $2.49
Deutsche Küche German Style Pickles ($3.49)
Deutsche Küche German Lentil Vegetable or Lentil Chickpea Soup $2.19
Deutsche Küche Peanut Puffs $1.99
Deutsche Küche Raisin & Nut Müesli $2.99
Deutsche Küche Doppel Keks ($2.49)
Deutsche Küche Milk or Dark Chocolate Covered Wafers $2.49
Deutsche Küche Dark or Milk Chocolate Wafer Rolls $1.99
Deutsche Küche Doppelino Cookies Assorted Varieties ($2.99)
Deutsche Küche Spritz Cookies Assorted Varieties ($2.49)
Deutsche Küch Herbs of the Alps or Hash Brown Style Potato Sticks $1.49
Specially Selected German Mousse Cake Assorted Varieties $7.49
L'oven Fresh Pretzel Breadsticks $2.99
L'oven Fresh Pretzel Bagels $2.29
This post has been updated as of 4/27/2022 to add more German Products from Aldi Finds. The items with the price in parentheses ($) are not listed as Aldi Finds but still show as available on 5/4/22. These items may not be Aldi Finds and will still be released on the same date or they may have been delayed. It looked like my store did have spritz cookies but not Jaffa Cakes so if your store is missing some items they may be delayed, watch over the next few weeks for those to pop up.
Aldi also rotates through the beers that are available and sometimes have some good German-style beers that would go great with some of the savory dishes. I didn't see any at my store this time so I picked up some Winking Owl Wine to go with the deserts.
Are German Product Available at Aldi Right Now?
If you want to check in advance if the German Week products are available I like to start an online/pick up order at Aldi and see if the items I want show as available there. They will sometimes still be out of stock even if they show up on Aldi's Instacart since it can't account for people buying in store right away.
I will be adding links to some of the products so you can get more information and leave reviews!