Specially Selected German Roast Coffee
Aldi is a German grocery store so it makes sense that they carry a German Roasted coffee. You can pick up Specially Selected German Roast coffee year round in two different varieties: Regular and Mild. Both options are pre-ground coffee.
I have not seen any K-cup style coffees so you will probably have to go with Barissimo Coffee Pods or Simply Nature Organic Coffee pods if you have a single serve coffee maker.
This coffee is a bit more expensive than the other coffee options at Aldi but it is also a bigger, vacuum sealed bag which I like.
Fair Trade German Roasted Coffee
Availability: Year Round
Size: 17.6 oz (500g)
Roasts: Regular or Mild
100% Arabica Coffee
Mild is mellow and smooth
Regular is robust and creamy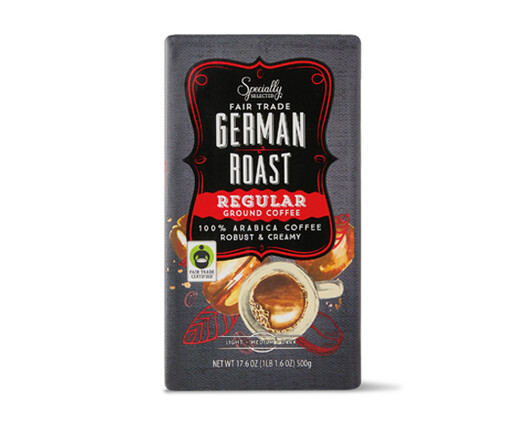 Amazon Pricing:
What is German Coffee?
German roasted coffee is typically darker than the standard American roast but not as dark as a French Roast or Espresso Roast. In Germany, they often go for a "Full City" or "Vienna" roast, which is medium-dark to dark. This gives the coffee a robust, full-bodied flavor with less acidity.
In contrast, American coffee is usually roasted to a "Medium" level, preserving more of the bean's natural flavors and acidity. This results in a lighter, more nuanced cup of coffee.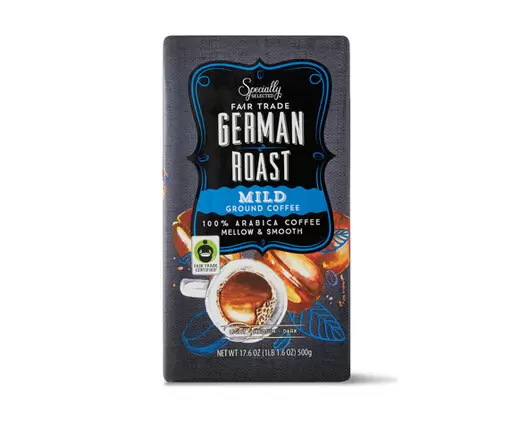 So, if you like your coffee strong and bold, German roast might be your jam. If you prefer something lighter and more acidic, go with an American style or give the mild German roast a try. In my opinion Aldi's German roast coffee is a good tasting ground coffee that isn't that far off of a good American coffee so it is worth a try!
Other Popular German Brands
Bestseller No. 1
Sale
Bestseller No. 2
Dallmayr Prodomo Ground Coffee, 17.6 Ouce (Pack of 2)
Specially refined to free the coffee of irritants and bitterness while retaining its full measure of stimulating caffeine
Premium blend of the finest arabica highland coffee beans from the best growing areas in the world
Dallmayr is one of the best-known German coffee brands
Sale
Bestseller No. 3
How To Brew German Coffee
Aldi's German Coffee isn't that different than the other ground coffee you will find in America. It is generally a little darker roast and I find it to be very smooth. It makes a good standard cup of coffee but isn't a standout in any dimension, just a nice balanced cup of coffee.
That balance means it is versatile enough to be used it most brewing methods as long as the grind size works for your filter method. I brew this coffee with a standard drip coffee maker, a French press, and a pour over filter.
All of these methods work fine but for the grind is a little small for my French press filter so I may end up with some coffee grounds in the bottom of my cup.
Aldi German Roast Coffee Reviews
Let us know if you prefer Regular, Mild, or some other option I haven't seen before! Bonus points if you give some brewing tips!
0 out of 5 stars (based on 0 reviews)
There are no reviews yet. Be the first one to write one.
Last update on 2023-09-29 / Affiliate links / Images from Amazon Product Advertising API