Aldi Immersion Blender
Aldi will be bringing out the Ambiano Immersion Blender as an Aldi Find the Week of September 7th, 2022 for $14.99. This is the second immersion blender/hand blender that has showed up in the Aldi Finds Aisle (check the details for that one down below).
This week's Ambiano Immersion Blender comes with the standard immersion blender attachment plus a bonus whisk attachment. It has a 500W motor to blend right through whatever you you need.
I have an old immersion blender that is on its last legs so I may have to check this one out. I don't use it a ton but it comes in handy for a few dishes.
I use an immersion blender when I make certain soups like tortilla soup. It is also handy for tomato soups or tomato sauces.
If you are looking for a countertop blender check out the Ambiano Professional Blender with travel cup and if you need more of a mixer check out the Cordless Hand Mixer or Stand Mixer.
Ambiano Immersion Blender Details (September 2022)
Price: $14.99 (Sept 2022 prices may vary)
Aldi Find Date: 9/7/2022
Colors: White, Black or Teal
Two speeds: normal and turbo speed
Includes immersion blender and whisk attachments
Easily connect and release attachments
Stainless steel blades
Integrated blade guard for safety
500W motor easily blends, chops, crushes and purees
Quick and easy to clean
Aldi Product Code: 49290
Past Release of Ambiano Immersion/Hand Blenders
Aldi often has multiple different versions of appliances throughout the year so if you miss one you may find later in the year. Here are some of the past Ambiano Immersion Blenders that Aldi has released.
Aldi's Hand Blender (4/13/22- $24.99) comes with a whisk attachment and a 4-cup chopping bowl. You end up with three small appliances for the price of one, you get an immersion/hand blender, a mini food processor, and a electric whisk.
Aldi Hand Blender With Chopping Bowls Details
Price: $24.99 (2022-prices may vary)
Aldi Find Date: 4/13/2022
Immersion blenders are great of soups, purees, baby food, smoothies and many other dishes.
Chopping bowl is perfect for chopping, mincing and grinding
Includes whisk and 4-cup chopping bowl / food processor
Two speed settings: low and high
Stainless steel shaft and blades
Dishwasher-safe attachments and accessories
Available in Blue or Beige
Aldi Product Code: 51215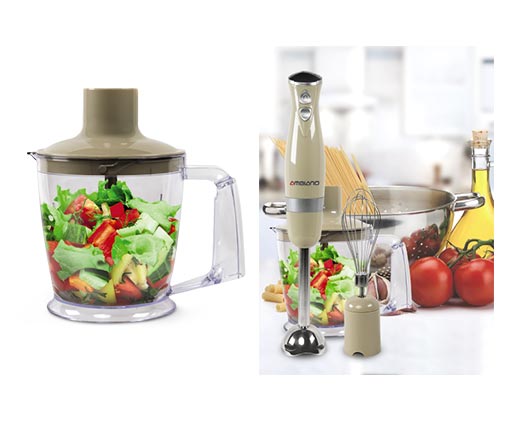 Is It A Good Deal?
Looking at the photos and product details on ALDI's website it never shows a cord in the pictures but also doesn't mention being cordless or give any details on batteries. I am going to assume this is a corded immersion blender, not a cordless or rechargable model. At this price if it is cordless it would be a great deal, but even as a corded model it looks like a decent price.
Ambiano VS Other Budget Options
When an appliance like this comes with multiple different accessories it can be tough to compare directly to other products that may include different accessories or none at all. Looking for something that is very similar to the Ambiano I found this Hamilton Beach 59765 Immersion Blender for around $35.
It includes a whisk, and 3-cup chopping bowl. The main difference between the two is the color/style and the chopping bowl is a bit smaller. I think the Ambiano is a little better looking, it is cheaper, and the chopping bowl is a bit bigger if that is important to you.
The unknown is how the power and quality compare. Hamilton Beach is a pretty common brand for small kitchen appliances in this price range
Ambiano VS Name Brands
There are tons of brands that make blenders and mixers but two of the biggest ones known for quality are KitchenAid and Vitamix and they both offer immersion blenders as well.
If I was buying an immersion blender I would get one that only does immersion blending because I have a cheap one that has a bunch of accessories that I never use, but if you would use those accessories you may want to look at other options.
The KitchenAid Variable Speed Hand Blender is selling for a good bit more right now and has a lot of good reviews. The brand is well known for products that last a long time and perform well.
The other option from a brand known for quality products is the Vitamix Immersion Blender which sells for a premium.
Neither of the name brand products come with the same accessories but if you use an immersion blender a lot it is probably worth going with one of the higher quality brands to avoid replacing it after only a few years.
The Ambiano Immersion Blender Is A Good Deal
Comparing it to budget options and name brands the Ambiano looks to be a good deal and about $10 cheaper than comparable models and a good bit cheaper than the big brands.
If you only use an immersion blender occasionally I would pick up the Aldi version and try it out. They are really handy for certain dishes and the shaft and blades are stainless steel. My old cheap one is a plastic shaft and starting to break so if you try another brand be sure to try to get one with a metal shaft.
If you are serious into cooking or use an immersion blender a lot I would probably try the Kitchen Aid because the cost is still reasonable and it should last a long time.
Reviews of Ambiano Hand Blender/ Immersion Blender
0 out of 5 stars (based on 0 reviews)
There are no reviews yet. Be the first one to write one.