Frangipane Tarts From Aldi
Check the freezer section during German Week for the Deutsche Küche Frangipane Tarts. You should be able to find cherry or apple tarts during the next German Week (9/20/2023). I believe there have been other flavors in the past so keep your eyes open.
If you are like me you may not be familiar with Frangipane Tarts. I had to look up what exactly they are. According the MarthaStewart.com "Frangipane is a mixture of butter, eggs, ground almonds, sugar, and usually a small amount of flour".
The Frangipane is part of the filling in this tart along with fruit and topped with roasted almond pieces. That filling is held together in a shortcrust pastry.
I haven't tried this Deutsche Kuche dessert yet but I plan to. All the Deutsche Kuche frozen desserts I have tried have been really good, so hopefully these keep that streak going. My favorite frozen desserts from Aldi so far are the Indulgent Cakes and the Fruit Strudels.
I will update this post with a review of my own if I get a chance to try them. If you have had them in the past be sure to leave a review down below along with the flavour(s) you tried.
Deutsche Küche Cherry or Apple Frangipane Tarts
Price: $3.89 (2022, prices may vary)
Available: 9/20/2023
Package Size: 14 oz (397 g)
Imported from Germany
Apple or Cherry Filling
Almond Cake
Topped with Cherry or Apple and roasted almond pieces
All wrapped in a shortcrust pastry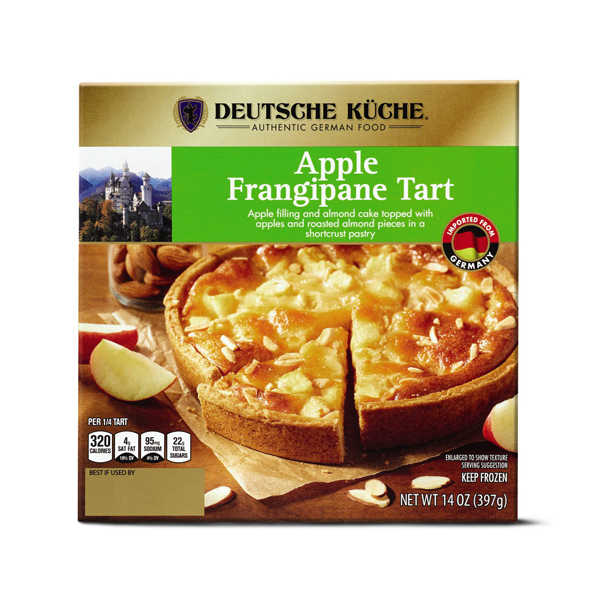 Deutsche Küche Frangipane Tart Reviews
5.0 out of 5 stars (based on 1 review)
One of my favorite desserts
I tried the cherry version and this was one of the best desserts I have had from Aldi. It was probably the best dessert out of a freezer section, I would have been happy if I got it at a restaurant.