Aldi Müesli
Aldi carries Deutsche Küche Müesli few times throughout the year and I usually pick up a couple boxes while it is available. If you haven't tried Muesli yet it is a nice change of pace from all the overly sweet cereals in stores.
This muesli is a mix of rolled oats, nuts, dried fruit and I think some corn flakes. I still have some from that last package I bought but don't have the box anymore so I don't have the exact ingredients in front of me.
Muesli is a nice easy breakfast, just add milk or your favorite milk substitute and you are good to go. If you want to spruce it up a bit I like to add some sliced banana or fresh berries. If you do need a bit more sweetness a bit of maple syrup adds a nice flavour.
The muesli is a very filling breakfast on it's own but I like to add a bit more. I like to add extra nuts and some chia seeds to the bowl.
Aldi has Muesli a few times throughout the year and I think they have had a few different varieties in the past. Lately I have only seen the Raisin and Nut Muesli but I am pretty sure I have had at least one other variety in the past.
Generally you will find this in stores during German week. While Muesli didn't originate in Germany it is a relatively popular breakfast ther. Muesli originally came from Switzerland.
Deutsche Küche Raisin & Nut Müesli
Price: $3.29 (in 2022, prices may vary)
Available: 9/21/2022
Package size: 1 pound (16 oz, 454 g)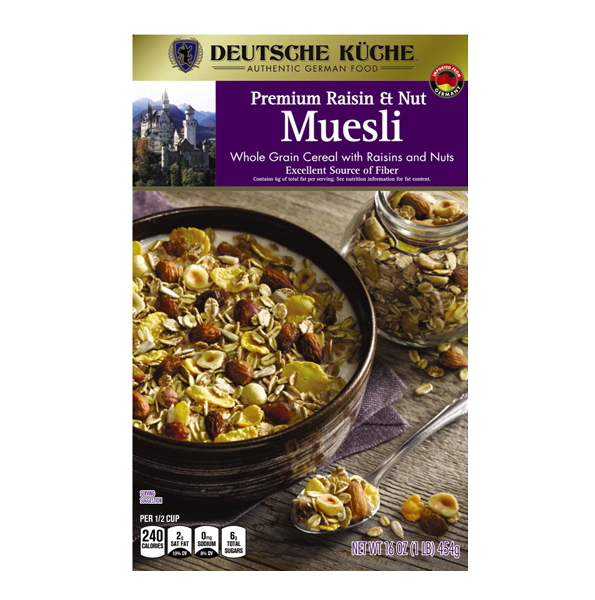 Deutsche Küche Raisin & Nut Müesli Quick Nutrition
Serving Size: 1/2 Cup
Per Serving:
240 Calories
2 g Saturated Fat
0 mg sodium
6 g total sugars
Nutrition information may change, see package for full/current details
Deutsche Küche Müesli Reviews
5 out of 5 stars (based on 3 reviews)
Delicious Muesli Cereal
Delicious & healthy. I love this cereal & wish I could buy it every week.
Easy Healthy Breakfast
I just add some almond milk let it sit while I get my coffee and eat it like regular cereal. I sometimes add cinnamon, chia seeds, or more nuts but it is good as is.
Delicious!
I happened on to this at my local Aldi and wish I had stocked up! The Duetsche Küche Muesli is delicious! I soak 3/4 cup DK Miesli in milk, just enough to cover the Muesli, and 1tsp honey in the fridge in a small plastic container overnight and enjoy it for breakfast the next morning. It is absolutely delicious!!