Aldi Frozen Schupfnudeln
If you are looking for something a little different than your standard frozen meal check out the Deutsche Küche Schupfnudeln. It will be available during Aldi's German Week (2023) in two different flavors for $4.99.
You can choose from mushroom schupfnudeln or pickle cheese schupfnudeln. The pickle cheese is a surprising flavour combination but I really like it.
The mushroom flavor comes in a creamy sauce. The pickle cheese is a cheese sauce with pickled cucumber. It is not some "pickle flavored cheese" or "pickled cheese" but just a cheese sauce with pickles added. So not quite as odd of flavor combo since I eat pickles on a cheese burger.
If you are like me and and have no idea what schupfnudeln is, it is a German Potato Noodle. On the package Aldi calls it an Alsatian gnocchi. Alsace is the region on the border of France and Germany but I don't know if that is where these were made or where it originated.
Schupfnudeln is a popular side or main dish in Southern German and Austrian cuisine. It can also be called Fingernudeln (finger noodle) due to the shape. At least according to wikipedia.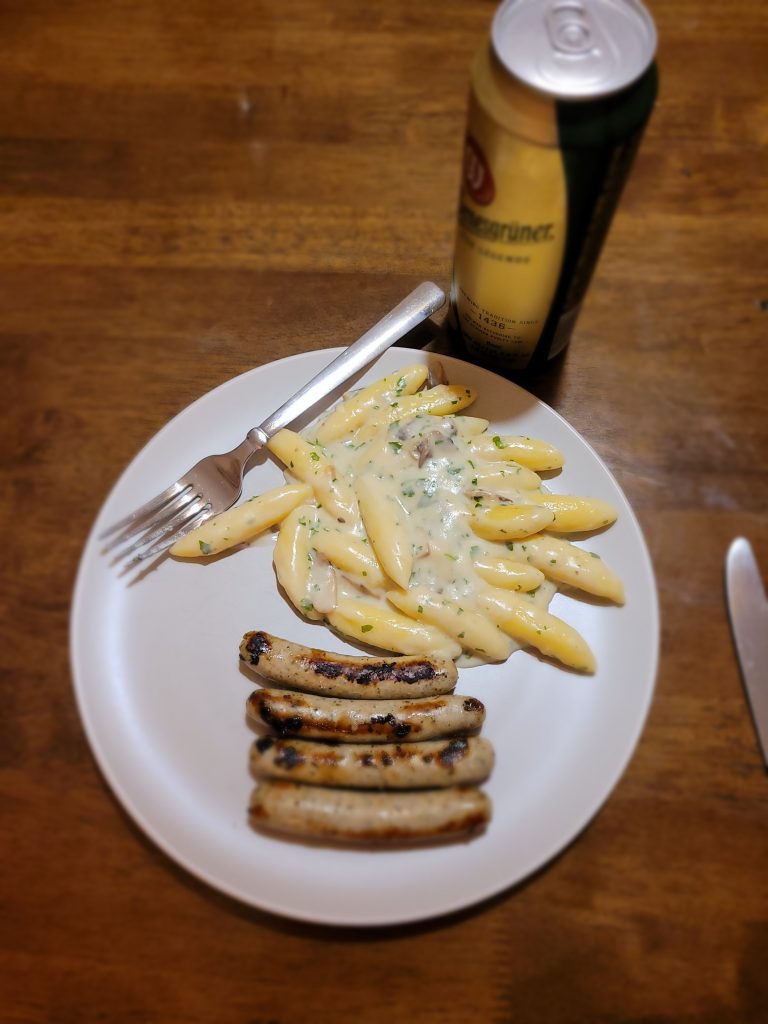 Deutsche Küche Frozen Schupfnudeln Details
This was great for a easy meal, just throw it in the skillet for a little while and you are ready to go. I had it with the nuremberg sausages and a Wernesgruner Pils Legende. It was a super easy meal and was something that I would be happy eating at a restaurant.
Deutsche Küche Schupfnudeln Reviews
4.0 out of 5 stars (based on 8 reviews)