Aldi Electric Travel Cooler
If you do a lot of road trips or live an hour from the nearest Aldi you may want to check out the Auto XS Electric Travel Cooler. You will be able to find it in-stores starting September 7th, 2022 for $59.99.
This Aldi Find uses your car accessory outlet (12 volt DC) to keep your groceries or drinks cool all day. It also works with a standard wall outlet plugin as well (120-volt).
This cooler hold 6.6 gallons which means it can carry thirty six 12-oz cans or ten 1 liter bottles. The built in cooling function can keep the interior up to 30 degrees cooler than the surrounding area.
This is perfect for keeping perishable items cool on the ride home. Or add some ice and not worry about your drinks and food being warm after a day at the beach.
It looks like this also works for keeping food warm while traveling. Aldi reports that it can keep warm up to 131 degrees (F). Handy if you are bringing pre-cooked food somewhere.
Both the car and home plugins are included and they are conveniently stored in the cooler lid.
Aldi's Electric Cooler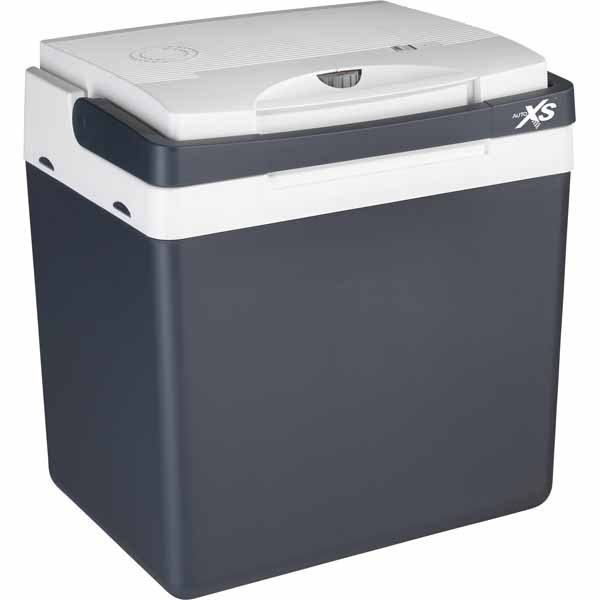 Auto XS Electric Cooler Details
Price: $59.99 (2022, prices may vary)
Available: 9/7/2022
Capacity: thirty six 12-oz. cans, ten 1-L bottles or five 2-L bottles
Overall dimensions: 15.4 inches by 11.4 inches by 16.1 inches
Volume: 6.6 gallons / 26.4 quarts / about 25 liters
Fits a variety of bottle sizes
Can connect to car accessory outlet with 12 Volt DC connection
Works with wall outlet using 120-Volt power plug
Cable storage compartment in the lid for both plugs
Made with closed-cell foam insulation core to maintain temperature
Quick cooling and cold air distribution through internal fan
Lid is removable and handle can be used to prop the lid halfway open
Cooling capacity max: 30.6 °F below room temperature
Can also keep warm up to 131 °F
Aldi Product Code: 816165
Is It A Good Deal?
Like a lot of Aldi Finds Products this looks like a pretty good deal if the quality holds up. At just under $60 for an electric cooler this could be worth a shot.
Looking online it seems like much smaller electric coolers are selling in the $50-60 range. Coolers with a similar capacity are selling for almost twice as much as the Auto XS.
One of the better online deals that I found is the Ivation Electric Cooler & Warmer which looks very similar to the Auto XS in terms of size and features.
Check Current Competitor Prices
Here are some alternative options along with their current prices.
Auto XS Electric Travel Cooler Reviews
4 out of 5 stars (based on 1 review)
Great deal for $20 on clearance.
I have had this for a few months, and it does what it says… it does cool the contents down 20-30 degrees below ambient temp. but it does have a few flaws, it is top heavy and in the car with sudden breaking it can tip over and spill out contents, I have had to use a bungie to hold it in place. it is noisy, the fan is relatively loud and can be annoying. It also draws a pretty heavy 50-60wh, so on my 700wh Bluetti power station I only get 12 hours of continuous use… there are true DC fridges that draw less then that, and limits the use of my power station especially at night when using a CPAP, so I have to unplug the cooler, but packed with ICE and food/drinps like a traditional cooler, this unit will help the ICE and food last longer. at full price, maybe not so great, but for the $20 I payed, not bad. look for it on sale