Aldi Deutsche Küche Apple Walnut and Bienenstich Almond Cake
The Apple Walnut Cake and Bienenstich indulgent cake will be available as an Aldi Find during Fall German Week 2023 (9/20/2023). You will have a choice between Deutsche Küche Bienenstich Indulgent Cake or Apple Walnut Cake. They are a limited time buy so be sure to stock up if you like them! Both are priced at just $8.49 for a full cake!
German Week at Aldi is generally twice a year; in the spring and again the fall around octoberfest. These traditional German Cakes are typically found at Aldi only during German Week.
Aldi will have Apple Walnut and Bienenstich Almond Cakes available during Fall German Week. These look to be full cakes instead of a few slices that they have during spring. The popular donauwelle cake doesn't look like it will be available in the fall.
Deutsche Küche Bienenstich Indulgent Cake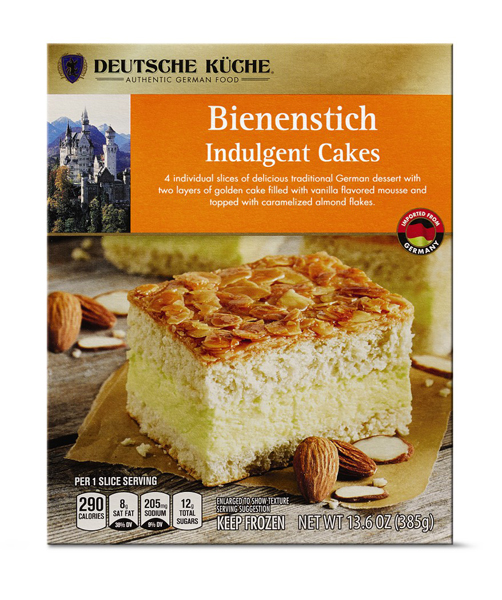 The Bienenstich Cake is another traditional German cake from Aldi. Translated as Bee Sting Cake this cake traditionally has two layers of cake filled with a cream or mousse and with a honey and almond topping.
It looks like Aldi's version uses caramelized sugar and almonds as the topping instead of honey but I know from last year that this is a tasty cake!
The Bienenstich Almond Cake that is available during fall German week looks like it is a full cake (27 oz, 765g) instead of the smaller package earlier in the year. You can pick up the larger version for $7.99.
During Spring German Week you were able to get four slices of cake (13.6 ounces) for $3.99, and it is worth it. Be sure to check the freezer section during German Week for these Indulgent Cakes!
Deutsche Küche Apple Walnut Cake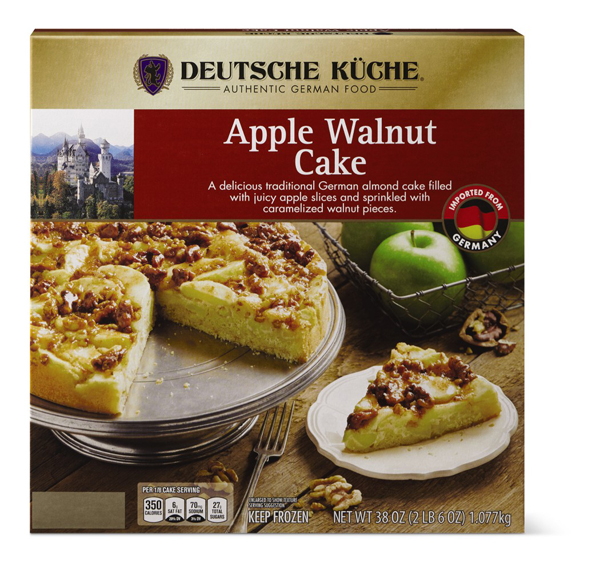 I haven't seen this type of cake at Aldi in the past but it looks like an interesting find. I have been impressed with the Deutsche Küche desserts that I have tried in the past.
Typically they have been very well balanced and not overly sweet so I am excited to try this one. The frozen cakes I have tried so far all turn out great just by thawing on the counter.
This is a pretty big cake at 2 pounds 6 ounces (1.077 kg) and is priced at just $7.99.
Deutsche Küche Donauwelle Indulgent Cake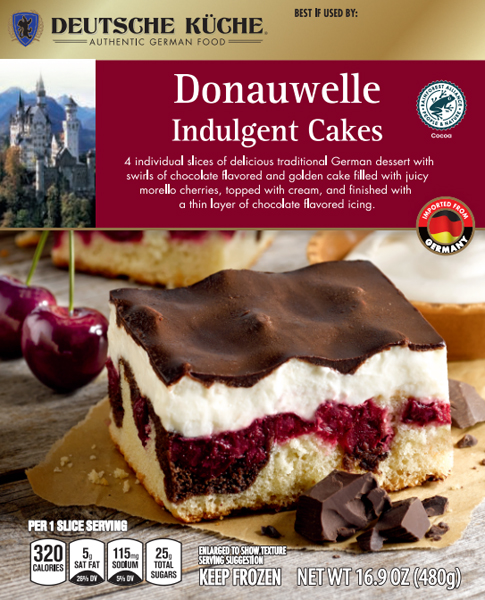 The Donauwelle is a traditional german cake with a golden cake base swirled with chocolate and filled with cherries, topped with a cream filling and covered with a thin layer of chocolate. Donauwelle translates to Danube Wave after the large river that starts in Germany.
This cake is also known as the Snow White Cake and is a popular Oktoberfest dessert in Germany. I haven't tried this cake in the past but it is on my grocery list for German Week!
Reviews of Donauwelle, Apple Walnut, and Bienenstich Indulgent Cakes
5 out of 5 stars (based on 3 reviews)
Donauwella a treasure not to be missed
This is amazing. If served in a restaurant they could easily charge over $6.00 for a single square. To make it last longer I tried cutting the square in half. But so good I can't resist finishing it. Too bad it's only available during German week. Wish Aldi would move it to a seasonal item, it would then be available for a slighthly longer time.
Aldi Bienenstich Indulgent Cake
This is a great (and cheap) dessert to pick up and keep in the freezer. It is not overly sweet like many American cakes and it has a unique combination of flavors and textures. It is a must try!