Aldi Spätzle (Spaetzle,Spatzle)
Spätzle or Spaetzle is a staple of German Week at Aldi and you can find it either dry or frozen. Deutsche Küche Spaetzle is an Aldi Find during German Week so it is only available a limited time.
Spätzle is a German noodle or dumpling, typically made with flour and eggs. It is usually served as a side dish along with a meat and gravy main dish, although there are sweet dishes using spaetzle as well. Spatzle is popular in Germany but is also commonly eaten in other central European countries.
Aldi sometimes also carries dry spaetzle during german week. This plain dry egg noodle can be added to many dishes and is usually served as a side dish along with a main dish of meat and gravy.
You will see on the package that Aldi calls these Swabian Egg Noodles which refers to the region in southwestern Germany that is known for Spätzle dishes.
Since this is a dry egg noodle it can be used in many different dishes like a beef and vegetable stew, topped with cheese and butter sauce, or covered in a mushroom gravy.
There are even sweet dishes that use spaetzle like Apple Spaetzle that is made with browned butter, sugar, cinnamon, and apples.
What are your favor Spatzle dishes? Do you buy the frozen versions or prefer to make your own dish with the dried spaetzle?
Fall German Week
Aldi will have three varieties of pantry (non-frozen) Spaetzle with sauce and two frozen spaetzle varieties available as an Aldi Find during German week (the week of 9/20/2023).
The frozen Spätzle will be available as cheese or garlic sage. If you want one that you can store in your pantry you can choose from onion, cheese, or mushroom flavors.
Aldi Spaetzle Varieties
Aldi has a variety of different Spaetzle options throughout the year but you will typically find them during German Week.
Dry Spaetzle (Plain)
Price: $3.49
Available: 5/3/2023
Pantry Spaetzle: Onion, Cheese, or Mushroom
Price: $1.99
Available: 9/20/2023
Frozen Spätzle: Cheese or Garlic Sage (Mushroom previously available)
Price: $4.99
Available: 9/20/2023
Deutsche Küche Spätzle (pantry/non-frozen)
You can choose from onion spaetzle, cheese spaetzle, or mushroom spaetzle.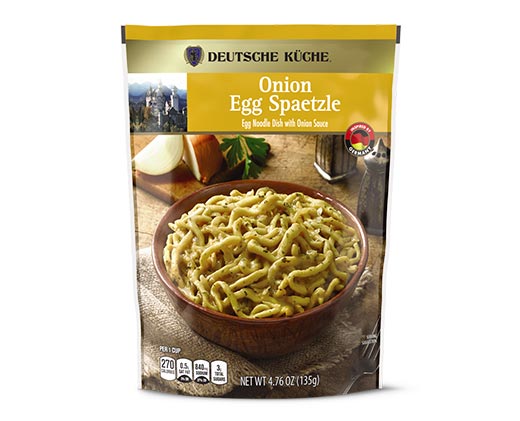 Images Courtesy of ALDI
Deutsche Küche Frozen Spätzle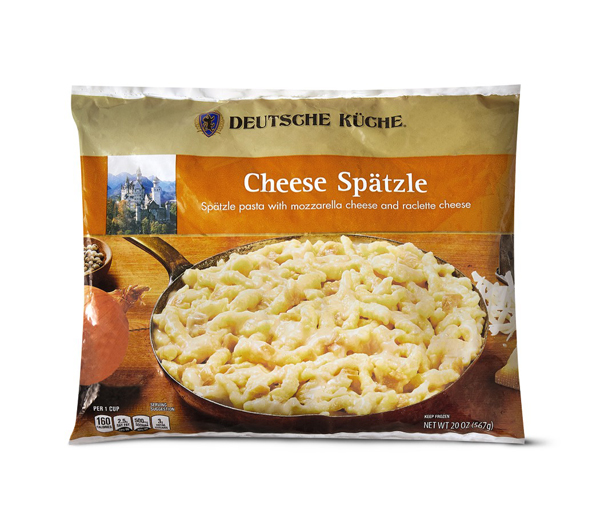 Past Frozen Varieties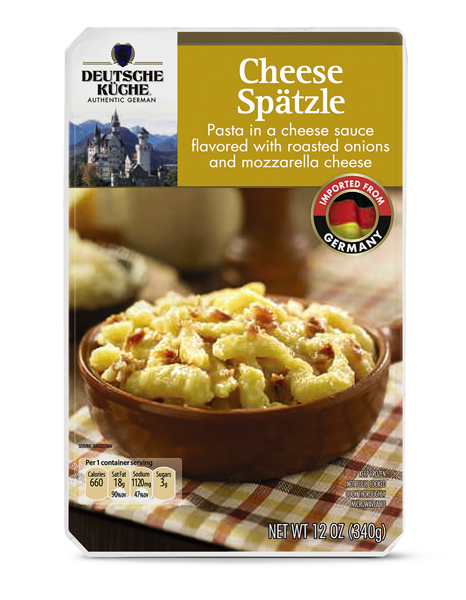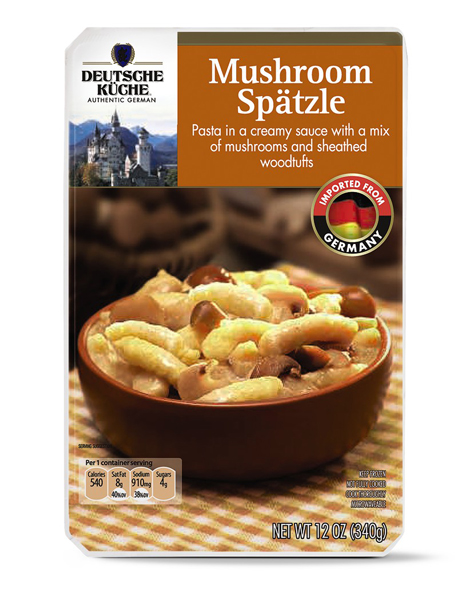 Aldi's Dry Spaetzle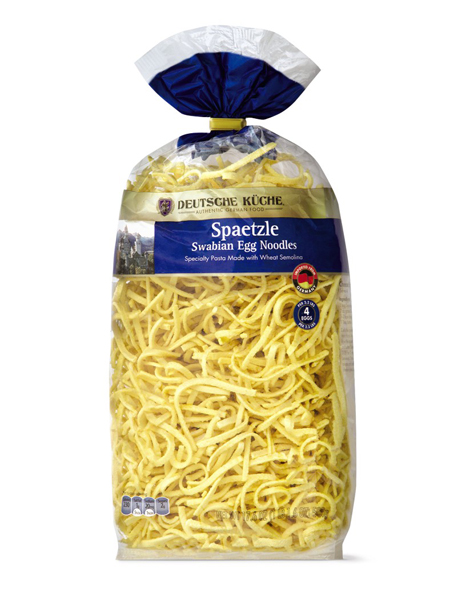 Spring German Week
These noodles will be available for the spring 2023 Aldi German Week starting 5/3/2023. The dry Spaetzle will sell for $3.49 per 17.6 ounce package. Aldi's Frozen Spätzle will sell for $4.99 per package (20 ounce). The frozen spaetzle comes pre-cooked and with sauce/cheese/gravy while the dry is plain dry noodles for you to use however you like.
Reviews of Deutsche Küche Spätzle
Please leave the type/flavor(s) you are reviewing in the title!
4.3 out of 5 stars (based on 3 reviews)
Deutsche Küche Egg Mushroom Spätzle
I really enjoyed this item, but haven't been able to find it since I purchased it the first – in the store or online what the Hey
LOVE these!
Easy to follow directions right on the package and they taste soooo good. We wait for October every year just to load up on these.
No cooking instruction on the package
We cooked them like like regular egg noodles but something wasn't right.
If they are special noodle they should have the special cooking instructions