Aldi Strudels
An Aldi Finds favorite will be making an appearance for German Week (spring and fall 2022) in three different flavors. You will be able to buy Deutsche Küche Strudels with apple, fruits of the forest, or caramel apple fillings for just $2.69 for a two pack (19.2 ounce).
You will also be able to get savory strudels for $3.99. The savory strudels come in Artichoke and Cheese or Spinach and Ricotta. The Deutsche Küche Artichoke Cheese or Spinach Ricotta strudels are each 10.6 ounces (300 g) and come individually packaged.
All flavours of either the sweet and savory strudels are imported from Germany. I've tried a few of each and they have all been good.
You will find these imported Deutsche Küche Strudels in the freezer section during German Week (and occasionally throughout the year). They are frozen uncooked so they can be baked and then eaten fresh and hot.
Don't make the mistake of baking these in a toaster oven like I did. My toaster oven has a non-convection bake setting but it still cooked the pastry way to quickly while the center was still cold. That was completely on me and I was able to salvage it!
The next time I used my regular oven and followed the package direction and it turned out perfectly. So once again do not cook these in a toaster oven or airfryer! If that is you only option I would try lowering the temp quite a bit and watching it closely.
I'd recommend picking up some Specially Selected Vanilla Ice Cream to go with the sweet versions!
Deutsche Küche Caramel Apple Strudel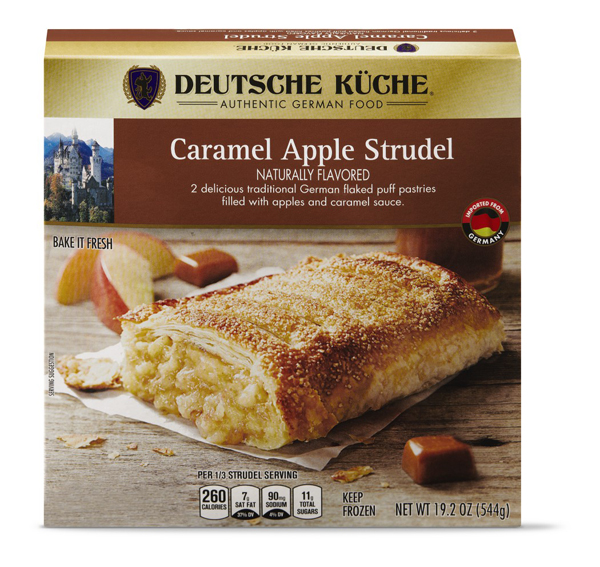 Flaky puff pastry filled with apples in a caramel sauce? What more do you need in a desert? This strudel is imported from german and you get two for just $2.69. That is less than $3 for a pound of strudel!
Aldi Apple Strudel Nutrition
Serving Size: one third of a strudel
Calories: 260 cal
Sat Fat: 7g
Sodium: 90 mg
Total Sugar: 11g
Deutsche Küche Fruits of the Forest Strudel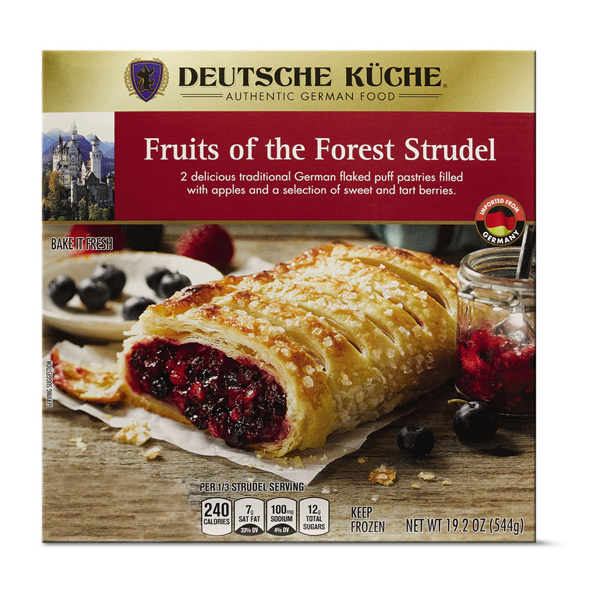 This forest fruit strudel has a filling of apples and a mix of sweet and tart berries all wrapped up in German puff pastry. Find in the freezer section and bake it fresh for a nice warm dessert. Just $2.69 per package of two strudels.
Aldi Fruits of the Forest Strudel Nutrition
Serving Size: one third of a strudel
Calories: 240 cal
Sat Fat: 7g
Sodium: 100 mg
Total Sugar: 12g
Deutsche Küche Apple Strudel
This Apple strudel is a traditional German Strudel filled with apples, raisins, and a dash of cinnamon. Imported from Germany these strudels sell for just $2.69 at Aldi.
Serving Size: one third of a strudel
Calories: 230 cal
Sat Fat: 6g
Sodium: 100 mg
Total Sugar: 13g
Deutsche Küche Spinach Ricotta or Artichoke Cheese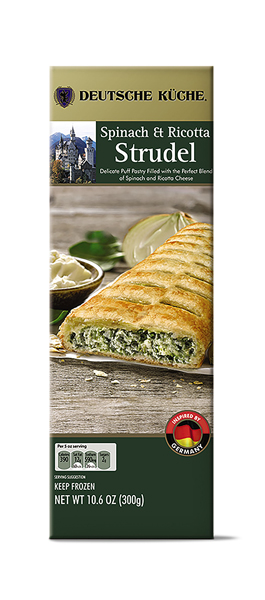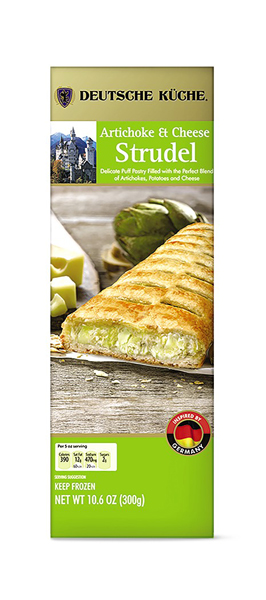 Reviews of Deutsche Küche Strudel
Be Sure to let us know which flavor(s) you are reviewing!
5 out of 5 stars (based on 9 reviews)