Aldi Doppelino Cookies: Hazelnut, Lemon, or Chocolate
German Week at Aldi is full of good desserts and here is another one to test my will power, the Deutsche Küche Doppelino Cookies. These sandwich cookies come in three varieties: Chocolate, Hazelnut, or Lemon.
Aldi's Doppelino Cookies will sell for $3.49 the week of September 21st, 2022 (Fall German Week). That price gives you one pack of cookies that is just over a pound (500 grams).
These cost slightly more than the other sandwich cookie, the Doppel Keks, that will be available at the same time.
Deutsche Küche Doppelino Cookies seem are similar in style to the classic Oreo and are on my list of things I want to try but probably shouldn't.
Deutsche Küche Doppelino Cookie Details
Price: $3.49 per package (2022, price may vary)
Available: 9/21/2022
Flavors: Lemon, Chocolate, and Hazelnut
Package Size: 17.6 ounces (1.1 pounds, 500 grams)
Aldi Product Code: 808708
Hazelnut Doppelino Sandwich Cookie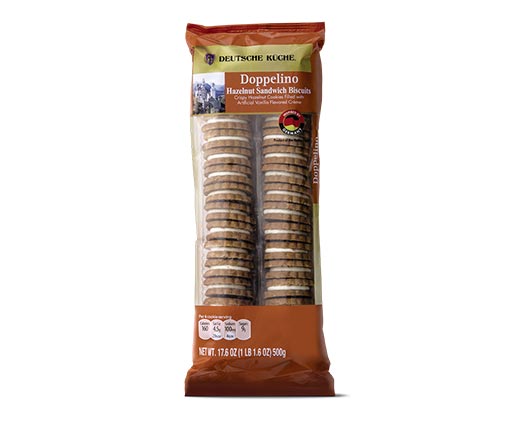 Lemon Doppelino Sandwich Cookie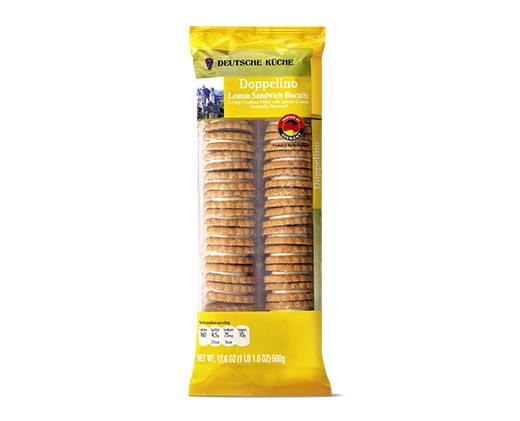 Chocolate Doppelino Sandwich Cookie
Deutsche Küche Doppelino Cookie Reviews
5 out of 5 stars (based on 1 review)
Most delicious.
I really enjoy these cookies.