Aldi Spritz Cookies
The Deutsche Kuche Spritz Cookies are a welcome addition to this year's German Week. They will be available 9/20/2023 for $2.99 as an Aldi Find. That means you can only get them for a limited time.
Aldi's Spritz Cookies are one their best cookies, at least in my opinion. They have a great texture and good flavor with balanced sweetness.
The Deutsche Küche Spritz Cookies are different from the spritz cookies I grew up eating around the holidays however. I would say it is closer to other shortbread cookies than homemade spritz. That's not a bad thing since they are both tasty cookies.
The name Spritz comes from the german word spritzen which means to squirt since these cookies are usually made with a cookie press. The dough is pressed out (or squirted out) of the press into different shapes and then baked.
While the name is German and they are eaten in Germany it is not really clear if these cookies originated in Germany or elsewhere. They are a popular christmas cookies in scandinavian countries like Norway.
Last time these were available I tried the Almond Spritz and Vanilla Spritz. I plan on buying both of these again the next time I see them in Aldi. I skipped the Coconut Spritz just because shredded coconut isn't my favorite.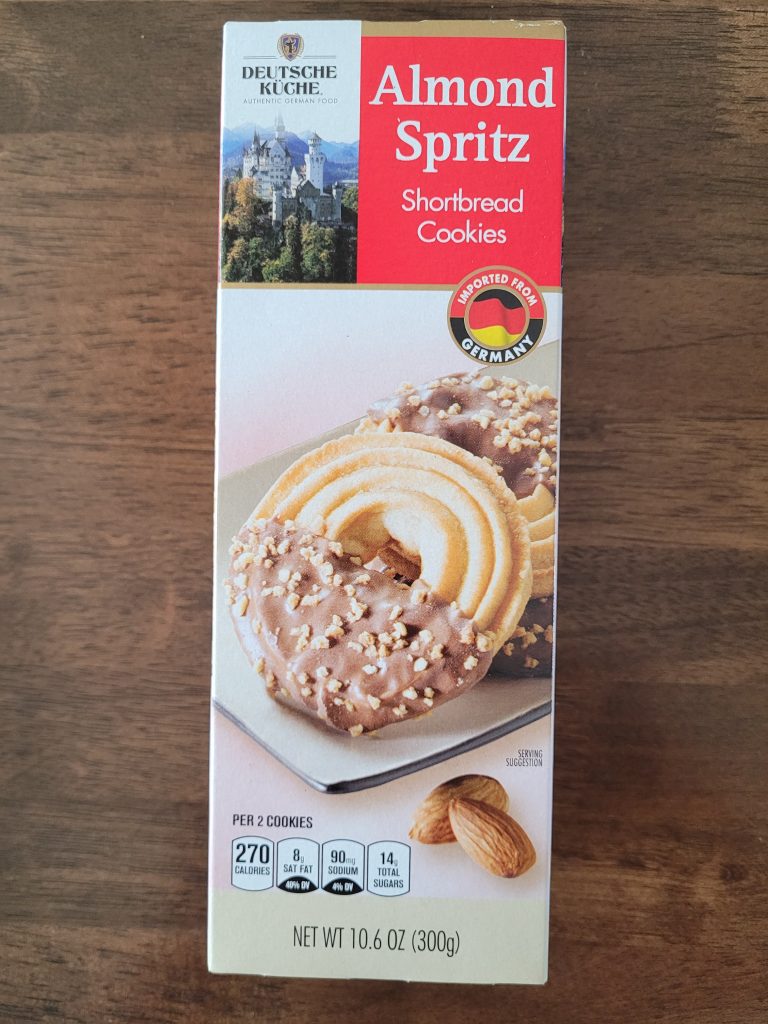 Deutsche Kuche Almond Spritz
The Almond Spritz has one half covered in chocolate and sprinkled with almond pieces with the other side plain.
I liked this style because it gave you one size that was very rich and sweet, while still being able to enjoy the actual cookie on the other side. It is also easier to hold the plain side and keep your fingers clean.
Deutsche Kuche Vanilla Spritz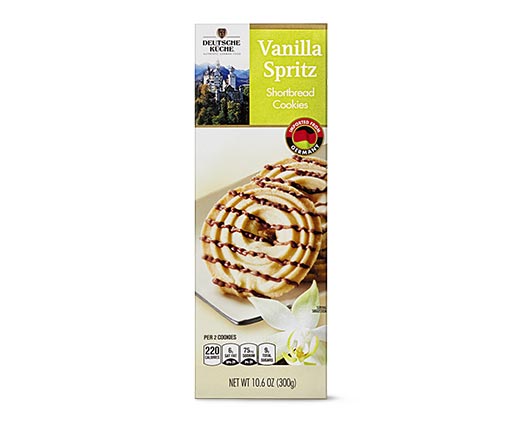 The Vanilla Spritz lets the cookie stand on its own more than the Almond Spritz. It has just a light drizzle of chocolate over the whole cookie. Just enough chocolate to add some flavour and sweetness while letting the cookie shine through.
Deutsche Kuche Coconut Spritz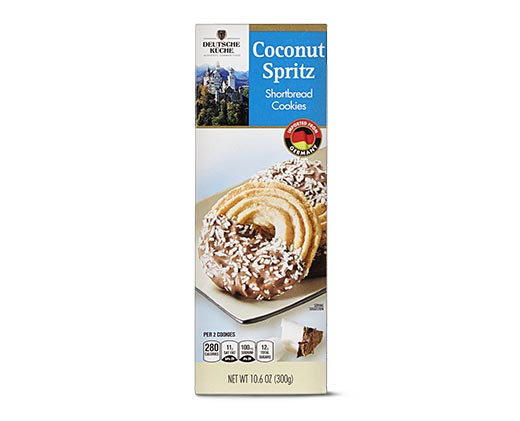 Just like the Almond version the Coconut Spritz has has one half covered in chocolate and sprinkled with coconut pieces with the other side plain. I haven't tried this version just because I prefer almonds over coconuts and can't, in good conscience, fit three boxes of cookies into my diet.
Aldi Shortbread Spritz Cookie Details
Price: $2.99 (in 2023, prices may vary Check Instacart For Current Price/Availability)
Available: 9/20/2023 (previously available 9/21/2022)
Flavors: Vanilla, Almond, or Coconut
Shortbread Cookie
Size: 10.6 ounces (300 g)
Product Code: 808798
Bestseller No. 1
Bestseller No. 2
Specially Selected Imported German Continental Cookie Assortment 14 Varieties (
14 Varieties of European Cookies Imported from Germany Selection of Dark, Milk, White Chocolate Cookies and Wafers UTZ Certified Cocoa Milk Chocolate Dark Chocolate Covered Butter Cookies
Cookies Include Dark and Milk, White and Dark, Donna, Cookie Roll,
Neopolitan, Chocolate Stick, Butter, Chokies, Coco Fleur, Spritz Shortcake, Chocolate Almond,
Deutsche Küche Spritz Cookie Reviews
Vanilla, Almond, Or Coconut Which Flavours Of Deutsche Kuche Spritz Cookies Are Your Favorite?
5.0 out of 5 stars (based on 2 reviews)
When is the next shipment coming?
I bought this cookies in Aldi in end of October but after that can't find it anymore, don't know when you will get it back again?
One of the Best Cookies From Aldi
I bought the Vanilla and Almond Spritz Cookies at Aldi and ate both boxes in record time. Really nice quality cookie and good chocolate. I haven't tried the coconut version.
Last update on 2023-12-06 / Affiliate links / Images from Amazon Product Advertising API