Aldi Deck Box
If you need a little extra outdoor storage on your deck or patio check out the Belavi Deck Box at Aldi. This 80-Gallon Deck Box will be selling for $49.99 the week of May 31st, 2023.
This Aldi Find would be perfect for storing your seat cushions for the end of the season or your kids outdoor toys and games.
If you picked up some of Aldi's patio furniture earlier this year and you are looking for another good deal to add some storage this is something I would check out. I'll compare price to some of the Amazon competitors below if you want to make sure you get the best deal.
This patio box is built with all weather resin finish and a steel reinforced lid for durability. You also have the option to lock the lid if needed. It also has a 1-year warranty included which is a nice little bonus.
Belavi 80-Gallon Deck Box (2023)
Price: $49.99 (2023, prices may vary)
Release Date: 5/31/2023 (Limited time Aldi Find)
Dimensions: 17.7 inches by 46.1 inches by 22 inches
Approximate capacity: 80 gallons
Perfect for storing pool accessories, patio items, and other belongings
Equipped with rollers and handles for effortless transportation
Resistant to various weather conditions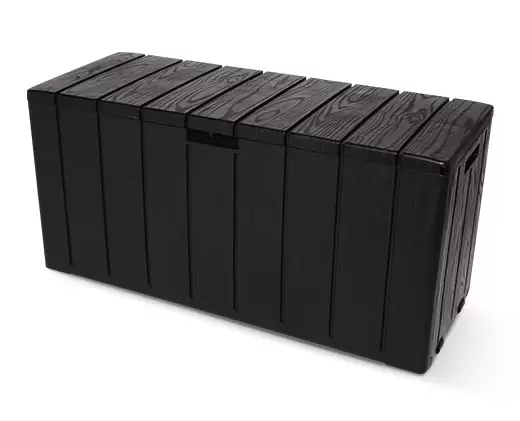 Belavi 99-Gallon Rattan Deck Box (2023)
This 99-Gallon Deck Box will be selling for $119.99 the week of April 26th, 2023.
Price: $119.99 (2023, prices may vary)
Available: 4/26/2023
Dimensions: 50 in (L) x 22 in (H) x 25in (D)
Capacity: 99-gallon
All-weather resin finish
Steel reinforced lid
Compatible with most padlocks
One-year warranty Included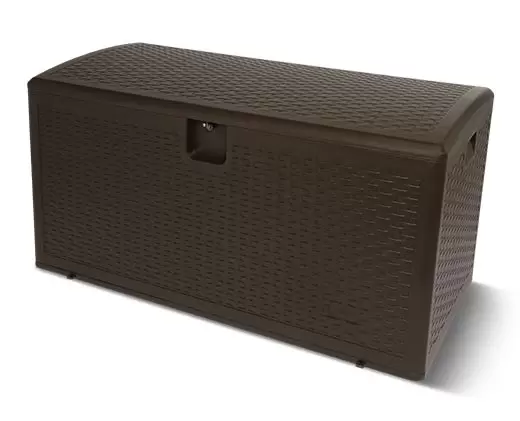 Belavi 105-Gallon Deck Box Details (2022)
Price: $99.99 (in 2022, prices may vary)
Available: 10/5/2022
Resin finish for all-weather durability on deck or patio
Double wall construction
Steel reinforced lid
Lid is lockable
50 inches (L) x 24 inches (H) x 25 inches (D)
One-year warranty included
Aldi Product Code: 706775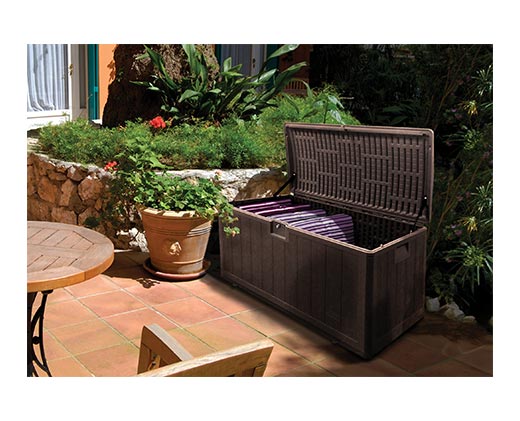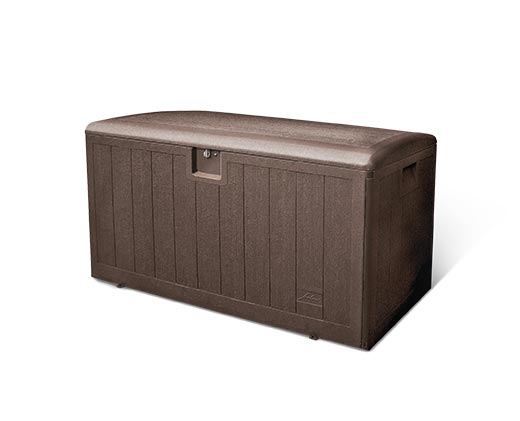 Is It A Good Deal?
This looks like a pretty decent deal compared to similar options I was able to find online. The size of 99-105 gallons is a pretty common size for the boxes and most options that I found were $20-$30 more expensive than this deck box from Aldi.
Looking at the options on Amazon there are a lot of different sizes and styles available. I'll put a couple options below that look like the best deals right now so you can compare the current prices.
Sale
Bestseller No. 1
YITAHOME 100 Gallon Large Deck Box w/Storage Net, Resin Outdoor Storage Boxes, Waterproof Patio…
OUTDOOR STORAGE BOX: The upgraded large deck box for indoor / outdoor settings with exterior dimensions of 47.9″L x 21.7″W x 25.3″H, and interior size of 47.2″L x 21″W x 23.6″H. The top cover provides…
LARGE STORAGE SPACE: A stylish item with 100-gallon capacity on your patio, deck, or porch that conveniently stores your gardening tools, cushions, pool supplies, or sporting equipment; This outdoor…
ALL-WEATHER GUARD: Weatherproof poly resin rattan combines beauty and utility, granting this patio deck storage protection against water, UV, rusting, peeling, and bending; Requires little to no…
Bestseller No. 2
Homall 100 Gallon Large Resin Deck Box Waterproof Outdoor Storage with Padlock Indoor Outdoor…
All-Weather-Resistant: Made of waterproof and weather-resistant polyester resin. The high quality material prevents fading, rusting, peeling and bending, and provides a new appearance even after…
Safe air rod: The deck box is equipped with air rods on the left and right sides for easy opening and closing, and keeping the lid in place. The air rod design can effectively prevent the box in the…
Easy installation: The box consists of six resin plates and two air rods. You only need to assemble the six plates into the box, and then use the screws to put the air rod on. Two people can complete…
Sale
Bestseller No. 3
JUMMICO 100 Gallon Large Resin Deck Box Waterproof Outdoor Indoor Storage Box Imitation Rattan…
[With Large Space] The jummico outdoor deck box has 100 gallons of internal storage space, the size is 48*26*21, you can store anything in it, and the product is well sealed, without worrying about…
[Extra Seat Space] The jummico deck box comes with a soft sponge seat on the lid, is waterproof, easy to clean and replaceable, has a maximum weight of 500 lbs and can hold up to three adults.
[High-Quality Selection] High-density resin material is selected, which is waterproof and UV-resistant and not easy to be deformed. The imitation rattan texture design is delicate and easy to clean.
Belavi Deck Box Reviews
3 out of 5 stars (based on 2 reviews)
Great box
Awesome. You will never find a better box for twice the price
Don't recommend this,
Seemed like a good value, but very flimsy, soft wall panels, and the grooves that are used to hold the panels together don't all fit well. Results in using a block and rubber mallet to assemble, then you discover how flimsy the panels are, as the edges crumble when tapped by the rubber mallet. Do yourself a favor and spend the extra money to get a quality deck box NOT made out of soft resin. Also, the lid needs hydraulic supports to keep it from slamming shut.
Last update on 2023-09-28 / Affiliate links / Images from Amazon Product Advertising API