Aldi Outdoor Daybed
The Belavi Outdoor Daybed will be available the week of August 31st, 2022 for just $169.99. This daybed is made to be used outdoors and includes the cushions. Each side can be adjusted to either lay flat or up at an angle for some nice versatile seating. With the adjustable sides this looks like it can be used as a loveseat, a daybed, or a chaise lounge (going either direction). That is four different positions that you can relax on your patio!
It is getting towards the end of the summer season so I would guess that you won't be seeing much more patio furniture at Aldi until spring comes around. So if you are looking to get out a savor those last warm days of summer and fall this may be your last chance. This looks like it would go great with the indoor/outdoor flatweave rug that is probably still hanging around in some stores.
Belavi Outdoor Daybed Details
Price: $169.99 (2022, prices may vary)
Availability: 8/31/2022 (8/28 in some stores)
Color: Grey cushions with brown frame
Convertible Design can be used as a daybed, a loveseat, or a lounger.
Dimensions: 78 inches x 24.8 inches x 33.5 inches
Includes: seat and back cushions
Meant for outdoor use only
One-year warranty included
Aldi Product Code: 703892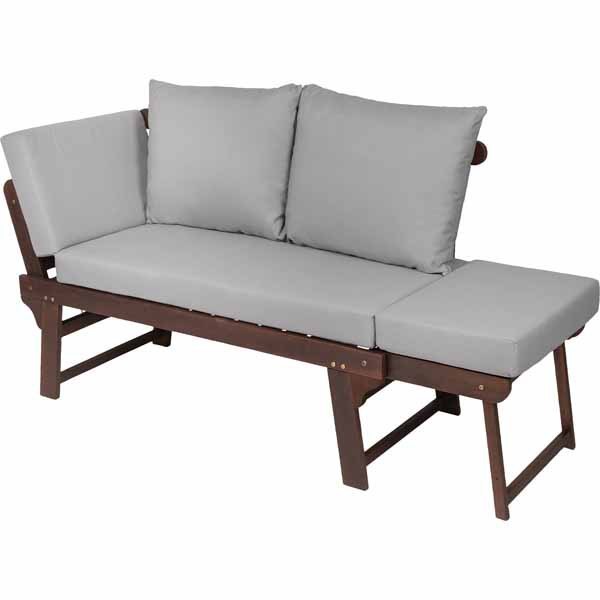 Is It A Good Deal?
I really like when a piece of furniture can serve multiple purposes like this Belavi convertible day bed. You may want a lounger or bed most of the time but may want to convert it to a loveseat for extra seating. This daybed from Aldi does look like a good deal compared to what I can find online. You may be able to find better deals in stores right now since they may be doing end of season clearance.
Looking online you can find multiple brands that have a very similar design to the Belavi. Sticking with some products that have a decent number of good reviews I found two to compare to Aldi's Daybed. The first is the BHG Convertible Sofa Daybed which is only available in blue. The second is the Tangkula Daybed which comes in a variety of colors. Without resorting to looking through a bunch of others with few/no reviews it looks like Aldi's price is pretty hard to beat for this item.
Current Pricing for BHG and Tangkula Daybeds
Belavi Daybed Reviews
2.5 out of 5 stars (based on 6 reviews)