Aldi Wicker Patio Set
If you are looking for a nice patio set to go with your Aldi Egg Chair the Belavi Wicker Patio Set may be just the thing for you. Of course you can use it on its own without the egg chair. Aldi has really gone for some more premium looking patio furniture this year and there seems to be a new option every week. This week you can choose between this and the Belavi Rope Bistro Set. Both include two nice looking chairs and a side table. Aldi's Wicker Patio Set will sell for $329.99 and be available starting July 20th, 2022. The Aldi Rope Patio Set will be a bit cheaper at $269.99 and available at the same time. They will both be available for a limited time as an Aldi Find.
Belavi 3-Piece Wicker Patio Set Details
Price: $329.99 (2022, prices may vary)
Available: 7/20/2022
Made from all-weather wicker
Powder-coated steel frame
Chair Dimensions: 30 inches x 30 inches x 32.5 inches
Table Dimensions: 15 inches x 17.72 inches x 17.72 inches
Weight capacity: 225 pounds per chair
One-year warranty included
Aldi Product Code: 706438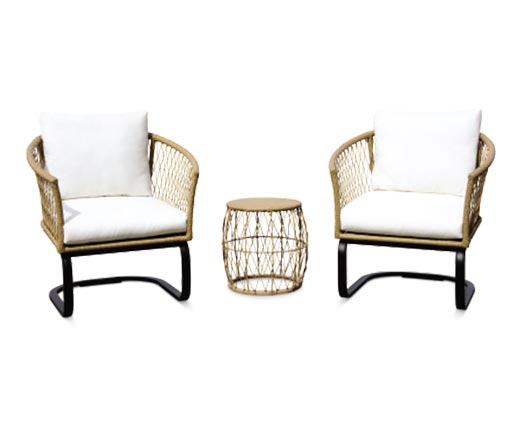 Is This A Good Deal?
Typically when I do these price comparisons I can find something online that looks like it is almost exactly the same item. This time I had a little trouble finding a set that looks just like this. I can find plenty of patio sets that give a pretty similar look but finding one in this style and with this type of chair leg was tough.
The closest option I found is this patio set from Target. It has a similar style/design and similar legs (although round white pipe instead of flat and black). It also looks like it just includes one cushion per chair instead of the two that look to come with Aldi's version. The Target set sells for $400 regularly and at the time of writing this it is on sale for $320.
If you want to just compare it to something that will give you a similar look there are a few decent options online for less. I found the Homsido 3-Piece Outdoor Rattan Patio Set selling for just over $300 which should give a similar look. It has a different style of table but gives a similar feel. If you want to save a good amount of money you can check out the Tangkula 3 Piece Bistro Set. It is selling for around $200 now and has a similar look (along with a few other color options).
Overall it seems like Aldi's Wicker Patio Set is priced competitively with Target and some of the online options. But you can save some money if you aren't set on that exact style.
Aldi Wicker Patio Set Reviews
0.0 out of 5 stars (based on 0 reviews)
There are no reviews yet. Be the first one to write one.