Aldi Rope Patio Set
Aldi has brought out a bunch of options for patio furniture this spring and summer. We have seen the massive Aldi Egg Chair, a full patio sectional, rocking chairs, and many more.
Even this week has two different 3-piece patio sets; this Belavi Rope Bistro Set plus Aldi's Wicker Patio Set. This Rope Patio set will be available as an Aldi Find the week of July 20th, 2022 for $269.99.
It includes two grey rope patio chairs with cushions and a small side table. These chairs have sleek modern look and are selling for about $60 less than the wicker set.
If you missed out on this Aldi has this four piece rattan set available in the fall.
Belavi 3-Piece Rope Bistro Set Details
Price: $269.99 (2022; prices may vary)
Available: 7/20/2022
Durable powder-coated aluminum frame
Comfortable olefin fabric cushion
Easy assembly
Armchair Dimensions: 23.03 inches x 25 inches x 31.10 inches
Table Dimensions : 17.72 inches x 21.65 inches
Armchair Weight capacity: 242 pounds
Includes: one table and two armchairs with cushions
One-year warranty included
Aldi Product Code: 812107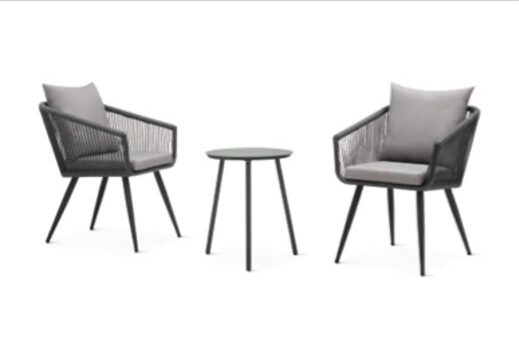 Is The Aldi Rope Bistro Set A Good Deal?
If you are comparing this to Aldi's wicker set that is available at the same time you would be saving $60 by going with the Belavi Rope Patio Set. But how does it compare to other rope style patio chairs?
Looking online I found the East Oak Conversation Set which has a similar style and adds the rope styling to the side table as well. It only has one seat cushion instead of the two included with Aldi's patio chairs but it looks like it has some good reviews. It is selling for $263.99 at the time of writing this, so not a huge savings but worth looking at.
I also found the Yaheetech Bistro Set selling for even less: $218.99 at the time of posting this article. It also adds the rope look on the table but does not cover the entire frame of the chair in rope. This set also has two seat cushions per chair similar to Aldi's version.
Belavi Rope Bistro Set Reviews
1.3 out of 5 stars (based on 3 reviews)
Update:Non responsive customer service
Replacement legs finally arrived. Still no response from customer service to let you know: first they received the warranty request for replacement and two they did not respond advising replacement was shipping. You are left wondering and frustrated.
No responsive customer service
My set had to damaged legs for the chair. I emailed customer service on the warranty. No response. I called and they advise they do not reply to emails. She said they could look to see if they received my email and reply. Two weeks after the call and three weeks after first email and still no response.
Broken pieces and customer service unresponsive to warranty requesr
I was so excited to find this bistro set for my daughter. When we put the set together we discovered that one of the leg bottoms was broken and not repairable. I called (left voicemail) and emailed two times using the info provided on the Aldi warranty pamphlet included with the set and have received no response (one week has gone by). This poor customer service makes me very hesitant to purchase a product such as this from Aldi since they don't stand by the warranty.