Aldi Rattan Conversation Set
Aldi will be selling the Belavi Rattan Conversation Set for $299.99 as a limited time Aldi Find. It will be available starting October 19th, 2022.
This set includes a loveseat, two chairs, and a table. This set is made with a steel frame and rattan exterior and includes seat cushions for the loveseat and chairs.
If you are in the market for patio furniture Aldi may not be the first place you look but don't count them out. They have some decent deals on a variety of patio furniture throughout the year, mostly in the spring and early summer.
I am surprised to see this big of a patio set being sold this late in the year. Some parts of the country are starting to get snow and Aldi is trying to sell outdoor furniture.
Just guessing that this was delayed and was meant to be sold earlier. But either way I could see this going on clearance quickly in northern parts of the country so it could be a good deal if you keep your eyes open.
This could fit well with the Rattan Sectional if you need some more seating outside.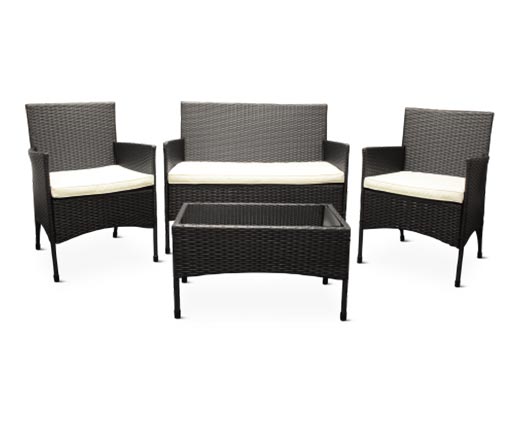 Belavi Rattan Conversation Set
Price: $299.99 (in 2022, prices may vary)
Available: 10/19/2022
Includes: two chairs, one loveseat and one table
Frame Materials: Powder-coated steel
Chair dimensions: 23.6 inches x 22.8 inches x 33 inches
Loveseat dimensions: 41.3 inches x 22.8 inches x 33 inches
Table dimensions: 27.5 inches x 15.75 inches x 15.75 inches
Loveseat weight capacity: 550 pounds
Chair weight capacity: 225 pounds
Assembly required
One-year warranty included
Aldi Product Code: 707607
Is It A Good Deal?
If you don't have to have this particular set and want to get a deal I would keep an eye out for this going on clearance quickly if you are in an area with winters. This coming out so late in the year and takes up so much room in the store I could see them trying to move them quickly.
Looking beyond the change of picking this up on clearance it does not look like a great deal at full price. Of course I can't fully compare the quality of this patio set compared to the ones available online but I was able to find some very similar options for less.
If you want a slightly different style in a similar patio set you can take a look at the Belleeze Rattan 4 piece set. It has a more open and less boxy look but with a similar overall set. It is also the best deal that I found (at the time of this writing).
Even if this goes on clearance it may take a while to be a good buy compared to these three options. Usually Aldi's prices are pretty comparable to what I find online but this one seems overpriced. Once again I can't say if there is a big difference in quality or durability between this and the alternatives.
Alternative Product Prices
Belavi Rattan 4 Piece Conversation Set Reviews
2.3 out of 5 stars (based on 3 reviews)
BELAVI rattan conversation set
I paid 75.00 for this at Christmas time.
I waited till April to put it together; what a pain in the butt to put together. The holes did not aline which was why it took so long and took 2 people. I am very happy so far with how it turned out. All the pieces were there and that's always a plus. I will definitely get some use out of this during the nice weather.
Takes time to put together…but worth it
I got this on clearance for like $75. I knew I was gonna have to put it together, but nothing that can't be done while watching a show. Some screw holes don't align perfectly and you may need an extra hand to help align things, but it sure beats the hell out of paying hundreds if not thousands for sets similar to this. Quality is decent, for sure. Well worth the $75.
Quality Control Missed it's Mark!
Everything has to be put together, and I mean everything! The holes for the screws did not line up. The screws were painted, which made it even more difficult to assemble. In the end 4 screws were not able to be screwed in. I will need add something to make it safer and sturdy. It was more black than brown (I wanted brown). In the end after 2-3 hours assembly, I wanted to return it. Not really as nice as the picture. Overall I should of returned it. My first disappointment from Aldis. If I could return it after assembling it I would!