Aldi Raised Garden Bed
Gardening enthusiasts, rejoice! Aldi has recently launched its latest addition to its garden collection – the Belavi Wooden Raised Planter.
With a natural wood finish and dimensions of 34.05″ W x 18.11″ D x 31.89″ H, this planter is the perfect addition to any garden or balcony. What's more, it can hold up to 220 pounds and has a colume capacity of 15.32 gallons, providing ample space for a variety of plants.
The Belavi Wooden Raise Planter also comes with a water-repellant foil liner, separating the wood from the soil, improving the longevity of the planter. Made from FSC certified Chinese fir, the planter is not only practical but environmentally friendly too.
At $49.99, this planter is a great value for money, allowing gardeners to create a beautiful green space without breaking the bank. Look for it in the Aldi Find's Aisle at your local Aldi starting April 12th, 2023.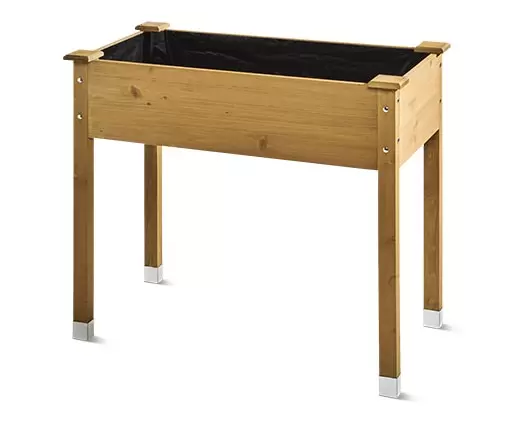 Belavi Wood Raised Garden Bed
Price: $49.99 (2023, prices may vary)
Available: 4/12/2023
Natural wood finish
Dimensions: 34.05″ W x 18.11″ D x 31.89″ H
Holds up to 220 pounds (about 100 kg)
Planter capacity: 15.32 gallons (58 L)
Includes water-repellant foil liner to separate wood from soil
Made from FSC certified Chinese fir
Is It A Good Deal?
Sale
Bestseller No. 1
Outsunny 3-Tier Raised Garden Bed with 5 Compartments and Bed Liner, Elevated Wooded Wooden Planter…
Three Planter Troughs: This raised garden bed has five compartments to grow and separate vegetables, herbs, flowers, or almost anything you can plant. Our divided planters organize and offers a…
Stair-step Boxes: Designed with three different depths, our raised garden boxes can accommodate and separate various root lengths and sizes, from short and small to big and tall.
Fast, Tool-free Assembly: The cute little corners on this outdoor planter aren't just there to look pretty. They make it so you won't need any tools to assemble your growth space. Simply interlock the…
Bestseller No. 2
Outsunny Foldable Raised Garden Bed, Wooded Elevated Ground Planter Box with Insert Extended Steel…
LOTS OF ROOM TO GROW: This 4′ x 2.6′ garden bed provides plenty of planting space for your favorite herbs, flowers, or vegetables to reach their potential.
PORTABLE & FOLDABLE: The elevating planter frame is foldable, and its compact, easy-to-carry design makes it so you can set up, or store away for the season fast.
OPEN BOTTOM GARDEN: Raise your growing space with this wooden open-bottom garden bed. The included non-woven fabric provides proper draining and breathability so you can keep specialized soil from…
Sale
Bestseller No. 3
Belavi Raised Planter Reviews
1 out of 5 stars (based on 2 reviews)
Junk
Not easy to assemble. Nothing lines up. Also, I had it sitting unassembled in the elements and when it was time to put it together, all the bolts had already rusted. No protection on the wood either. Glad I got it on sale. Going to burn it.
Overpriced for the quality
I searched for this after I passed on purchasing it at my local Aldi. I found it at a neighboring town's Aldi. Was actually $10 more, out of town. Simple instructions and easy to put together, but once put together, none of the seams or corners match/meet up. Decent quality wood, but for $50 you would think that at a minimum everything would match up. The bottom half of a trash bag is your "barrier" between soil and wood, with ONE hole for drainage. The wood is also bare naked with no sealant applied. For any durability, I would advise applying a stain/paint. Not up to par for Aldi quality IMO.
Last update on 2023-05-28 / Affiliate links / Images from Amazon Product Advertising API