Crofton Ceramic Baking Dish with Lid
If you're on the hunt for a versatile kitchen gadget that won't break the bank, check out Aldi's Crofton Ceramic Baking Dish. Priced at just $8.99 (as of 2023, so prices may vary), this bad boy is hitting the shelves on September 6th.
With a 9″ x 8″ dish, it's the perfect size for all sorts of culinary adventures—think meatloaf, hotdish, pasta dishes, and even baked veggies. Plus, it's oven-safe up to 450°F, so you can crank up the heat without worry.
Cleanup? A breeze. This dish is dishwasher safe. Got leftovers? It's microwave safe too. Stay tuned for more deets and recipes to make the most out of this kitchen MVP. 🍞🥘🍲
That same week you can check out Aldi's Pumpkin Casserole Dishes if you are looking for something more fall themed!
Aldi Ceramic Baking Dish Details
Price: $8.99 (2023, prices may vary)
Available: 9/6/2023
Dimensions: 9″ x 8″ dish
Oven safe up to 450 °F
Dishwasher safe for easy cleanup
Also microwave safe to easily reheat leftovers!
Perfect for meatloaf, hotdish/casserole, pasta dishes, baked vegetables and more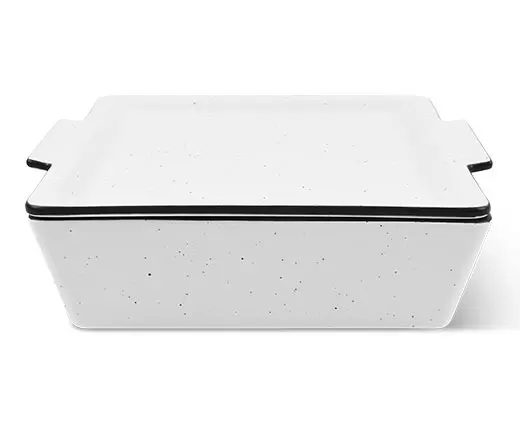 Is It A Good Deal?
At Just $8.99 for this style of ceramic bakeware it looks like a pretty good deal. Similarly sized dishes can sell for $20+ in many stores.
I haven't used one of these yet so I don't know how well the perform but based on using one of the Glazed Cast Iron French Ovens from Aldi I think this is worth a try if you are interested.
Bestseller No. 1
LOVECASA 8×8 inch Baking Pan, Square Cake Pan Baking Dish for Oven, Stoneware Brownie Pan Non-Stick,…
Size and Versatility-The square baking pan is 8"(L) x 8" (W) x 3" (H), making it suitable for a variety of dishes such as lasagna, casseroles, enchiladas, gratin, roasted meat, and brownies. Its…
Convenient Double Handle-The pan features side handles with a striped design, making it easy to grip and transport. This design ensures a firm grip, reducing the risk of burning yourself or others…
Evenly Baking & Non-Sticking-The pan's smooth surface prevents stains from sticking, making it easy to clean with a quick rinse. The even baking properties of the pan ensure that your dishes are…
Bestseller No. 2
FE Baking Dish, 11″x 8″Rome Pillar Casserole Dish, 3.38 Quart Lasagna Pan with Handles, Ceramic…
Large Capacity: This baking dish measures 11.4 x 8.6x 2.5 inches, 3.38 Quart capacity.The lasagna pan perfect for preparing a variety of dishes, such as lasagna, roasted meat, chicken, pizza, cake,…
High-Temperature Resistance: FUN ELEMENTS casserole dish was made of premium ceramic material, can tolerate high temperature to 500°F, suitable for oven, microwave, freezer, and dishwasher….
Easy to Clean&Stack: The rectangular baking pan has a double-ear design for easy movement, great to be stacked to save more cabinet space. Smooth glaze can be avoid any food sticking to the dish and…
Bestseller No. 3
Small Ceramic Baking Dish Pan, 9 x 6inches Mini Casserole Dishes with Handles, Rectangular Baking…
🍽️【Perfect 2 Packages】– Zuddth ceramic baking dish set includes 2 pieces in all, easy to store, which is perfect for lasagna, spaghetti, chicken, meat, beef, roasting, vegetables, storing…
🍽️【Food Grade Safety】– Our Porcelain Baking Pan is made of Premium Ceramic, which is Lead-Free and Non-Toxic, resists chipping and cracking. It won't leach odors or metallic tastes into your…
🍽️【High Temperature Resistant】– Our baking dish set is made of high temperature resistant ceramic, oven safe to 501°F when you are baking, which can be used in the oven, microwave,…
Crofton Ceramic Bakeware Reviews
Let us know the year you purchased and the size/style of ceramic bakeware you are reviewing since Aldi can carry multiple styles throughout the year.
5 out of 5 stars (based on 1 review)
Your sizing is way off!
While this is an awesome piece of crockery it's only 6×6 on the bottom. It's slopes upward to 7 & 1/2 inches. I didn't measure how much it holds but it's on the smaller size of 8×8. Way smaller. Love the lid, it makes the whole dish. At the lid dip this thing is only 3 & 1/2 inches high, it's perfect for one or two. You can use it to store the leftovers.
Last update on 2023-09-29 / Affiliate links / Images from Amazon Product Advertising API