Looking for handy and reliable kitchen containers? Aldi has got you covered with their Crofton 8-Piece Glass Bowl Set with Multi-Color Lid and the Crofton Glass Meal Prep Containers! Both offer an affordable and versatile solution for storing, reheating, and serving your favorite meals.
Both sets are dishwasher, freezer, and microwave safe; perfect for your Aldi Meal Preps. The glass bowl set has the added bonus of being oven safe as well. None of the lids are microwave or oven safe so be sure to remember to take it off when reheating!
I definitely prefer glass containers like these to the plastic meal prep containers. They should last years and I don't have to worry as much about the type of plastic that is touching my food. For just storing dry food I like to use something like the Crofton Panty Storage Containers.
Crofton 8-Peice Glass Bowl Set
Price: $9.99 (2023, prices may vary)
Available: 6/28/2023 (limited time Aldi Find)
Includes 4 glass bowls and 4 multicolored lids
Four different sizes: 1-cup, 2-cup, 4-cup and 7-cup
Freezer safe and dishwasher safe
Microwave and oven Safe (glass only)
Bowl is oven safe up to 425 °F (218 C)
Crofton Glass Meal Prep Containers
Price: $12.99 (2023, prices may vary)
Available: 7/5/2023 (limited time Aldi Find)
Set of 4 rectangle containers and 4 matching lids
Colors: Green, Blue or Gray
Dimensions of container with lid: 7.6″ x 5.6″ x 1.8″
Based on the dimensions it should hold about 5.3 cups
Dishwasher safe and Freezer safe
Microwave safe (glass only)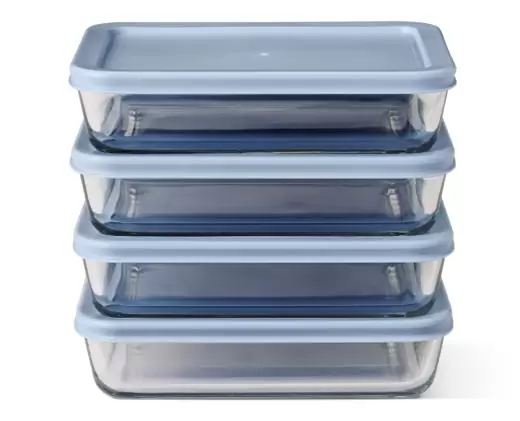 Is It A Good Deal?
This looks like a pretty good price for glass food storage containers. I have always used Pyrex containers or Anchor Glass Containers. Both containers have held up well long term and even survived some small drops.
The lids on the other hand never seem to last long. Hopefully Aldi's version is a bit better but I just ordered these Unwasted Silicone Lids and I am really hoping they fit my current containers and last long term.
Bestseller No. 1
Anchor Hocking 16 Piece Round and Rectangle Glass Food Storage Containers, Space Saving Meal Prep,…
INCLUDES: This storage container set contains (1) 1-cup round container with navy lid, (2) 2-cup round containers with navy lids, (2) 4-cup round containers with navy lids, (1) 1 7/8-cup rectangle…
DURABLE: Glass tempered tougher + lids made cleaner = the worry-free food storage containers. Temperature and shatter resistant, go fridge-to-oven, oven-to-table, and table-to-dishwasher.
SAFE: These food storage containers and easy-seal lids are microwave, dishwasher, and freezer safe. Healthier than plastic and metal, they won't warp, stain, retain smells, or leach chemicals into…
Bestseller No. 2
Sale
Bestseller No. 3
Anchor Hocking SnugFit 26 Piece Glass Food Storage Containers with Lids, Mixed Blue
INCLUDES: This Anchor Hocking glass storage set contains (4) 1-cup containers with key lime lids, (4) 2-cup containers with mint lids, (3) 4-cup containers with teal lids and (2) 7-cup containers with…
DURABLE: This glass food storage container set is microwave, pre-heated oven, refrigerator, freezer, and dishwasher safe; airtight lids are BPA Free and top rack dishwasher safe.
SAFE: Anchor Hocking glass is healthier than plastic and metal. It will not warp, stain, retain smells, or leach dangerous chemicals into food or drinks.
Crofton Glass Food Storage Container Reviews
Let us know which glass container set you purchased and what year you bought it since Aldi Finds can change year to year!
0 out of 5 stars (based on 0 reviews)
There are no reviews yet. Be the first one to write one.
Last update on 2023-09-29 / Affiliate links / Images from Amazon Product Advertising API