Aldi has a variety of Crofton pantry storage containers available at different times of the year like the 3-pack of Crofton Pantry Containers with latching lids, the Crofton Cereal Container, and the Crofton Rotating Lock Containers.
The airtight containers are really handy in keeping your pantry goods fresh once the package is open or just to keep things organized and looking nice. Having set containers also makes it easier to organizer your pantry instead of trying to fit all the different boxes and bags into a cabinet.
Crofton 3-Pack Pantry Containers with Latching Lids
Price: $16.99 (2023, prices may vary)
Available: 4/5/2023
Included: 3 rectangular containers and 3 matching lids (latch)
Stackable Containers
Suction seal to maintain freshness
Large container: 165.42 oz. (4.89 L)
Medium container: 98.5 oz. (2.91 L)
Small container: 63.35 oz. (1.87 L)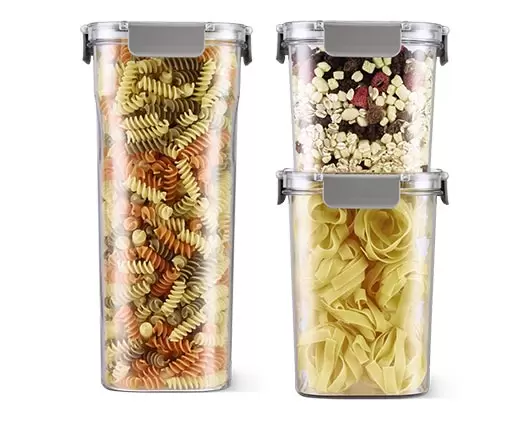 Crofton Cereal Container
Price: $7.99 (2023, prices may vary)
Available: 4/5/23
Airtight lid maintains freshness
Contour shape make easy to pour
21-cup capacity
Top rack dishwasher safe
BPA free material
Perfect for cereal, rice, oatmeal, or other grains
Crofton Glass Canister With Bamboo Lid
Price: $12.99 (2023, prices may vary)
Available: 4/5/2023
Single Large Canister or 2-Piece Small Canister set
Lids made from 100% bamboo wood
Canisters are made from glass
Perfect for food or pantry storage and organization
Large Canister: 115 oz.
2-Piece Small Canister Set: 33 oz. and 45 oz.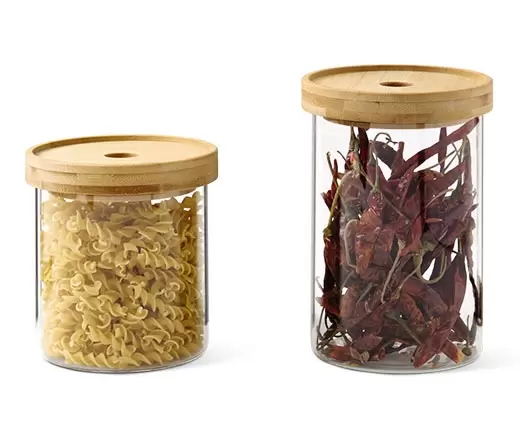 Price: $5.99 each (as of this writing in Feb. 2022)
Sizes: Either Two 6.6-cup containers or one 14.2-cup container (may have other sizes available in-store or in a future Aldi Find)
Both sizes appear to be square shapes- possible they will have others in the store or available at other times.
Easy open airtight lids, twist the top to open and close
Stackable, space saving design with clear walls to see what is inside
Dishwasher safe
Made from BPA free Plastic
Are They A Good Deal?
Crofton Pantry Storage Container Reviews
4.7 out of 5 stars (based on 3 reviews)
Husband Approved
I purchased these at Aldi on December 2022. LOVE THEM! I should have purchased 3 sets. Now I'm stuck and my husband talks about how much he likes them all the time.
Wish you could buy then online once they are gone from the store.
These storage containers are wonderful!
I want to see ALDI carry more of these! A lot more affordable than others out there.
Love it
I bought this many years ago at Aldi and hoping to find another set. I do have cracks at the bottom of my current ones only due to having kids dropping the containers on the floor by accident. Either way, it is easy to use, cheap and it is super air tight.
Last update on 2023-05-28 / Affiliate links / Images from Amazon Product Advertising API