Aldi 2-Pack Berry Keeper or Produce Keeper
Aldi will be selling the Crofton Berry Keeper and Crofton Produce Keeper for a limited time starting the week of July 19th, 2023. It is listed online as "2-Pack Berry Keeper or Produce Keeper" so you should get 2 berry keepers for the $9.99 price but I am not sure if you get just one produce keeper or two.
Both the berry keeper and produce keepers have adjustable vents to control the air flow and a guide printed on the lid to help you keep the produce fresh longer. The colander base helps water or juice drain from the produce and maintain freshness.
That same week you can pick up some Crofton Storage Containers to help you stay organized.
Crofton Berry/Produce Keepers
Food container keep produce fresh longer
Berry Keeper: 7.56″ x 5.1″ x 2.8″
Produce Keeper: 10.7″ x 7.1″ x 3.6″
Guide for long-lasting freshness printed on lid
Adjustable vent controls air flow
Colander base allows for excess juice and water to drain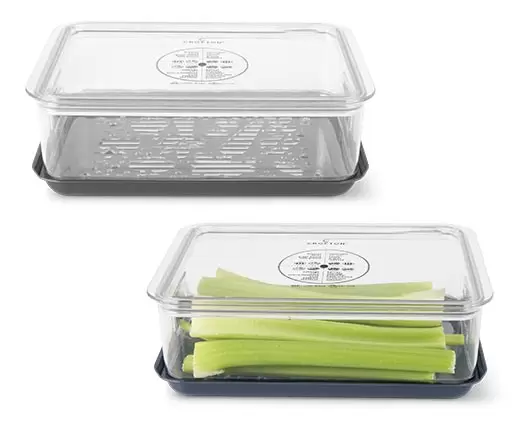 Is It A Good Deal?
Keep in mind that this includes two berry keepers for $9.99 but I am not sure if you are getting one or two produce keepers. It looks like a decent price overall and hopefully helps save some money by keeping those expensive berries and produce from going bad too soon.
Bestseller No. 1
Bestseller No. 2
Prepworks by Progressive Berry Keeper,Red
RETAINS FOOD FRESHNESS: Fresh berries are very delicate and can be difficult to store. With the fresh berry keeper, you can store up to one pint of fresh strawberries, raspberries and other small…
PREVENT BRUISES: The keeper's stackable insert tray layers your fruit, preventing bruising and keeping them fresh longer
ADJUSTABLE VENT: The adjustable vent regulates air circulation while water reservoir provides needed moisture
Bestseller No. 3
SIMPLEMADE Clear Berry Bins – Berry Keeper Container, Fruit Produce Saver Food Storage Containers…
Fresh Berry Storage: Keep your berries fresh and organized with our berry bin fridge container, designed specifically for optimal storage of strawberries, blueberries, and other small fruits.
Removable Collander: The included removable colander allows for easy rinsing and draining of your berries, ensuring they stay fresh and ready to enjoy.
Perfect Size: Measuring 6″ x 6″ x 4″ our berry bin fits perfectly in your refrigerator, saving space and keeping your fridge neat and tidy.
Crofton Berry and Produce Keeper Reviews
5 out of 5 stars (based on 1 review)
Aldi's Berries container
I absolutely love these, have made a big difference in keeping the fruit and veggies longer.
Last update on 2023-09-29 / Affiliate links / Images from Amazon Product Advertising API