Kirkwood Breaded Chicken Breast Patties
In the world of convenient and delicious frozen food options, Kirkwood Breaded Chicken Breast Patties from Aldi stand out as a reliable and affordable choice. Also known as "Aldi Blue Bag Chicken", these fully cooked chicken patties are a go-to item for many households.
With a generous 23.8 oz package size, these frozen delights are perfect for satisfying cravings or serving a crowd. Made with a combination of high-quality white meat chicken, including breast and rib meat, Kirkwood Breaded Chicken Breast Patties offer a flavorful and satisfying meal solution.
These mouthwatering patties are available year-round at Aldi stores, making them a convenient staple in any shopping routine. They may not be as famous as Aldi's Red Bag Chicken but they are still worth checking out!
With their reasonable price tag of around $6 per package (prices may vary), it's no wonder that these chicken patties have become a popular choice for budget-conscious and flavor-seeking shoppers.
Kirkwood Chicken Patties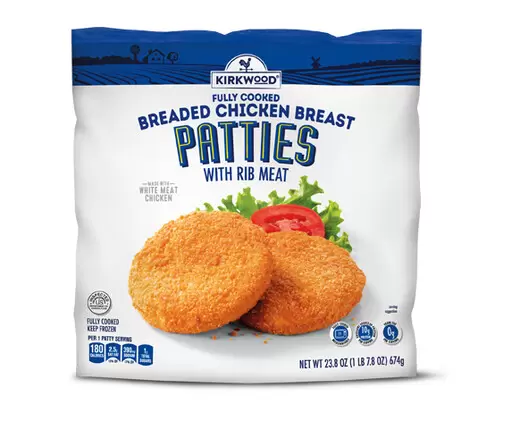 Aldi Chicken Patty Meal Ideas
Aldi Chicken Patty Reviews
Let us know if you are reviewing the Kirkwood Breaded Chicken Breast Patties (Blue bag) or another variety of Chicken Patties from Aldi!
0 out of 5 stars (based on 0 reviews)
There are no reviews yet. Be the first one to write one.