Crofton Rotating Lock Storage Container
Price: $5.99 each (as of this writing in Feb. 2022)
Sizes: Either Two 6.6-cup containers or one 14.2-cup container (may have other sizes available in-store or in a future Aldi Find)
Both sizes appear to be square shapes- possible they will have others in the store or available at other times.
Easy open airtight lids, twist the top to open and close
Stackable, space saving design with clear walls to see what is inside
Dishwasher safe
Made from BPA free Plastic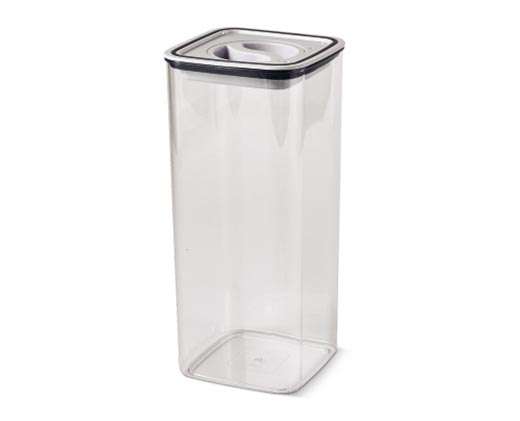 Aldi Rotating Lock Container vs OXO Pop Top Containers
Aldi's Crofton stackable storage containers are definitely meant to compete directly with the big name in the space: OXO Good Grips POP containers. The OXO containers are the most popular in this style of container and you will seem them in all the big box stores. They are also very expensive and over the last few years we have seen more competition in this area. The main difference between OXO POP and most competitors is the lid. OXO has a push button to open and close the lid and most competitors use some other mechanism like Crofton's rotating lock (I am guessing OXO has a patent on the POP lid and others can't be too similar).
I have quite a few OXO POP containers in my house and I generally like them. They look nice enough when filled that I don't mind having them sit out on the counter and work pretty well. Them main problem with the OXO containers is they can be expensive unless you find a good sale.
If the rotating lock top on these Crofton Containers works well and they stay airtight these could be a great alternative to the OXO. I don't think rotating lock would be a deal breaker as long as it is still pretty quick to open and close.
Crofton Containers vs OXO POP: Pricing
Comparing the Aldi Rotating Lock Containers to OXO on Amazon it seems like the Crofton 6.6 cup (1.65 Qt) containers are about a quarter of the price of the OXO 1.7 Qt. As of writing this you can get two 1.65 Qt Crofton containers for $5.99 while just one 1.7 Qt OXO will cost you close to $15 (even if you buy in a set of 4 for $60).
Comparing $5.99 for one 14.2 cup (3.55 Qt) Crofton Container to a slightly smaller 3.4 Qt OXO for a whopping $30 or at larger 3.7 Qt for about $19. Price-wise the Crofton is an amazing deal as long as the quality is just ok.
Reviews of Crofton Rotating Lock Containers From Aldi
4.7 out of 5 stars (based on 3 reviews)
Husband Approved
I purchased these at Aldi on December 2022. LOVE THEM! I should have purchased 3 sets. Now I'm stuck and my husband talks about how much he likes them all the time.
Wish you could buy then online once they are gone from the store.
These storage containers are wonderful!
I want to see ALDI carry more of these! A lot more affordable than others out there.
Love it
I bought this many years ago at Aldi and hoping to find another set. I do have cracks at the bottom of my current ones only due to having kids dropping the containers on the floor by accident. Either way, it is easy to use, cheap and it is super air tight.