Aldi Pet Character Beds
The Heart To Tail Character Pet Beds will be available at Aldi the week of August 24th 2022. This Aldi Find will be selling for $19.99 when it lands on store shelves. You will get to choose from pineapple, shark, crab, flamingo, or cactus for the characters. I am not exactly sure why they call these character beds when two of the five are plants but that's no big deal. I'd grab the pineapple or shark versions if I had to choose. These are on the smaller side so probably best for cats or small dogs.
If you are trying to spoil your cat be sure to check out the Heart to Tail Cat Scratcher Pad or Heart to Tail Cat Houses. If you want something a bit more luxurious be sure to check out the Heart to Tail Pet Sofa.
Keep your pet food costs down by shopping at Aldi for Heart to Tail Dog Food.
Heart To Tail Pet Character Beds
Price: $19.99 (2022, prices may vary)
Available: 8/24/2022
Characters: Pineapple, Shark, Crab, Flamingo or Cactus
Cushioned Pet Bed
Dimensions: 17.32 inches x 16.54 inches x 15.75 inches
Anti-slip backing
Cleaning Instructions: Hand wash cold, do not bleach, dry flat, do not iron, do not dry clean
Warning: Not intended for chewing. Discontinue use if any part becomes loose or torn.
Aldi Product Code: 704053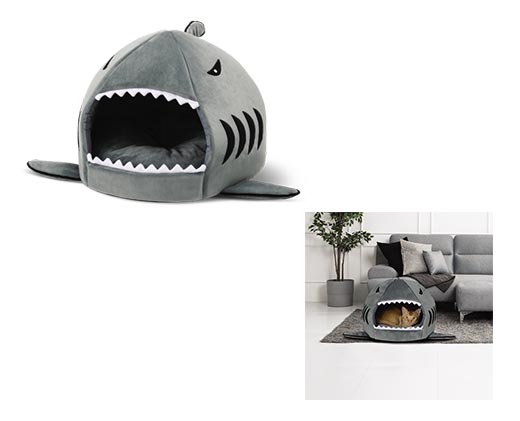 Is It A Good Deal?
At just under twenty dollars this doesn't look like a crazy good deal but it is not a bad price either. You can find some similar character pet beds online like this Shark Pet Bed in a similar price range depending on the day. Of course online there are a lot of different options you could go with like this Fish Pet Bed or this Teddy Bear Pet Bed. I would say if you check these out in-store and like the look and feel you should give them a try because you won't save a ton by buying online. You might find one that is a few bucks cheaper but you won't get to check it out first. On the other hand if you want a different character or style you can probably find just about anything you are looking for.
Heart To Tail Pet Bed Reviews
5.0 out of 5 stars (based on 3 reviews)
Best dog bed ever
I bought one last year and it is every dog's favorite. I have 3 Pekingese and if one gets up another will quickly take the bed over. PLEASE!!!! Bring back this offer I need more. Washes beautifully.
Fla-mazing!!!
I got my cat the flamingo bed and she LOVES it! It is so soft and has a good cushion to it. I love that it is all one piece and doesn't come apart all of the time like other beds. Quality material and stitching. Plus how fun is a flamingo bed?!!
Amazing quality, terrific bargain
I wish there had been two, one for each dog. They both love it, but it's first come, first serve. They have 3 other beds around the house, plus mine. They are big dogs. I got the bed with one bolster on each side. They like pillows for their head, even only to butt against it while they sleep. More secure feeling, I guess. 4 or 5 inches of good cushioning, and a bottom that is cloth real cloth, rare to find these days without paying big bucks. It was a special deal, alas, only $15, whereas similar ones online are $45 and $60. I was really lucky (for a change). I've paid twice that for ones this duo have partially deconstructed and not designed well for repairing because they like to flip their beds partly over sometimes and move them around with their teeth. Most beds have paper cloth underneath, which can't take that kind of punishment. But anyway, they seem to have a nose for quality and treat this bed with great respect. This is only one of many very good bargains I've found at Aldi, and their regular prices beat all the others in my town.