Aldi Smart Watch
Aldi will be selling the iTouch Smart Watch for $49.99 the week of December 28th, 2022. This Aldi Find will come out just in time to help you with those New Year's Resolutions. You could grab it along with Aldi's $99 exercise bike that is available at the same time.
This smart watch is not one of Aldi's store brands so it is likely available at other retails and on Amazon. I generally prefer that for electronics items like this that may rely on apps or software updates to keep working well.
Aldi's website does not make it clear what model of iTouch Smart Watch they are selling. Based on the style in the pictures and Aldi using "Air" and "Sport" in the colors matching with those pictures I think they are selling the iTouch Air 3 and iTouch Sport 3 Smartwatches.
The Air 3 Smart watch is the squarish version that is pictured in Black or Navy and the Sport 3 Smartwatch is the round version pictured in Blush or Gray. I am not certain if these are the exact models so be sure to check the packaging before purchasing!
iTouch Smart Watch at Aldi
Price: $49.99 (2022, prices may vary)
Available: 12/28/2022
Colors: Black Air, Navy Air, Blush Sport or Gray Sport
Compatible with Android and iOS
Essential features include (but not limited to): 24-hour heart rate, notifications, weather and pedometer
Aldi Product Code: 704277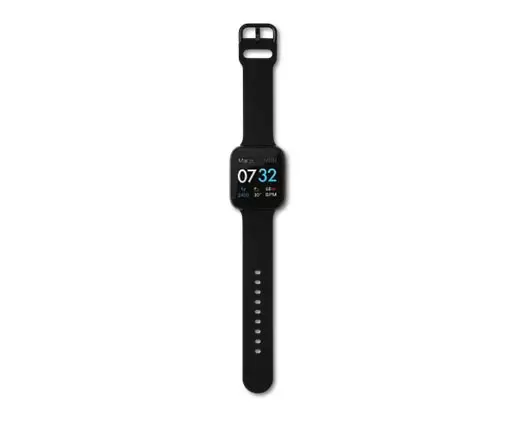 Is It A Good Deal?
While I am pretty sure these Smartwatches are the Air 3 and Sport 3 if they are not those models then my price comparison is not going to be very helpful.
Right now I am able to find certain colors of the Air 3 or Sport 3 for right around the $50 price point that Aldi is selling these at and some others are selling for a bit more. I would guess if you find a decent sale you may get them a bit cheaper. There are also a lot of different colors and material options that Aldi does not carry so if you want a different look be sure to check that out first.
Bestseller No. 1
Sale
Bestseller No. 2
iTouch Air 2 Special Edition Smartwatch, Heart Rate Monitor, Pedometer, Walking and Running Tracker…
HEALTH AND FITNESS TRACKER: Use the iTouch Air 2S wearable fitness tracker to monitor your activity and to stay motivated while you reach your workout goals. With this smartwatch, stay on top of your…
ENHANCE SPORTS & WORKOUT TRAINING: Take your health to the next level! This water resistant smartwatch comes complete with a calorie counter and pedometer with 8 sport modes. Measure your heart rate…
MOBILE PHONE COMPATIBLE: Beyond tracking, this smartwatch connects to the iTouch app, available for iPhones and Androids, so you can receive incoming phone messages and more. The iTouch Air 2S also…
Sale
Bestseller No. 3
iTouch Air 3 Smartwatch Fitness Tracker with Heart Rate Tracker, Step Counter, Notifications, Sleep…
HEALTH AND FITNESS TRACKER: The iTOUCH AIR 3 Smart Watch has a built-in pedometer and 24/7 heart rate monitor that automatically tracks your steps, calories burned, cardiovascular activity and sleep….
ADDITIONAL FEATURES: Receive notifications for calls, text messages, and social media. Daily weather and multi-day forecast on your wrist. Turn your AIR 3 into a shutter button with Camera Remote….
PREMIUM DESIGN: Designed in NYC, the iTOUCH AIR 3 is IP68-rated* water resistant with a vibrant LCD display, durable glass screen and up to 7 days battery life on a single charge; Choose from built-in…
iTouch Smartwatch Reviews
1 out of 5 stars (based on 1 review)
Worse than Garbage
If these watches are anything like the other iTouch wearables, then they are garbage. This companies business model is to make things cheap but hype you into believing their products are quality. Starting with the 3360, these things are flawed in design and execution. They are hard to sync and the apps don't work. You'll spend more time trying to get these things to work than you will actually using them to accomplish what you thought they would do.
Last update on 2023-05-28 / Affiliate links / Images from Amazon Product Advertising API